Sometimes the stories we tell aren't always happy ones, but Ado's has hope.
19:00, 24 Mar 2020
We often misuse the word "unlucky." Usually, it's used to be a catch-all term for bad things that occur in our lives.
"Ah, bad teammates. Unlucky."

"Failed my test. Unlucky"

"The parmesan cheese I put on my pasta is rotten beyond belief. Unlucky."
However, Chon "Ado" Gihyeon is one of the founding fathers of the Unlucky Club. After having a glowing debut with MVP Space in the Bigfile Battle Royal he was slated to be one of the better projectile DPS players coming out of South Korea at the time. Not the best, a few games in a strange king of the hill style tournament isn't going to prove that, but statistically, he looked very promising. Unfortunately for him, MVP Space wasn't as promising. They weren't "bad", but "good" was a carrot on a stick, just always at an arm's length away. Even his individual performance at APAC 2017 wasn't terrible if anything it showcased more of his potential.
If only Ado could land on a new upstart team with some talent to back him up. I doubt, even then, he could have been a star player, but he'd be a great fixture on a number of teams.
On February 13th, 2018, it is announced that Ado and a smattering of other players were set to join the, at the time, 0-10 Shangai Dragons. Oh no.
Overwatch League fans know how bad this team was in 2018, but for the freshmen and visitors who don't know let me add some context to my concern. The Shanghai Dragons now hold the record for most consecutive losses ever in a professional esport, with a losing streak of 42 games that spanned from January 10th, 2018 to February 22nd, 2019. Ado and his ragtag group of players were sent to save a dumpster fire, on top of an unstable uranium deposit covered in angry cats with knives. There was nothing he, or anyone for that matter, could have done to save that team. It was beyond bad. They had 40 chances to score a match win and to their credit, they came close, but couldn't manage a single win in 2018. I feel like we can safely drop a point in the "unlucky" column. But the show doesn't end their kids, why would it? On December 5th, Ado was announced to be joining one of the new expansion teams being introduced in the 2019 season, the Washington Justice. A fresh start with a new organization, things couldn't get worse, could they? Well, things did improve for Ado, only just slightly.
Trivia time! Who in the Overwatch League boasts a total of 36 consecutive losses with the Shanghai Dragons and Washington Justice? Ding, ding, ding! It's our luck challenged protagonist, Ado. He earned his first win in the Overwatch League over the Florida Mayhem in Stage 1. If that doesn't crystalize Ado's career thus far, I don't know what else would.
However, the victory would be short-lived as the Justice quickly ended their 2019 season a part of the bottom five teams with a 8-20 match record. While the team did perform extremely well during Stage 4 in Role Lock, it was far too late. GOATS had already taken its toll on the league and its teams and the Justice were known for being exceptionally bad at GOATS. Is Ado's story up until this point a cautionary tale?
No.
Sometimes you have to take what life dishes you and make the most of it. Is that incredibly cliche? It sure is, but it's those saying we hear over and over that hold some essence of wisdom in their words. But that's what makes this story truly a bad stroke of luck. Your teammates probably are not that bad. In actuality, what is losing you games is more than likely tilt swapping Widowmaker and running it down as Torbjörn.
You could have easily prepared more for your test. But beer pong and Taco Bell at the butt crack of dawn is a tempting mistress. And checking the date on graded parmesan cheese takes a total of 5 seconds. Yes, I've timed it. No, I don't want to talk about it.
It's why we see so many professional players jump at the chance to play on stage, no matter the circumstance. On the flip side to that, it's why we see players that can't play on the Overwatch League's stage, step down to the amateur division to continue moving. Words like "bad" or "good" can be perfected and improved, "stagnation" is the ultimate death sentence. "Well, we all know Ado didn't retire or just become inactive, so things must have turned around for him, right?" Yes and no.
After being listed as a free agent on the Overwatch League's Player Contract Status article published on October 4th, 2019, Ado found himself back on the market and listed as a "free agent." Days later, the Washington Justice announced his official departure from the team. However, Ado has now taken his talents to China and has joined the Hangzhou Spark in their 2020 efforts.
We are delighted to announce Gi-hyeon 'ADO' Chon has joined us as projectile DPS! His skill and professionalism impressed us during his 2-month tryout and we believe the OWL veteran will be a great addition to our team! Welcome
@OW_ado
and show him some love!(♡˙︶˙♡)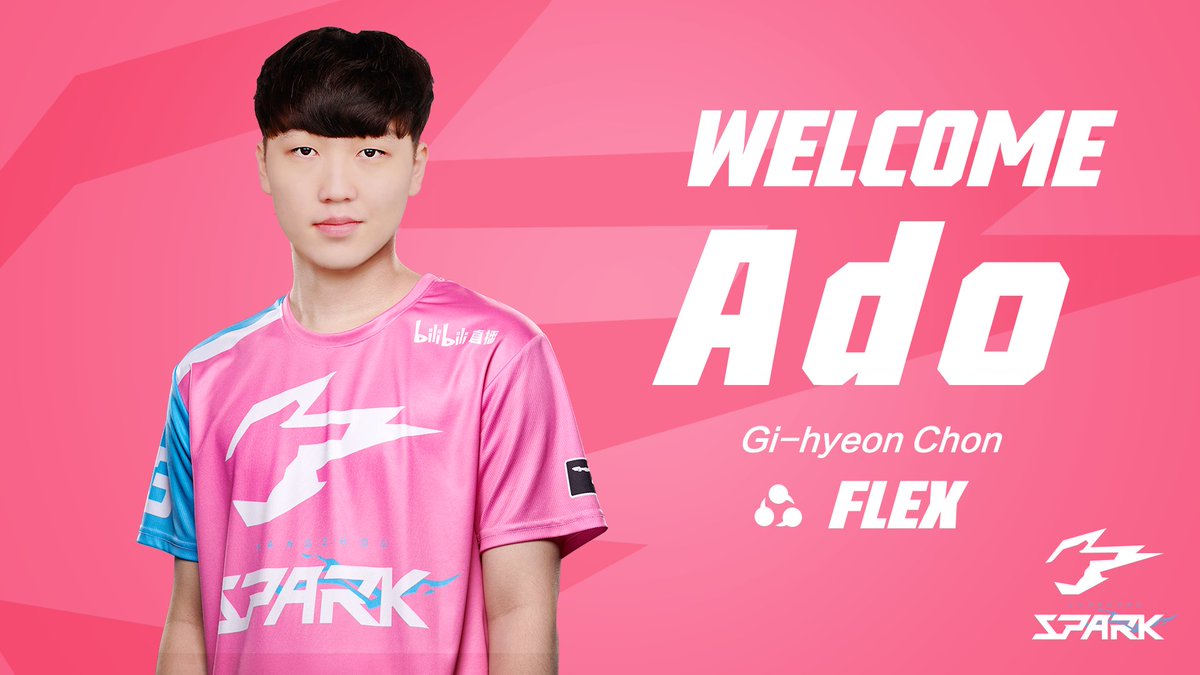 For Ado, joining the Spark is an upgrade over his two previous teams. Both the 2018 Shanghai Dragons and the 2019 Washington Justice were woefully unprepared, the former just generally and the latter more for the metagame that was set to be played. Now, Ado finds himself surrounded by quality. Not only is he given the chance to compete alongside some of the league's best players, but he finally has the room to shine. Hangzhou has lacked a strong presence when it comes to flexible projectile DPS players. 2019's metagame never had the chance to call upon strong flex players to step up and when role lock came in during Stage 4, teams were already unable to sign new talent.
Teams like the San Francisco Shock and Vancouver Titans remained at the top while a team like the Spark scrambled to find answers. Song "SASIN" Sang-hyeon and Kang "Adora" Jaehwan were the odds on favorites to fill the role but neither seemed able or comfortable. As the weight of playoffs bore down on the Spark, Park "Bazzi" Jun-Ki, one of the teams notable hitscan DPS players piloted Doomfist to the best of his abilities.
However, what still looks to be a promising return for the young DPS player's career now is sat in a holding pattern due to the growing concerns with COVID-19. Chalk up another W for the unlucky column. Ado must have done some terrible crimes in a past life to receive this much bad luck.
Ado and the Hangzhou Spark challenge the Chengdu Hunters in both teams' long-awaited season debut. But by the end of the season, both teams will be sick of seeing each other. Due to the Overwatch League reorganizing how the league will function, the Chinese teams will play in a very insular group and these two particular teams, the Spark and the Hunters play each other around every two weeks.
Their first meeting is on March 28th.
Then again on April 10th.
And then on April 24th.
And who knows what the world will look like, let alone the league, past that point. It's not the league's fault, it's not the Spark's fault, nor is it Ado's fault. In a very Zen way, it is what it is. As lady luck continues to binge drink boxed wine on her Charmin Ultra 2-ply throne in apathy, all we can bet on is that Ado will probably continue to be unlucky. Cheers, Ms. Luck. Here's to hoping Ado can turn it around.
Images via Blizzard Entertainment