Expectations have always been high for Seoul, but this season is different.
21:00, 16 Mar 2020
As recently announced on a special edition of Watchpoint, the Seoul Dynasty are finally gearing up for their season debut against the San Francisco Shock and the Los Angeles Gladiators. After suffering inaugural season disappointments, the Seoul Dynasty has always held lofty expectations. They are and should be, mainstay competitors in the playoffs. However, this season feels like the best of both worlds. Expectations return to the Lunatic-Hai era but the power resembles that of 2019, if not better. The 2020 Seoul Dynasty are going to rise to the occasion this season.
They are here to take a stab at a deep playoff run.
WE'RE BACK! ...ONLINE! 📡
Here is your Week 7 schedule! 📅 Tune in for your
#OWL2020
action!
📺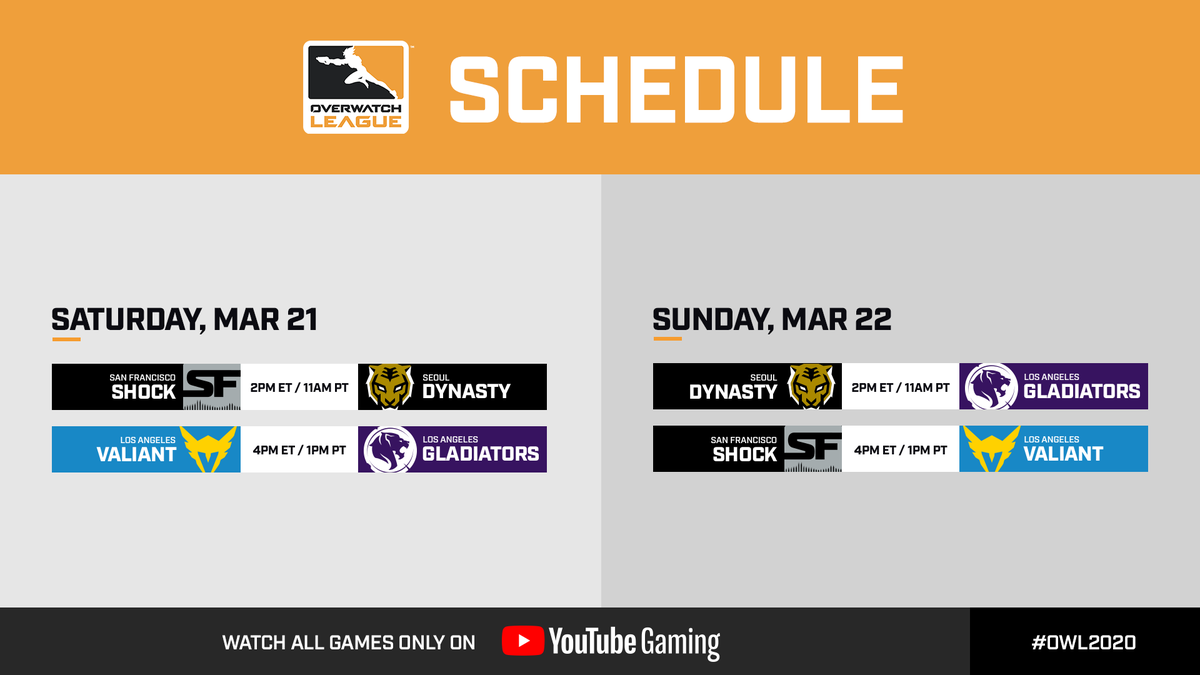 Now how do they get there? Let's first examine their offseason with a question.
Ask yourself this, who are the great Overwatch duos?
There haven't been too many impactful ones, right? However, the 2020 Seoul Dynasty features one of, if not the, greatest Overwatch duo to ever play the game; Park "Profit" Joon-yeong and Hong "Gesture" Jae-hee.
This duo can easily return to their roots due to how prevalent Dive compositions are within Hero Pools. With how frequently the metagames change, that type of composition should be featured either a number of times throughout the season or will become an archetype that teams can build a style around. If we reflect on the success both Profit and Gesture had, it was always alongside a third, more sideline player. Back in their original team of GC Busan, it was flex tank Sung "WooHyaL" Seung-hyun. His ability to peel and defend his backline allowed Profit and Gesture to become the dominant offensive force we know them to be today.
On the London Spitfire it was more of a team effort, but not in the most literal sense. It felt like there were days where certain players would step up to the plate and become that third-wheel, but no one consistently did it as much as Kim "Fury" Jun-ho. Now with the Seoul Dynasty, this third-wheel theory could transform into more of an offensive trio with flex DPS darkhorse, Kim "FITS" Dong-eon. Now, this would be a new role for them to work with, but FITS is the player Lee "Hooreg" Dong-eun wished he could be.
The only thing missing is the benchgod's luck.
FITS is the glue that seals the Dynasty's puzzle together. He is the darkhorse that can and has given up space and resources to his peers in order for them to succeed. And if need be, he can be the star of the show on a moment's notice.
I mentioned earlier that Hero Pools for this team shouldn't be a problem and if anything should be a boon for a team so weighted towards Dive compositions. Using week 5's Hero Pool as an example where Dive was run a good amount of the time, this should play to Seoul's offensive trio extremely well. FITS has an incredible Doomfist and his Sombra is solid, both he and Profit can take Genji if need be, and Profit has a strong argument for being one of the best Tracer players in the world. Gesture has always been known to be a strong Winston.
And while it is fair to question what happens to the composition if Winston is removed, I'd bet that Seoul's coaching staff is having Hwang "Marve1" Min-seo practice Wrecking Ball quite a lot. Not to sideline the support here, but if Dive returns and is asking for a competent Lucio player, Yang "tobi" Jin-mo has stood the test of time. While he might not be as flashy or as aggressive, he is a fantastic role player and not someone who is going to cost you games. Tobi is mostly upside. Seung-tae "Bdosin" Choi is a talented player and vocal factor on any team he joins. While he had a poor performance last year with the London Spitfire, his leadership and skill should not be underestimated. Let's not forget how strong this team potentially can be in slower compositions as well.
Since the 2018 playoffs, Gesture's Orisa has easily been one of his better heroes. Generally speaking, it seems like he feels much more comfortable with that hero compared to his Reinhardt, which was a sore spot for the London Spitfire last year. With either FITS or Profit, but probably the latter, on McCree, what's not to love?
Now looking ahead to week 6's Hero Pool of Winston, Sombra, Soldier: 76, and Lucio, Seoul has an interesting question to ask themselves. Are they confident in Marve1's Wrecking Ball enough to move forward with Dive, or will they reel it back to what they were strong with going into the off-season in Mei and McCree? Regardless of predictions, either way, this should be a good showing.
This team has all of its bases covered. Whatever Hero Pools throw at the Seoul Dynasty, they should be able to answer not only in speed but in power as well, attributes we've seen win a championship ring.
Just like the London Spitfire of 2018, this Seoul Dynasty squad holds within it such a powerful punch they can easily be title contenders barring any catastrophic meltdowns. They've moved on from being a team led by veterans and now are slowly building out one of the on-paper strongest rosters in the league. This is a team that can look poor one weak and be counted out the next but manages to punch up and perform a huge upset. That is the kind of mechanical brute force this team holds.
And if they can manage to add a bit more cohesion to that core, imagine what a consistent and dominant force that can be? I'm telling you, the Seoul Dynasty will have another breakout season. They have the firepower, they have a pre-established core, a brand new team identity, and role players around every corner to facilitate their stars. 2018 was a lesson. 2019 was experience in motion. 2020 is where the tigers look for a title.
The 2020 Seoul Dynasty will rise to the occasion this season.
Images via Blizzard Entertainment