I've never been so excited to be so wrong.
20:00, 15 Mar 2020
I'd like to issue a public apology to the Paris Eternal.
I doubted you and I was wrong.
I placed you second to last in my 2020 Power Rankings and now you sit within my top five teams in the league at the moment. Among names like the Philadelphia Fusion and the New York Excelsior, Paris sits as an inarguable top team at the moment. People fixate on their slow start and their most recent loss to Houston, but those are all excusable or, at the very least, understandable. Yes, they started slow but that can be explained with the absence of Eoghan "Smex" O'Neill and their starter at flex tank, Choi "Hanbin" Han-been, only turning 18 a short time after the league was set to begin.
And with Hero Pools, is it so far fetched to assume that maybe we had a bad read on the Outlaws? This was a team that was admittedly very ill, so much so, that players were not traveling with the team to events. Now, they are healthy and have a new lease on life with the Dive style being one of the two leading compositions in Hero Pools at the moment. Could you claim that Paris had a bad read coming into Week 5? 100%, but that's the gamble of Hero Pools, sometimes you just miss the mark. Take the Eternal team and how they looked on Sunday and compare them to Saturday.
The difference is night and day.
🇫🇷 Quel match... pour la meilleure des victoires ! 😍 GG's
@Fusion
!
🇺🇸 After a wild 5 map series, we take the win! Sorry about those preds 😉 GG's
@Fusion
!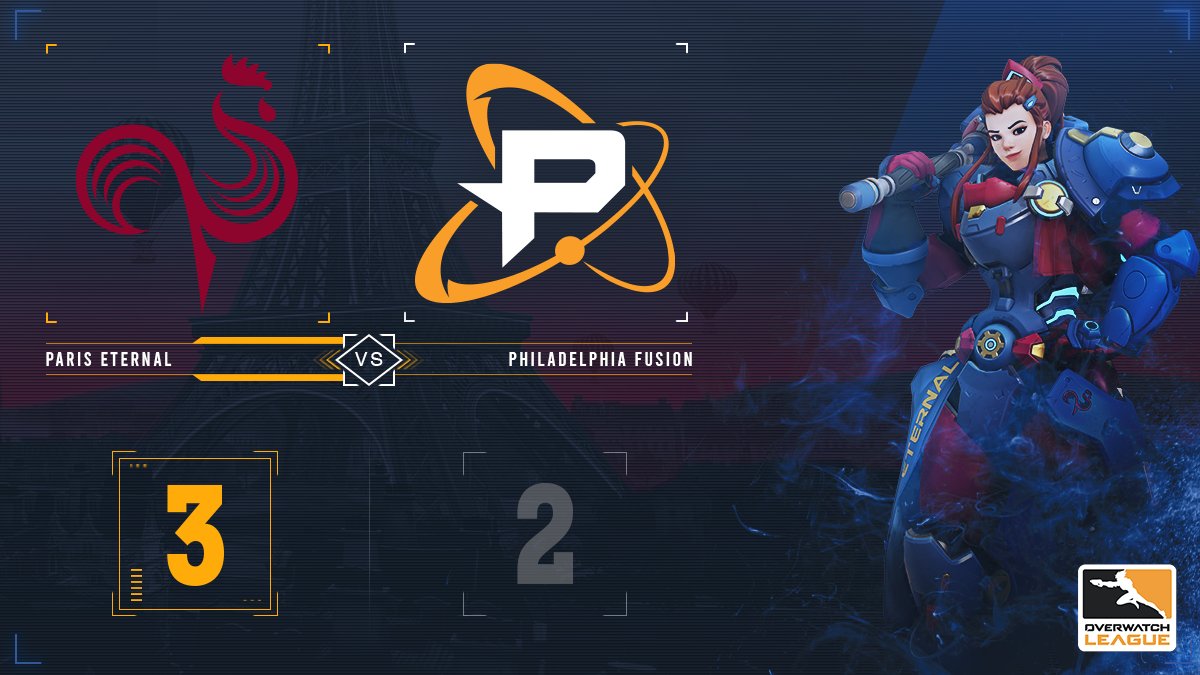 I was skeptical if the team's fully South Korean coaching staff would be to both effectively communicate with a mixed roster and have their Western players buy into their style of coaching. I said this was something that would benefit Paris in the long run, and I still believe that, but since their debut, the Eternal look well prepared and on top of things. Yes, I think that there are still improvements to be made, but this was a team that previously finished the 2019 season, admittedly with a completely different roster, 14th with an 11-17 record.
I criticized a lot of the stock people put on you and dismissed it as "Spr9k1e fever." Instead of looking at the players who made up the Element Mystic core and rookie all-stars like Brice "FDGod" Monsçavoir. And I drew a skeptical eye to their coaching staff who, by in large, are my vote for the biggest change in this team.
General manager Kim "NineK" Bumhoon and head coach Yun "RUSH" Hee-won must dabble in some alchemical texts in their free time because they've taken this hodgepodge roster and turn it into gold. As of March 14th, the Paris Eternal are the 3rd best team at converting first kills into team fight wins. They also boast an average to below-average first death rate at 47.5% while also being the 6th best team at being able to turn the fight in their favor after suffering the first death. And on average they sit among the top of the pack as the 6th highest team fight win rate at 53.1%. This also does not account for the coaching staff's more bread and butter approach to managing the team.
In an interview with Overwatch League commentator, Josh "Sideshow" Wilkinson, support player Luís "Greyy" Perestrelo talks about how exactly the team is approaching their strategy for this season. "[...] Our coaches just help us understand the game more instead of saying 'Oh, you do this, you do this, you do this,'" Greyy explains."I think it is the biggest reason for the change." Most of the praise Greyy gives shines on the coaching staff. He admits that the Paris Eternal has always had smart and talented players, but this new administration has brought a fresh perspective on how they should play the game and, more importantly, how they should think about it.
Taking a group of players from all around the world and having them work together is hard, and Paris isn't out of the woods yet on that front, but reframing the game in their minds and putting that into action is something special.
This iteration of the Eternal has already earned 36% of their total wins compared to last season, and we're in Week 6 of the regular season. What was supposed to be a debut of jitters and a team ramping up their cohesion, was replaced with star rookie performances from players like Brice "FDGod" Monsçavoir and Jung "Xzi" Ki-hyo. What's even more shocking is that they get another Hanbin-esq injection of talent in May with the addition of fan-favorite DPS rookie, Sp9rk1e.
I claimed that this season was a wash and at least the Eternal had great chances at making a play for 2021. Many teams have attempted to invest in mixed rosters for them to ultimately fail due to any number of reasons. However, with the success of this roster and the cohesion they've shown so far, this team has real, kinetic power, with massive potential to grow into a consistent playoff contender. Taking the Philadelphia Fusion to game five and beating them is a feat in and of itself.
In terms of trajectory, the 2020 Paris Eternal feel very similar to a 2019 Hangzhou Spark or an Atlanta Reign from the season. The Eternal feel very powerful, strategically sound, and, without a doubt in my mind, will be featured in the playoffs. But just getting to the playoffs after such a skeptical offseason is a victory if I've ever seen one.
From the team's we've seen so far, the Fusion look to be title contenders and this wily Eternal squad manage to adapt from their loss the previous day and looked completely different. That, to me, is a mark of a very special team. Now pair that with some of the talented rookies that will grow with comfortability and synergy with their teammates and you've created one strong team.
The Paris Eternal is far from bulletproof, but their season, so far, has exceeded every expectation I put in front of them. I was wrong. I was very, very wrong. And I'm glad I was. Europe as a whole deserves a good franchise to cheer for. The Eternal are that team, bet on it.
Image via Blizzard Entertainment