This Twitter movement began a massive debate amongst Fortnite fans.
18:00, 30 Sep 2020
With Fortnite's third birthday celebration officially underway, many people have been reminiscing on the battle royale's past. Back in September of 2017, the very first season of Fortnite kicked off, dropping players into a new, colourful world, unlike any they had seen before.
This map featured symbolic Fortnite POIs such as Loot Lake, Anarchy Acres, and Salty Springs, locations that inspired countless Fortnite fans to continue playing the ever-popular battle royale. This map served as the foundation for Fortnite, allowing it to grow to the battle royale behemoth that it is today.
This is why, for this year's celebration, fans were looking forward to something more than just a few new challenges and items to grab. They wanted to go back to the "good old days" of Fortnite, where the game was fresh and new, with adventure seeming to lurk around every corner.
RT if you landed here before🌳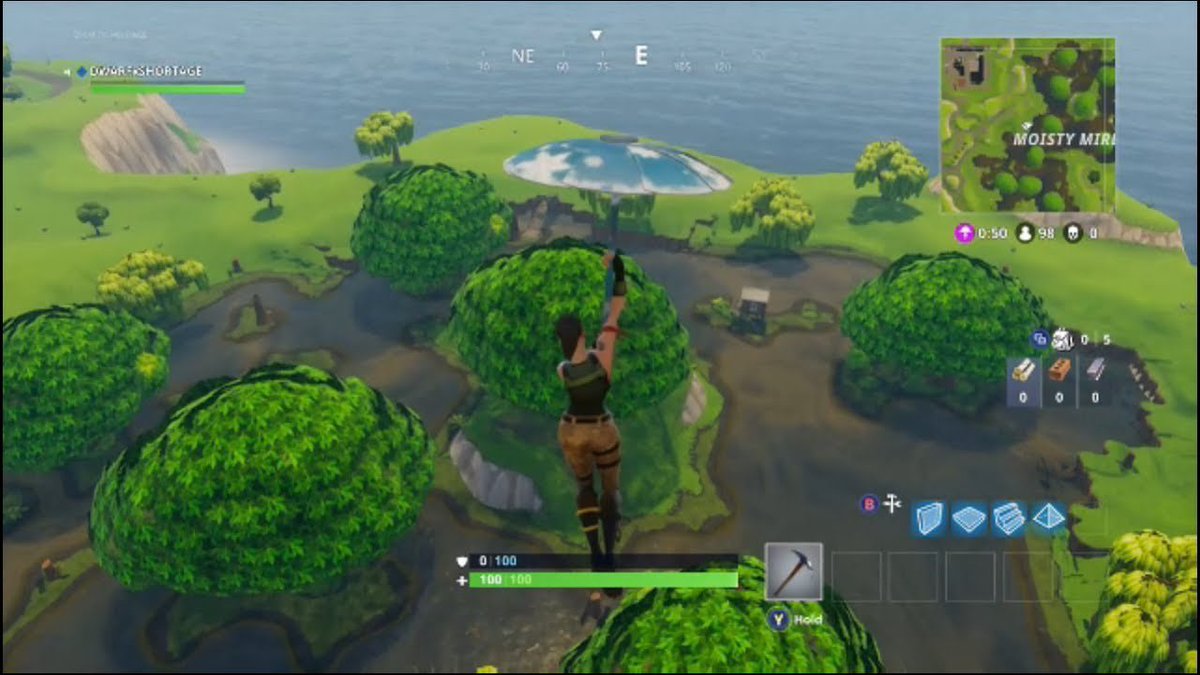 They wanted a return to the game's old map, like so many other popular MMOs had done. PUBG and World of Warcraft both "revived" their old maps for a new audience, a decision that was met with praise from both games' fans. Many want Fortnite to do the same, as the game has the same huge reach and nostalgic impact on its older players.
Many players are torn in the debate of whether or not Fortnite should have brought back its old map for the third birthday event. Some believe that OG Fortnite is only good in retrospect, as many features have been added to the game since its release, which the old map did not have.
@ogfortnitegame
Guys...trust me when I say this..I realised, you DONT want the "OG map" back...you want to go back to July 2017 when the game first started when everyone was bad and when you were just discovering everything
Others believe that bringing back the Season 1 map would be an excellent way to recognise players that have been around since the game's inception.
@ogfortnitegame
I know I'm about to get destroyed anytime soon, BUTTT I definitely prefer the old map compared to chapter 2 lol. Not even just the map, the UI, SFX, the overall graphics, it's what I was used to. Sweats will exist regardless so idc about them. All personal preference in the end
Twitter has been the home of most of these back-and-forth arguments, which have spiralled out of control since the Fortnite birthday event on September 26. As these arguments began taking place, a Twitter user by the name of OGFortniteGame entered the scene. This user claimed to serve as the homepage for the movement to bring back OG Fortnite, starting a social media campaign to gain attention for this cause. This movement was dubbed #ReturnOGFortnite.
PETITION: Epic Games should release a copy of OG Fortnite as a separate game. Millions of players and many content creators would come back. Epic games could still focus on the current Fortnite for all the people who enjoy that game. RT to spread the message!
Unlike most online movements, this one did not require users to sign a petition. This campaign is run entirely through Twitter, with only one goal in mind. That goal was to get Epic Games' attention and to bring back the original map. OGFortniteGame's pinned Tweet claims that Epic should release the original Fortnite as a stand-alone game, as not to detract players that enjoy Fortnite's more modern iteration. They also state that millions of content creators would return to playing Fortnite if this movement gains traction.
To gain traction, OGFortniteGame suggests tagging original Fortnite content creators, retweeting OG Fortnite posts, and replying to any gaming tweets or media with the movement's name - #ReturnOGFortnite. The goal was to get noticed, starting a discussion that would trickle down from gaming's top icons to Epic Games themselves.
Want to help?👇
- Retweet & Like
- Tag (OG) Content Creators, so they'll retweet
- Reply to all gaming tweets on twitter with
#ReturnOGFortnite
, so more people notice
Everything helps. If more people interact with this tweet, Epic will realise how big the market is for this.
Get noticed was one thing this movement definitely did, as many people flocked to the comments to post their two cents on the potential for Fortnite to return. Much like past debates on Fortnite's return to its former glory, the argument was extremely divided. Some claimed that those in support of the movement were blinded by nostalgia, whereas others believed that the movement would resurge Fortnite's popularity.
The movement definitely did get attention, but no gaming or Fortnite icons have responded directly, yet. There have been discussions in the past of bringing back the old map, but none as of recently. Many of Fortnite's old creators have given up on playing Fortnite full-time, choosing to divide their attention, rather than solely focusing on the battle royale. These players are who OGFortniteGame really wants the attention of, as they have the most impact and reach.
Fortnite professionals SypherPK and Ninja got together via Twitch stream, discussing the old days of Fortnite and reminiscing on their first foray into the Fortnite world. They cited being impressed by the game's massive scale, yet also missing the feel of the first season. Within ten days of the video's posting to YouTube, it already boasts well over half a million views.
Neither the title nor description mention #ReturnOGFortnite, but the video still spurned quite the discussion in regards to revitalising the older Fortnite. Comments generally seem more positive on SypherPK's YouTube video than they do on Twitter. One comment by user IGY6Brah even goes so far to state that "bringing the old map back would be the best thing [Epic] had done [in] all of Chapter 2."
Whether or not a return to the old map would revitalise the Fortnite community is unknown, but what is known is how decisive the issue truly is. Whether a player believes that old Fortnite or new Fortnite is better, they might be able to agree on one thing- Fortnite has an impressive legacy, and it will be exciting to see where Epic takes it in the years to come.
Images via Epic Games