Fortnite celebrates its third year with a fun set of challenges.
17:30, 29 Sep 2020
It's incredible to think that Fortnite turned three years old on September 26. The game has become a worldwide phenomenon over these past three years, attracting a huge player base and audience on Twitch and other streaming platforms.
Fortnite: Save the World was released in July 2017, but its battle royale counterpart wasn't released until September 26, 2017, which is why this particular milestone is celebrated when it is.
Fortnite: Battle Royale has evolved significantly over these past three years, growing in scale, crossing over with numerous popular franchises, and even featuring guest appearances by celebrities and musical icons. Even the Battle Pass system and in-game challenges have grown, giving players more to do in-game.
This year's birthday celebration is no different, providing numerous challenges and in-game rewards for players to kick off this huge milestone in Fortnite history.
Fortnite 3rd birthday is tomorrow!
That means new birthday🥳challenges and rewards, tomorrow we'll see the 3rd Fortnite birthday challenges which will include these following rewards:
- Cake! Backbling
- Cakey Wrap
- Cupcake! Emoticon
- The Big Three Spray
#FortniteBirthday
Below is a list of this year's birthday challenges, and the rewards given to players upon their completion.
Play in ten different matches
This first challenge is extremely straightforward, even more so than the rest of the challenges on this list. Its only requirement: to participate in ten different matches in the game's Battle Royale mode.
Some players might wish to complete this challenge as quickly as possible, so they can get to the other challenges in the event, opting to enter and leave matches in succession. This is not recommended, as other challenges in this event require you to outlast opponents or participate in a birthday-themed scavenger hunts. Exploring the map or finding a quiet spot to hide might be a better course of action for players wishing to complete all of the birthday challenges this year.
Players that complete this challenge will be rewarded with a birthday-themed spray for their items, which is a cool souvenir to show friends after the event has ended. This item is known as "The Big Three."
Dance in front of ten different birthday cakes
This challenge is a small bit more difficult, only due to the fact that all of the cakes are scattered in various places across the map. Players have to dance directly next to the cake, to the point their character is almost touching it, for the game to count the challenge as complete. Standing too far away from a cake might result in a player having to retrace their steps and dance a bit closer to the cake on the second pass.
New Fortnite players, who are unfamiliar with the layout of the game, might have some difficulties locating all of these cakes, as they are all spread out across the map.
Luckily, besides being spread out across the map, the cakes are relatively easy to find. They are located in very open, easily-accessible places, making them hard to miss. Since this is a celebration of Fortnite, it only makes sense that the cakes are located in popular, high-traffic areas on the map.
Players have to find and dance in front of all ten cakes, not just dance ten times in front of one cake, so finding all of them is imperative to the challenge. Upon completing this challenge, players will receive the Cakey Wrap.
The cakes can be found and danced in front of in any order, so the list below is not the definitive route to locating all of them.
Dirty Docks
The cake is in the centre section, near the revive van and between two buildings.
Retail Row
The cake is in the centre of the area, inside a parking lot.
Lazy Lake
The cake is across the street from a gas station, sitting on the sidewalk.
Doom's Domain
Behind the statue in the centre of the map is the cake, which is sitting on the sidewalk.
Salty Springs
Again, the centre of the area is where players will find this cake. It is located on the sidewalk, next to a revive van.
Misty Meadows
On the eastern part of the map, beside a fountain in the centre of the street, is this area's cake.
Holly Hedges
Next to the building with flowers stamped on its side is a revive van, where this cake is sitting next to.
Sweaty Sands
Underneath the colourful sign on the pier by the water is this area's cake.
Weeping Woods
This is the most challenging cake to find, as it is located indoors. It can be found in the area's northernmost cabin and can be found right after a player enters through the main doors.
Slurpy Swamp
Directly across from the revive van in the centre of this area is a cake, which is located directly in front of a blue and green building.
A YouTuber by the name of Fortnite Insider detailed the location of all ten cakes in the video below.
Outlast 500 opponents in Battle Royale mode
This is the most lengthy challenge of the bunch, but by no means the most difficult. All players must do is survive 500 other players during battle royale matches.
Since there are 100 players per match, this challenge can go by relatively quickly if players find a safe place to camp or glide as slowly as possible from the Battle Bus.
This doesn't need to happen over a certain number of matches, and players can either choose to outlast as many others as they can in a few matches or slowly widdle away at the challenge over time.
After this challenge is completed, players will be rewarded with a Cupcake emoticon.
Gain health or shield from 50 different birthday cakes
To gain health from a birthday cake, treat it like any other item in the game. Approach the birthday cake, pick up a piece of it, then eat it when necessary. Like any other item, the birthday cake will either provide the player with health or serve as a shield from enemy attack.
This challenge seems easy enough, but remember, it must be completed fifty consecutive times. After a player has eaten their fifty pieces of cake, they will be rewarded with 80,000 XP.
Complete any four challenges
After completing any of the four birthday challenges, players will receive the Cake! Backbling, which features a birthday cake celebrating Fortnite's third birthday. This is a fun memento from this years' celebration and shows other players that you showed up and participated in this huge milestone in Fortnite history.
We will be given a free Emote for Fortnites Third Birthday.
The emote is "Take The Cake"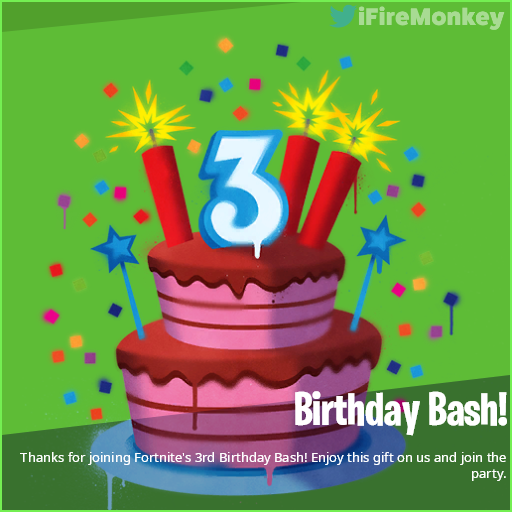 Some players might not find the challenges and rewards as exciting as the Halloween and Christmas events, but this event is an excellent way to get players hyped for them. It might be smaller in scale, but it is meant to commemorate Fortnite, providing players with some rewards just for showing up. The challenges might be more akin to endurance tests, rather than truly challenging, but they are, first and foremost, meant to be fun and celebratory.
It's incredible to think that Fortnite has been around as long as it has. Players are definitely excited to see what else the popular battle royale has in store over the years to come.
Images via Epic Games