Fortnite players think Epic Games is spreading its wings and adding Blade to Chapter 2 Season 4.
12:06, 23 Sep 2020
It looks like Epic Games is saying "fangs" for playing, as Fortnite fans think Blade could be the next skin to drop in the Marvel-themed Chapter 2 Season 4. While the season kicked off with eight Marvel skins that focussed on fan-favourites like Thor and Wolverine, Fortnite might be going in a much darker direction with the inclusion of the human-vampire hybrid.
There have been rumours that everyone from Spider-Man to Black Panther, Carnage to the Fantastic Four could join the party, however, the latest leaks point to Blade sharpening his teeth and his stake for a horror crossover. Now, the v14.20 unofficial patch notes have sparked interest when they were sent to content creators and seemingly spell out the word "Daywalker" - one of Blade's official nicknames.
v14.20 Patch Notes
Letters spell out "Daywalker"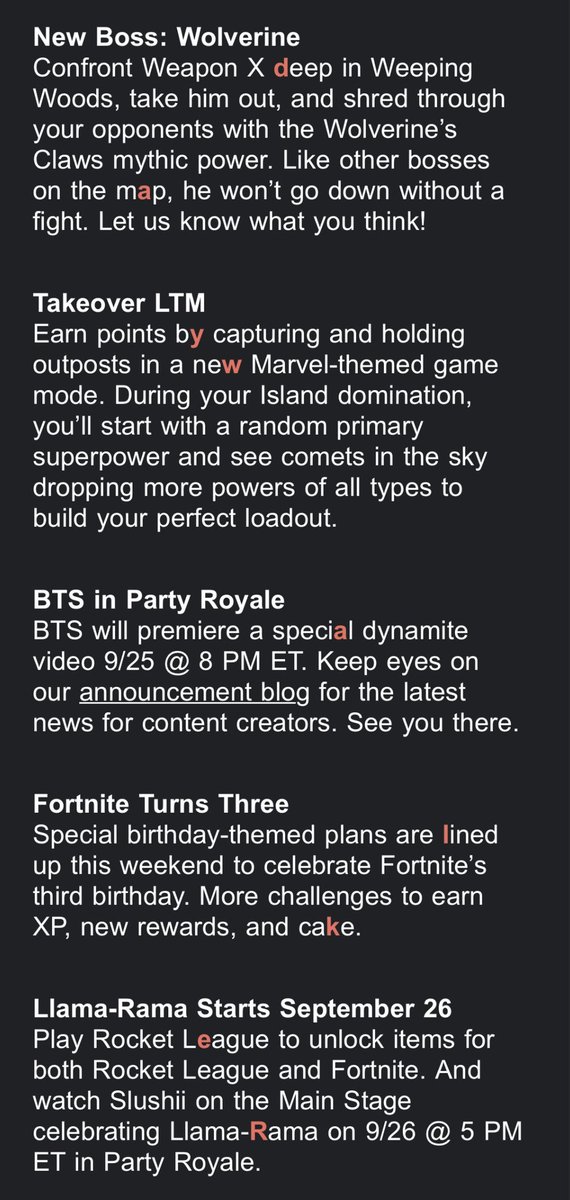 The main idea is that Blade could be added as a boss (alongside a rumoured Wolverine boss), while others think he'll arrive in the shop as another buyable skin. Unfortunately, not everyone is interested in his potential arrival. One disgruntled player wrote, "Nothing interesting tbh, another boss and mythic power, bts, and birthday stuff". Still, there are plenty who'd love to see Blade swoop down onto the map in any form.
Since his introduction in 1973's The Tomb of Dracula #10, Blade has become a part of a much darker branch of Marvel comics. It's exactly this kind of grim source material that would make him the perfect part of a Fortnite x Halloween crossover. Other popular horror-themed characters like Morbius and Ghost Rider would also be likely candidates, but for the time being, we've only had a hint of Blade.
New Legacies CONFIRM Blade as a skin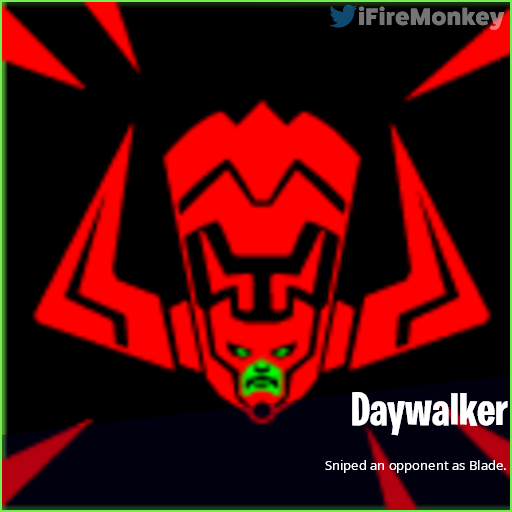 Interestingly, the addition of Blade would be well-timed for the character's upcoming reboot in the Marvel Cinematic Universe. Following Welsey Snipes' portrayal in his own trilogy of movies, Blade has laid dormant since the 2006 TV series that cast Sticky Fingaz in the title role. Although a crossover with the long-running Underworld franchise was once pitched, Disney plans on bringing the Daywalker to life in the MCU with House of Cards' Mahershala Ali playing him.
It's unclear when Blade could arrive in Fortnite, but following usual patch updates, it could be next week - which would conveniently tie into October. Whether it's all just wild rumours or something more, you can expect to see Blade teasers very soon if we're on the money.
Stay up to date with all the latest esports and gaming news by checking out our social channels here: Twitter | Facebook
Images via Marvel Comics | Epic Games