Is the controller era coming to an end?
15:00, 20 May 2020
Epic Games has officially stopped releasing patch notes with each update. But don't worry — that's why we're here.
Chapter 2 - Season 2 is nearing its final days. With the FNCS Invitational Grand Finals occurring this weekend, Epic decided to take a modest approach to v12.60. Patch v12.60 is surprisingly inconsequential. Expect the more high-octane updates to surface in the next week or two. For now, check out everything new with Patch v12.60 below:
Gameplay Changes
Helicopters produce less noise
New Weapons/Items
No new weapons or items were added in Patch v12.60
Map Changes
No new locations or POIs were added in Patch v12.60
Playlist Updates
Spy Games LTM

Operation: Infiltration is the newest Spy Games playlist and will arrive after the update at 9 AM ET. Extract the Intel Case from the defending team's turf or prevent your case from reaching the invading team's destination.

Party Royale

Grappler added
Jetpack added
Updates to existing attractions

Squads Limited Testing
Creative
Some Chapter 1 Season 9 assets are now available
Mobile
Dynamic Resolution for iOS

For iOS players, there's a new opt-in feature to help you reach your targeted framerate. Dynamic Resolution adjusts the game's resolution automatically to maintain this targeted framerate. Dynamic Resolution can be turned on or off in the Video Settings menu on iOS.

New Tutorial Image for HUD Layouts

Button Size and Touch Zone Size

Visualize Sound Effects

The Visualize Sound Effects setting is available under the audio settings tab. This means you can now turn off footsteps and other indicators on mobile.
Bug Fixes
Dragoncorn glider re-enabled in competitive playlists

Free refunds will be granted upon request up until June 19, 2020

Riot Control Baton Pickaxe re-enabled
Another Controller Nerf?
Epic Games has struggled to find a middle ground between input devices. Controllers and aim assist have been receiving adjustments for months as the playerbase continues to voice their frustrations. Despite this, aim assist is as strong as ever. It sounds like a third controller nerf is on the horizon.
In a statement to Fortnite Creators, Epic Games wrote, "controller tweaking, tuning, and the investigation continues. We have some changes for the next steps, but we don't want to release right before the FNCS Invitational Finals."
The controller era may be coming to an end. Numerous adjustments have already been made to aim-assist but nothing has stuck. We'll see how drastic these new tweaks are in the coming weeks.
Doomsday is Imminent
The end is near. Leaked game files show that a countdown timer will soon be appearing above the agency. This further backs the theories of a Doomsday event.
Leaked event countdown place (the timer is wrong tho).. [via:
@spedicey1
]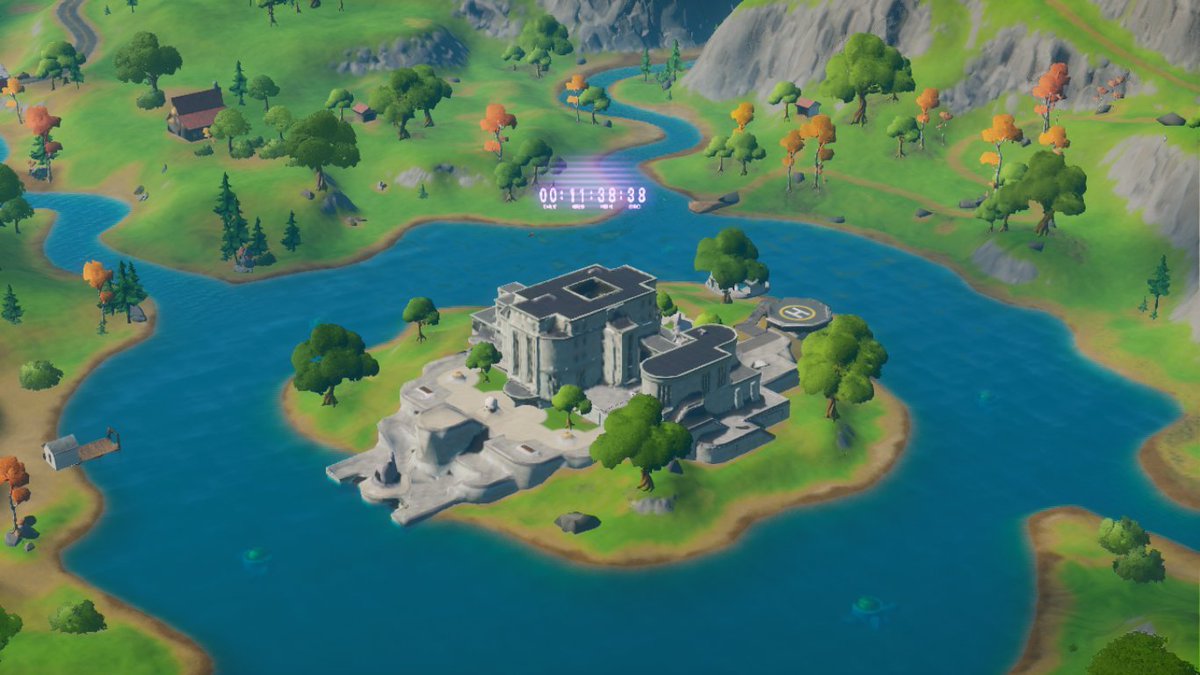 With every new patch comes a plethora of brand new, unreleased cosmetics. For a complete list of all the leaked cosmetics in Patch v12.60, click here.
There you have it. Everything Fortnite fans can expect to find in Patch v12.60. Stay tuned here @GGRecon for more Fortnite news, updates and tips.

Images via Epic Games