Return of the Recon Expert?
18:00, 20 May 2020
With every patch or update implemented into Fortnite: Battle Royale, comes a plethora of new, unreleased cosmetics. It has become a tradition that leakers enter the game files following each patch in search of new skins and items. This is called "data mining".
In this article, we will provide you with all of the data mined cosmetics found in Patch v12.60.
Most of these cosmetics will be released in the shop for purchase via V-Bucks. However, sometimes these cosmetics are available through non-traditional methods. For example, the Galaxy skin was only obtainable for a limited time with the purchase of certain Samsung Galaxy devices. We have seen this sort of promotion with items such as the Minty Pickaxe, the Honor Guard skin and the Ikonik bundle. Fortnite has also started releasing cosmetics only available through competitive play, such as the Komplex skin and the Axe of Champions.
Remember, these are just the skins and cosmetics found in the most recent patch. Check out our Hub for unreleased skins along with gameplay footage.
Leaked Skins/Outfits
On the surface, Patch 12.60 looks to be taking a quality over quantity route. However, data miners have discovered the presence of a few more encrypted skins.
New leaked skin, the mesh is probably encrypted!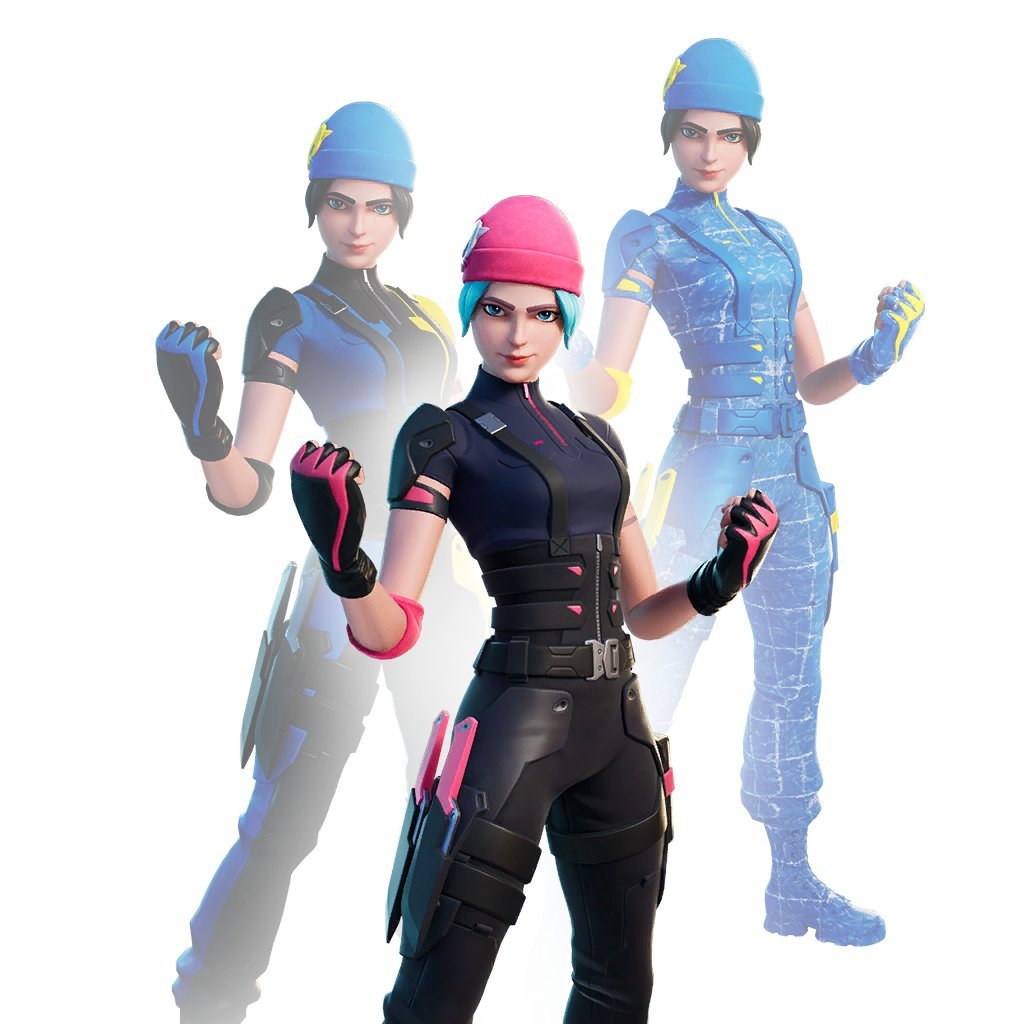 Additionally, we appear to be getting another set of items based on a real-life creator, similar to the Tyler "Ninja" Blevins set. We will go into more detail on these cosmetics later.
Check out the video below for exclusive in-game footage of each of these new skins.
The new skins ingame!
Leaked Back Blings
Renegade Shadow appears to be the only skin receiving a back bling in Patch 12.60. Cuddlepool's Bow and Ravenpool's Cage have already been released.
Leaked New Styles
Surprisingly, the Styles portion of this patch is the most exciting. With 10 new styles total, one in particular stands above the rest. The notorious Recon Expert skin will receive a "no hat" style. This all but confirms its re-release into the item shop.
On the surface, the Recon Expert appears as just a standard skin. In reality, it is one of the rarest, if not THE rarest, skin in the game. Recon Expert was last seen in the shop 921 days ago. The Recon Expert will return back into the fray after over a two and a half year hiatus.
Leaked Pickaxes/Gliders
Shadow Stalker and Steel Shadow join together in completing the Renegade Shadow skin's Lone Shadow set.
Leaked Wraps, Music Packs and Loading Screens
Loserfruit Set and Nintendo Exclusives
The next creator to have their likeness featured in-game will be none other than Loserfruit. Encrypted files suggest that Loserfruit will receive her own skin, backbling and emote.
Leaked loserfruit cosmetics infos [thanks to xor
#3841
]:
Skin:
- Name: Loserfruit
- Desc: One sweet little berry, Vitamin packed and ready to slash.
Backbling:
- Name: Bounce Berry
- Desc: Buddy Bag
Emote:
- Name: Fruit Punchers
- Desc: Good Vibes only. Keep your friends close
Also found in the files, is a new ID labelled "Cosmetics.Source.Platform.Nintendo". Players can expect the release of a new exclusive cosmetic tied to the Nintendo Switch.
There might be an upcoming Nintendo Exclusive cosmetic/skin, this new ID got added (via:
@ShiinaBR
)
"Cosmetics.Source.Platform.Nintendo"
There you have it. Every single cosmetic found in the Patch v12.60 game files. There are no further details on these items. They could enter the shop tonight, in a week, or many months from now. Regardless, make sure you have your V-Bucks on deck for when these fresh new items finally hit the shop.
Stay tuned here at GGRecon for updates on all things Fortnite — including all of the new cosmetics found in future patches.
Images via Epic Games, @HYPEX and @Lucas7yoshi