The value of connection in the Overwatch League.
20:00, 23 Nov 2020
"You've got to have someone to talk to, I think," said Matthew "super" DeLisi, looking away from the camera and gathering his thoughts on a recent episode of Plat Chat, a popular Overwatch League talk show.
Although he is known for his bravado and big-shot play style, super went on to share honest and vulnerable insight on the struggles players faced this season, himself included. Many considered retirement and found themselves uniquely tested, unable to ever fully escape the pressure of the game when the COVID-19 pandemic forced home and scrimmage spaces to become one.
The life of an Overwatch pro player is a lonely one by nature: hours of scrims, localisation, and subsequent separation from wherever one might call home. Even in the best of times, there is no guaranteed lifespan or stability for a player's career, no matter how deeply they sacrifice.
In the era of COVID-19, they are in a more precarious position than ever.
Players can do little else but vent to one another, trying to remember that they are not suffering alone.
After all, Overwatch has long been defined by connections between players, with duos like Dong-jun "Rascal" Kim and Ji-hyeok "birdring" Kim as well as Jonas "Shaz" Suovaara and Benjamin "BigG00se" Isohanni leaving indelible impressions on the history of the game. Terence "SoOn" Tarlier joined the Los Angeles Valiant in Season One in large part because they were willing to also pick up his fellow Frenchman, Benjamin "uNKOE" Chevasson.
Even Season 2's iteration of the Vancouver Titans was composed almost entirely by the former members of the RunAway roster, many of which reportedly turned down strong individual offers in favour of being signed as a whole roster. Whether a story is one of untimely separation or unity until the end, these narrative threads hold together the fabric of the Overwatch scene.
The desire for connection and familiarity was felt in the sea of off-season signings, beginning with the rebuilding of Dallas Fuel.
At the end of Season 3, the Dallas Fuel released all but one of the players on their roster; only DPS player Dong-ha "Doha" Kim survived the culling. Soon after, they plucked high-performing players from rosters across the league in a move that initially made little sense to many fans; Dallas Fuel was a historically underperforming team, and these were players with real promise.
When the news broke that Eui-Seok "Fearless" Lee would be leaving the Shanghai Dragons, things became clear.
The Shanghai Dragons released a Q&A with their GM, providing a refreshing amount of transparency regarding Fearless' trade.
Why did you trade Fearless?
Is this team going full budget?
The off-season is usually shrouded in plenty of mystery and to combat that, our GM Van has answered some of the most common questions our fans have asked!
#ShanghaiDragons
#Breakthrough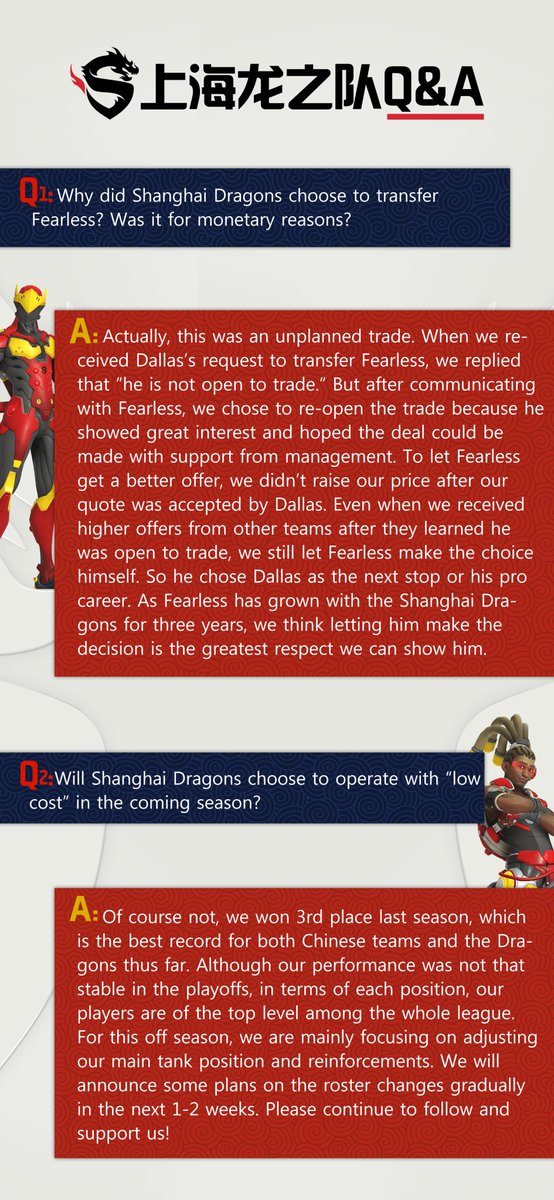 And so, we learned that Fearless, initially off the table for trade, chose to move to Dallas despite having received other offers, reconnecting him with a core of former teammates and coach from Element Mystic.
This was the team that had helped Fearless show a strong performance in Contenders Korea before he was signed by the Shanghai Dragons in Season 1, finding only middling success. With former Element Mystic's Head Coach Hee-won "RUSH" Yun now at the helm of Dallas, it makes sense that Fearless would want to return to that warm memory in his past.
He would have had stability on the already-successful Shanghai Dragons roster, could've enjoyed more money under other organisations.
Still, he chose his former coach, his old friends. And perhaps more than that, they chose him.
Players like Yeong-han "SP9RK1E" Kim and Han-been "Hanbin" Choi enjoyed explosive rookie seasons and were highly coveted heading into the off-season, making them easy-to-understand additions to the roster. While Fearless gained much praise after his performance in Season 3, he was not as hyped as some of the Fuel's other pick-ups. He was hand-picked, chosen to fit back neatly in the home that RUSH and the rest of Element Mystic had waiting for him.
Fearless' story is only one of many instances of players chasing the familiar this off-season.
GGRecon's own Joseph "Volamel" Franco has a theory about players and coaches, about ducklings following the mother duck. He is seldom proven wrong.
Sources close to GGRecon have revealed that Heesu "Heesu" Jeong will likely be joining former Philadelphia Fusion teammate Su-min "SADO" Kim on a refreshed Toronto Defiant roster. It's a decision made that much easier by a solid coach like Dong-gun "KDG" Kim (formerly of the Fusion) coming along for the ride, too.
The COVID-19 pandemic could last for another year or more, meaning no homestands or audiences for players to draw energy from, as well as more of the same monotonous routines. Scrim blocks will inevitably blur into VOD review into solo queue into staring at a monitor for hours on end; last season's issues potentially compounding from the continued isolation.
In a year marked by loneliness, disconnect, and isolation, it makes sense that players would forego expensive buy-outs or guaranteed starting spots for the opportunity to be with people who make this strange period of life more bearable.

Who wouldn't give it all up to be among friends again?

Images via Blizzard Entertainment and Shanghai Dragons Social Media