Mass numbers of Twitch Streamers have had content deleted due to DMCA warnings.
14:07, 21 Oct 2020
Thousands of Twitch streamers up and down the globe have been hit with a Digital Millennium Copyright Act (DMCA) warning which has resulted in hours of content being wiped from the platform from each individual.
Branded as a "bloodbath" ban, the strike has smacked down on some of the biggest streamers on the platform, including esports professionals and content creators. Videos and clips, which is their life work, have been automatically wiped from their channels in one of the most brutal slams from the copyright law that Twitch has ever seen.
The DMCA comes into play after streamers have played music on their stream (even in the background or within other peoples videos) that fall under copyright laws. Emails circulated overnight, with many Twitch users waking to the news that their work has been deleted due to the laws, or will have to delete them manually before facing a ban from the platform.
Twitch's email to the streamers reportedly stated: "We are writing to inform you that your channel was subject to one or more of these DMCA takedown notifications and that the content identified has been deleted".
the Twitch DMCA bloodbath has begun, as hundreds of partnered streamers have received emails from Twitch as DMCA takedown notifications

With the email circulating, hundreds of streamers and content creators took to Twitter to vent their frustration.
Got hit with that DMCA warning and I haven't played music in months. dang.
gg so I cant play literally any music anymore on stream or what? so dumb bro
i made it 🥰🥰🥰🥰 thank you so much
@twitch
for this opportunity!!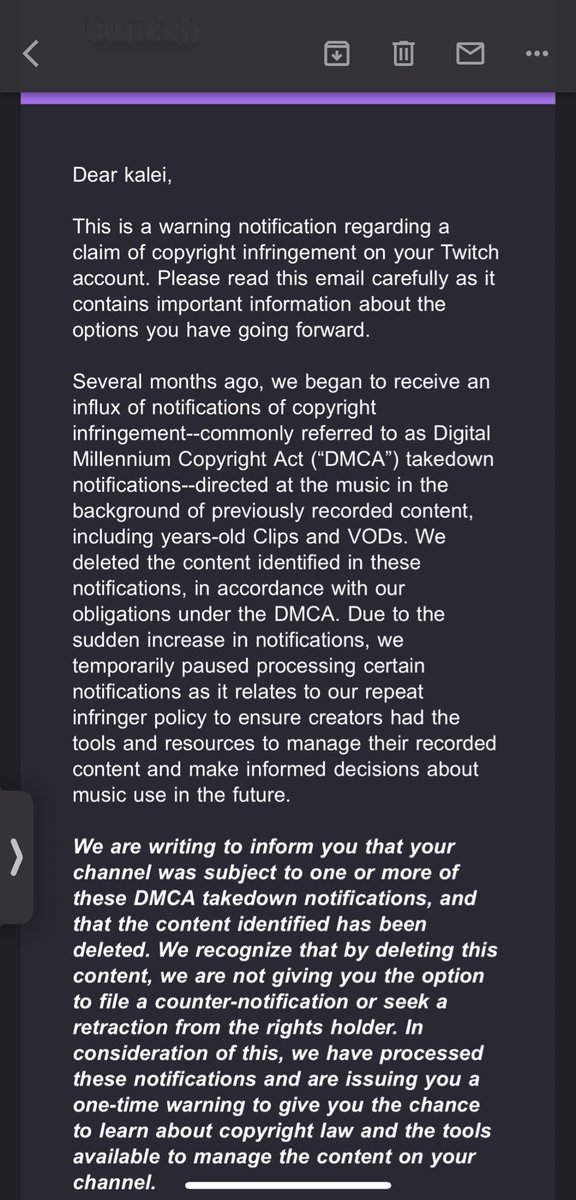 I think I have to finally delete my VODs and Clips today. So many memories... gone.
So
@Twitch
just threatened my account with termination if I ever get DMCA'd again,
They didn't tell me what got striked,
Nor did they didn't tell me who issued it. (for all I know it could be a random person), so I can't even appeal/remove the strike.
Really
@TwitchSupport
?
YouTube streamers have previously been hit with such strikes, although some that had made the switch between the platforms had their old content hit with the warning too. Jack "CouRage" Dunlop joked that "I might get DMCA banned from Twitch" before his 100 Thieves companion, Brooke "brookeab" explained that her channel was safe as she deleted everything from her channel before moving to YouTube.
I understand that it is because of the law - just wanted to clarify that it would be nice to have a time stamp or exact incident so streamers were aware of when it was occurring.
Twitch responded to the outbursts by stating "the email was to inform you that one or more of your VODs/Clips had received a DMCA takedown over the past few months, as well as give you time to learn more about copyright law and the tools available to manage your content before we resume normal processing 10/23.
"This content was identified and deleted for you, in accordance with its obligations under the DMCA. Going forward, Clips that are identified as having copyrighted music will be deleted without penalty to help ensure you do not receive DMCA notifications from rights holders".
With many streamers facing bans if they continue to play copyrighted music on their streams, it's likely that the vibes on stream will solely be due to personality rather than entertaining with music.
Stay up to date with all the latest esports and gaming news by checking out our social channels here: Twitter | Facebook
Image via Brookeab | OpTic Gaming | G2 Athena | TimTheTatMan | Twitch