After going down 0-2, the Hurricane find a way to bounce back
17:30, 14 Mar 2020
After a dramatic grand final, the London Spitfire's academy team, British Hurricane, are your Week 1 Overwatch Contenders Champions.
British Hurricane pulls through with a reverse sweep against
@SMC_EU
and take home the FIRST win in the Overwatch Contenders EU Week 1 Finals!
#GGWP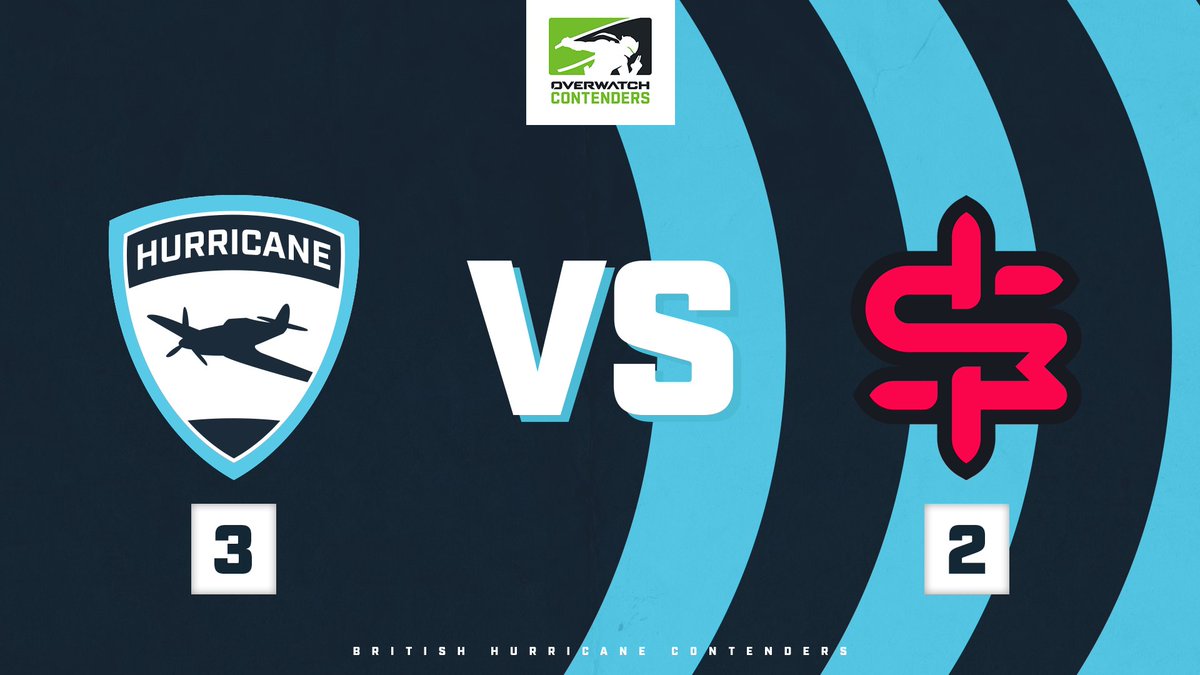 Their championship run included wins over the Paris Eternals academy team, Eternal Academy, NYYRIKKI Esports, and Shu's Money Crew EU.
While their performance was impressive all tournament long, Hurricane's grand final against Shu's Money Crew EU was shockingly close. Team Manager Ysabel "Noukky" Müller clarified on the events that lead to that.
"Dannedd had a power outage at his house [and] since it wasn't resolved after 5 minutes he packed up his computer with his brother and they carried it 15 minutes down the street to his mum's house that still had power," Noukky explained. "They rebuilt it and he was able to play from there. I want to point out that SMC were great sportsmen going into this match allowing us to use Unter as a stand-in."
Head coach Max "Unter" Unterwurzacher, who was featured in Map 2, echoed that same stressful notion from inside the team.
"[It was a] pretty stressful situation with Dan's power going out while the team was in [the] lobby about to start Map 1. Subbing me in was really only a desperate strat to buy time and avoid forfeiting the whole series," Unter said. Not only was Unter an emergency substitute and forced some of the team to off-role, but he was also playing on 300+ ping.
Including the Seeding Tournament held earlier this year, the British Hurricane extend their dominance and now boast a 7 match win streak, not including bye rounds. Their success dates back to the end of 2019 where the team won the first Open Division: Breakable Barriers: Europe, Middle East, Africa. With a record that spotless, it is no wonder confidence is riding high.
"With the [victory] over Paris we made the statement we're the best in Europe," said assistant coach, Joshua "Elbion" Tuffs. "We 'dropped' two maps to SMC, but of course with our actual roster in, we full held twice. I think SMC is absolutely top four in EU, but the gap between us and Paris and the rest of the field is significant. So basically I think Paris is our only competition this season, and we are theirs. And for this week, yes we take the crown."
"We're feeling confident going forward. We definitely have some holes to shore up still, as every team does. But we know what they are, which makes progress very easy. Also, this year is different, with so many OWL teams on the east coast of America, we are scrimming many OWL teams. Meaning that we're actually getting slapped in a decent amount of scrims which makes learning much easier. So I think compared to last year in season one when we somewhat plateaued without good practice, this year we have a ton of room to grow still and our eyes are set squarely on Atlantic Showdown."
"We are well prepared for the Contenders Season," Noukky claimed. "Our coaching staff is working together very nicely to prepare for Hero Pools. I am glad we were able to secure a head coach before those dropped. I believe we [will] be top 4 this season together with Eternal. They are coming in strong."
"Really proud of the team to pull through, despite being at a two map deficit to factors entirely out of their control they came back with a dominant win," Unter agreed with his colleagues. "Pretty confident going into Hero Pools. We're not perfect, but we've got a really talented and flexible roster so I don't think we'll be blaming 'unlucky' hero pools for any losses."
Images via British Hurricane