Dark Lord's Glitchpunk brings two gaming giants together with a title that plays like a Cyberpunk and GTA crossover.
17:31, 06 Feb 2021
Away from people modding The Legend of Zelda: Skyward Sword into Breath of the Wild or Resident Evil 4 into Far Cry 5, it's rare that actual game crossovers happen apart from in the hero brawler that is the Super Smash Bros. franchise. While the latest isn't an official crossover, fans have already clocked that Glitchpunk is a not-so-subtle nod to both Cyberpunk 2077 and Grand Theft Auto. Is this the Cyberpunk and GTA crossover we could've only dreamed of?
If you'd ever wondered what it would look like if someone fused Cyberpunk with the top-down era of GTA 2, wonder no more. Developed by Dark Horse and published by Daedalic Entertainment, Glitchpunk is coming to Steam early access in Q1 of 2021. Even though there's no concrete release date, we're guessing it won't be delayed as much as Cyberpunk 2077 was - well, that would be nearly impossible!
What is Glitchpunk?
Not too dissimilar to the neon-drenched Night City CD Projekt Red created for Cyberpunk 2077, Glitchpunk drops you into a dystopian nightmare. Here, players take control of a glitching android that's broken free from the programming of its creators. Taking a leaf out of GTA's book, you'll face-off against "drug-crazed gangs, aggressive police, and irresponsible drivers". According to Dark Horse, Glitchpunk will let players "shoot, brawl, drive, steal and sneak yourself through a neon-soaked world full of gangs and cults, forging cooperations along the way", with a distinctly GTA 2 feel.
You'll undertake missions against the megacorporation that used to control you in a typically Cyberpunk storyline, however, Glitchpunk is trying a modern approach by also tackling themes of "transhumanism, xenophobia, and religion" alongside "relationship, self-discovery and betrayal". Much like Cyberpunk 2077, the decisions made will affect the story's climax, so you'll have to keep on top of your moral compass. Much like Cyberpunk, Glitchpunk puts hacking near the top of your to-do list, meaning players can take control of other devices and androids. These should come in handy helping you take on the 12 different factions that inhabit the game.
When can you play Glitchpunk?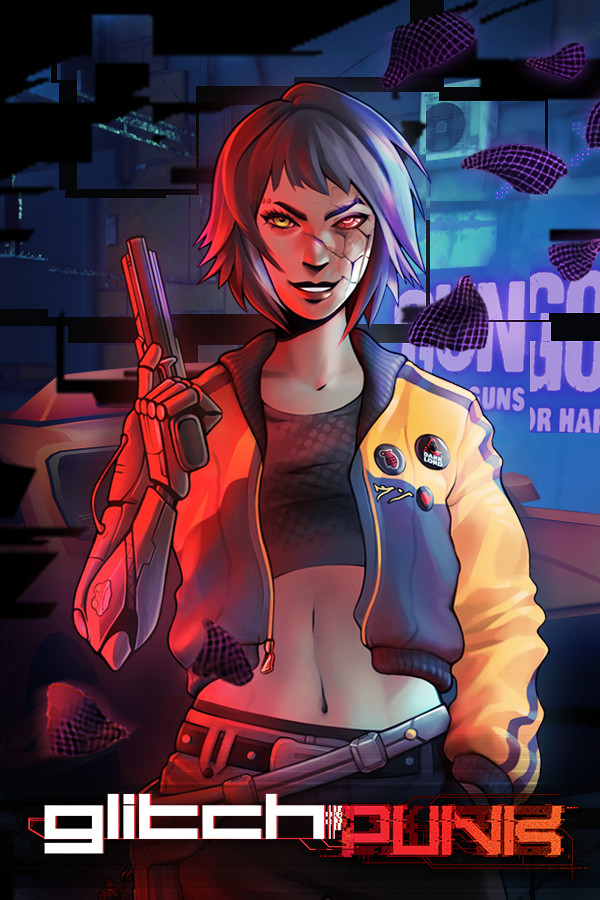 Further amping up the Cyberpunk and GTA crossover themes, the main character will be able to explore each of the four unique maps in a variety of different vehicles. Whether it's tanks, trucks, or trains that take your fancy, Glitchpunk lets you get behind the controls of them all. As for the different locales, there are some typically futuristic backdrops, including a ruined American city that's been ravaged by nuclear war and a snow-capped city in Soviet Russia. Also copying the fan-favourite status of GTA, there's a radio station to pick your favourite tunes as your zoom around the maps.
While Glitchpunk clearly isn't a Cyberpunk and GTA crossover, it's set to cash in the popularity of both franchises. Although it's not as sophisticated as Cyberpunk 2077 - and presumably hasn't been in development since 2012 - it could arguably out-Cyberpunk Cyberpunk 2077. It's no secret that CD Projekt Red's sci-fi shooter didn't get the fanfare it expected thanks to a wave of glitches and graphical complaints. Glitchpunk is a lot more simplistic in its approach, with its top-down view allowing developers to get away with a lot more. Looking at Glitchpunk, it's easy to imagine it being a minigame within Cyberpunk 2077.
Even if GTA has come on a long way since GTA 2 first hit the PlayStation in 1999, there are plenty of us who have fond memories from the early days. Encapsulating the retro nostalgia of GTA 2 with a boom in popularity for Cyberpunk-esque games, Glitchpunk could be a big hit for Steam. If you're already sold, Glitchpunk demo will be available as part of the Steam Games Festival that's running from February 3 to 9.
Stay up to date with all the latest esports and gaming news by checking out our social channels here: Twitter | Facebook | Discord
Images via Dark Lord | CD Projekt Red