Launch Weekend has officially concluded and although the event was stellar, some teams still ended on a solemn note.
09:10, 27 Jan 2020
The Call of Duty League's first event has concluded, as Launch Weekend in Minnesota has come to an end. The first outing for the CDL went fairly smoothly, although there were some hiccups along the way. However, the positives vastly outweigh the negatives when looking at the event as a whole. Though, like all esports tournaments, there were some aspects riding high and others trending down.
High- Paris Legion
Most everyone had the Paris Legion ranked at the bottom of their power rankings coming into Launch Weekend. The team hadn't practiced much and the roster as a whole doesn't have a ton of experience. However, in their two matches this weekend, they proved all you need is a good strategy and teamwork to succeed.
The Legion thoroughly dominated their competition, defeating OpTic Gaming and London Royal Ravens by a score of 3-1. The squad looked terrific in all facets of their gameplay. Whether it was Search and Destroy or respawn modes, Paris had everything under control for the most part. After the first event, the Legion sits tied atop the CDL standings with a 2-0 record.

The Call of Duty League season standings following Launch Weekend.
Thoughts? 🤔
#CDL2020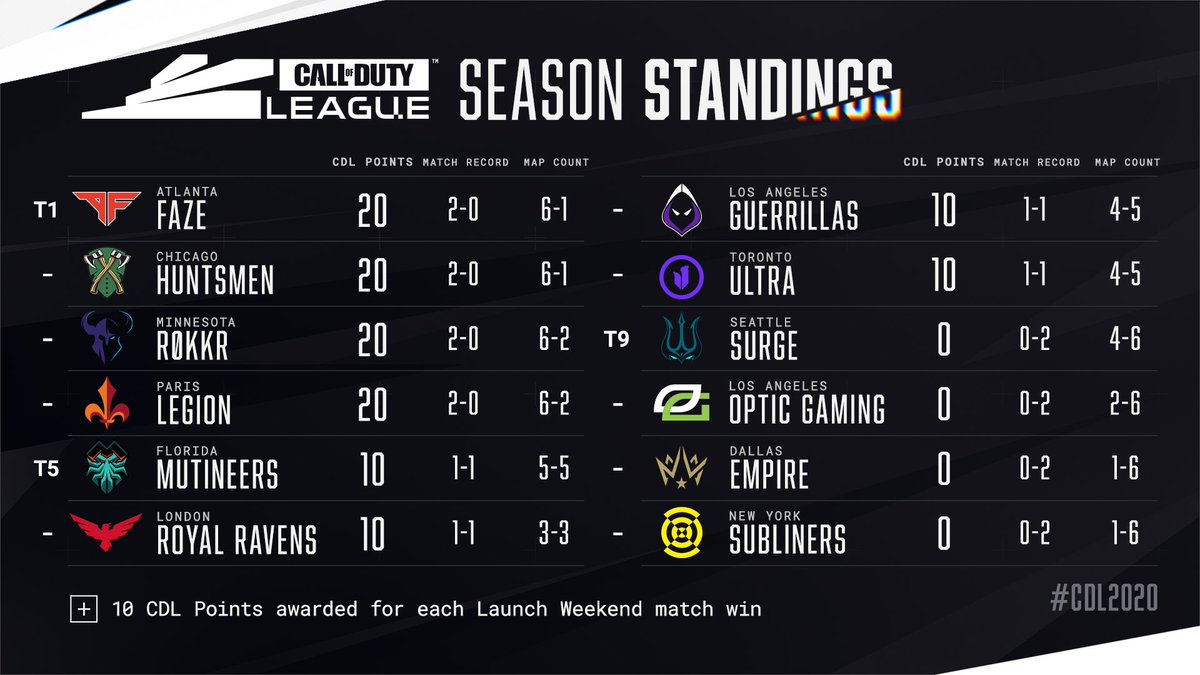 They'll look to keep their momentum going when they travel to London on Feb. 8.
Low- OpTic Gaming L.A.
As aforementioned, OpTic lost 1-3 against the Paris Legion on Saturday. Although, they came into Sunday with hopes of taking down the Chicago Huntsmen. Those hopes did not last long, as they were thoroughly handled by the former OpTic members of Chicago. While OG came close in Domination, they simply weren't good enough in that series and across the weekend as a whole.
With such a talented roster, many expected OpTic to perform well this weekend, as it's the first time on LAN. However, what instead transpired was a serious lapse in performance. Optic looked lost in the Search and Destroy maps and their respawn game modes weren't that much better.
The only silver lining for OpTic Gaming is they'll have almost a month to go over their mistakes and get ready for the next event in Atlanta on Feb. 22.
High- Minnesota Rokkr

VICTORY
Thank you for all of the support online and in venue.
Tickets available 👉🏻
#R
ØKKR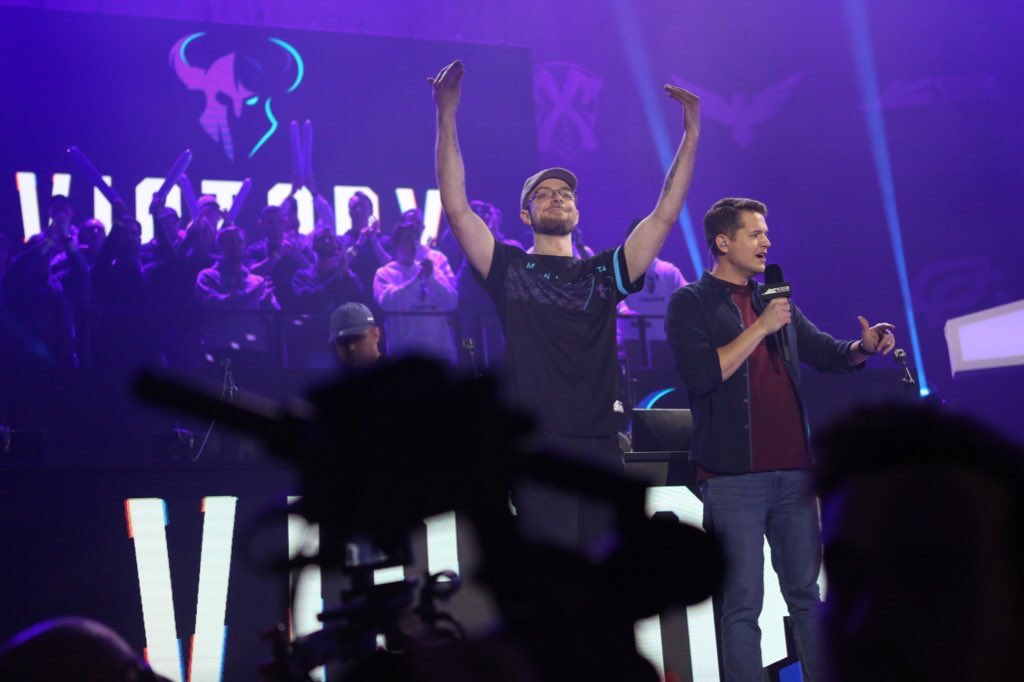 While the Rokkr as a team did extremely well this weekend, we're not talking about their place in the standings or their gameplay. The reason we have Minnesota listed as a "high" is due to the organization's handling of the first CDL event. From the venue to the aesthetics, Launch Weekend was a success in large part thanks to Minnesota.
Aside from a few technical hiccups on the first day, the event went off without a hitch. Sure, there were a couple of delays and technical difficulties, but that happens with every event. The Armory in Minnesota was a terrific place to hold a CDL event, leading to a stellar weekend. Even the parking garage where Call of Duty Challengers was held looked to be a great space, despite rumors of it not being heated.
All in all, Launch Weekend was a big success and future hosts will have to compete against the high bar that the Rokkr set this weekend.
The next CDL event will take place in London, England starting on Feb. 8. Eight teams will be in attendance.
Images via ROKKR.