Discover the secrets behind the Apex Legends' sudden growth on Steam.
18:00, 02 Feb 2021
On Sunday, January 24, Apex Legends hit an all-time high concurrent player count on Steam with 120,000 players. This broke the previous record by several thousand. Then, just a week later on Saturday, January 30, the record was once again broken - this time with 130,000 concurrent players.
Usually, this would happen at the start of a new season launch or a hyped-up in-game event. However, Apex is doing better than ever — sort of out of nowhere.
Why is this nearly two-year-old game surging in popularity? Let's do a little investigating and talk about some of the reasons why this might be happening.
Apex Legends Season 8 Hype
While the Season 8 release date was still a ways off when these records were being broken, the Season 8 hype certainly played a factor.

To start, Fuse hasn't even come out yet, and he's already earned tons of fans. Fuse's Stories from the Outlands trailer amassed 5.7 million views in a mere two weeks. In comparison, Horizon's Stories from the Outlands trailer has just 4 million views over three months. Players are excited about Fuse, and he alone may be bringing players back to the game.

Along with a new Legend, Season 8 is bringing us the first new weapon since Season 6. Season 7 did not include a new gun, so the 30-30 Repeater is a welcome addition.

To top it all off, Apex Legends' second anniversary is scheduled for February 4. Fans are expecting some big surprises in celebration.

Altogether, the hype for Season 8 is massive, and it appears to be trickling down into the playerbase.
Battle Pass And Ranked Rewards Grind
The end of a season means it's the last chance to collect any season awards. Towards the end of a season, players that may have been on a break will hop on to finish out the Battle Pass before it is gone forever.
Additionally, it's the last chance to push for Ranked Mode rewards. Grinding Ranked takes time, so everyone wants to push for those last few rank ups before their hard work is erased.
The increase in concurrent players could be partly a result of everyone jumping on to finish the Season 7 reward grinds.
Apex Legends Season 7's Excellence
Despite the hype around Season 8, we think the overall quality of Season 7 is moderately responsible for the record-breaking number of players on Apex Legends.

It seems to be a popular sentiment in the community that Season 7 is one of the best seasons of Apex — ever.
Unlike pretty much every other new Legend, Horizon was very powerful on release. She's been so strong, that the developers claim she surpassed Wraith for the highest win-rate among Legends. She's fun to play aggressively, and her abilities sync perfectly with most team compositions. Horizon brought new life to players that may have been getting tired of their old main.

Season 7's new map, Olympus, is debatably the best map of the three maps in the Apex Legends roster. Olympus is absolutely beautiful with its cherry blossom trees, luscious fields of grass, and modern architecture. Apex Legend's first-ever vehicle, the Trident, offers a fun way to transverse the map and allows for creative strategies.
Season 7's fresh additions could be a factor in Apex Legends' newfound popularity on Steam.
The Growing Esports Scene
Finally, the Apex Legends Global Series (ALGS) Winter Circuit might deserve some credit for the increased player counts. The ALGS Winter Circuit kicked off the same exact day Apex Legends' Steam numbers started to pop.

The ALGS is Apex Legends' official competitive ecosystem. It's where you go if you want to be a professional Apex Legends player.

The ALGS has blown up in popularity over the past few months. More fans than ever are tuning in to watch the best of the best duel it out. Numbers-wise, The ALGS Autumn Circuit #3 event peaked at 57,453 viewers for the North America tournament and 32,913 for the Europe tournament. Compare that to the Winter Circuit #1 event just a couple of months later, where North America's tournament hit a peak of 97,255 viewers while Europe's peaked at 72,401. Both of these regions are doubling their viewership numbers from just a few months prior. Apex Legends esports is drawing in fans, and in return, those fans go and play the game in hopes that they can one day frag like a pro.

The pros participating in these events are also reaping the rewards of Apex Legends' increased popularity. Phillip "ImperialHal" Dosen, TeamSoloMid's in-game leader, has been breaking viewership record after record during his streams of the Winter Circuit.
Made a lot of mistakes tonight individually and as a team so gotta move on and fix them, we did break viewer count record again which is amazing and i want to thank you guys for that , GN ♥️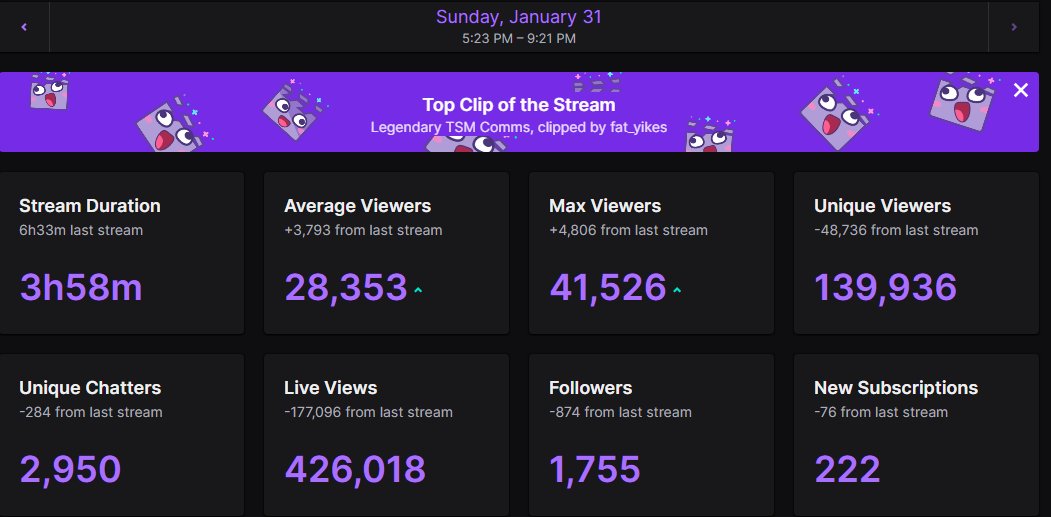 Apex Legends' esports success is causing a ripple effect. Fans watch top-tier gameplay first-hand and then decide to try it out for themselves.
There's no one reason why Apex Legends is all of a sudden peaking in popularity. It's a mixture of Season 8 hype, players rushing to complete the Battle Pass and earn Ranked rewards, the high-quality of Season 7, and the growth of the Apex esports scene. Altogether, these factors have pushed Apex Legends' concurrent player counts on Steam to all-time highs.
With all this momentum, will Season 8 - Mayhem propel Apex Legends to even greater heights? We'll find out very soon.
Stay tuned here @GGReconEsports for Apex Legends news, guides, features, and more.
Images via Respawn Entertainment