The two teams that go on to tomorrow have been decided.
17:00, 29 Sep 2020
LGD Gaming and Parapara SuperMassive live to fight another day after strong performances in each team's respective best-of-five at the League of Legends World Championship. LGD Gaming turned it around after a poor play-ins group stage performance sweeping the Latin America League (LLA) representatives, Rainbow7.
While Parapara SuperMassive gave the Turkish Championship League (TCL) its first victory over a major region in the form of MAD Lions from the League of Legends European Championship (LEC).
Rainbow7 VS LGD Gaming
An impressive game one in a statement win by LGD Gaming to start the series. They were looking like the stronger players while also performing better around the map.
It was all jump-started by a bottom lane gank from Han "Peanut" Wang-ho forcing Francisco "Leza" Jara Barragán's Flash. This allowed for LGD Gaming's bot lane to punish his lack of summoners and get themselves ahead — killing him for the First Blood. LGD were decisive with their picking of fights, utilising Xie "Lanx" Zhen-Ying's teleports as well as Su "xiye" Han-Wei's Twisted Fate ultimate to initiate picks. Ling "Mark" Xu was also crucial in their team fight wins constantly getting three-man knock-ups on the Rakan.
LGD took the fights instead of setting up around objectives, and winning the fight net them the dragons and the Barons — this was not the LGD of the group stage.
A better early game from Rainbow7 started game two, but an even better game from LGD ended it — with a more dominant performance than game one. One again, like the first match of the series, Peanut got took control of the tempo in the early game starting with a gank onto Tomás "Aloned" Díaz for First Blood. Peanut was at the perfect place at the perfect time so far in the first two games.
Compared to their play-ins group play, LGD were more patient around the objectives — Dragons and Barons. They also picked themselves easier to execute compositions.
After having a glimmer of hope in the early game,
@LGDgaming
assert their dominance over
@Rainbow7lol
after the 15 minutes mark and move on to match point! R7 need a reverse sweep and a miracle to avoid elimination from
#Worlds2020
here!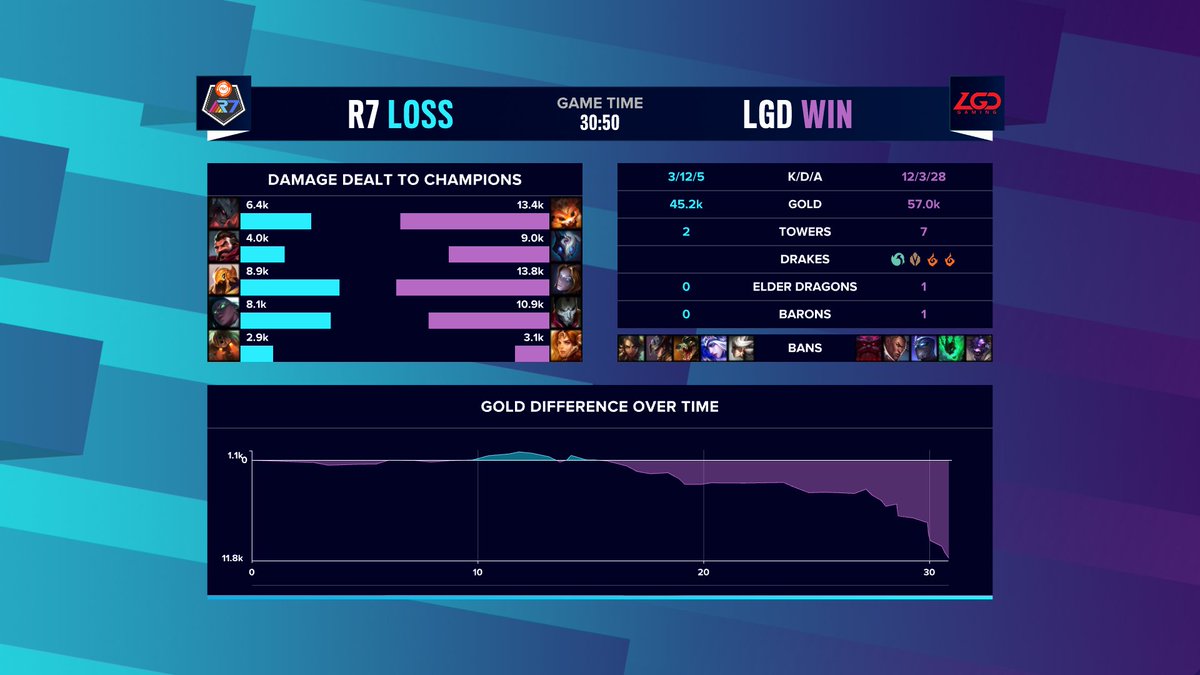 Game one bot lane, game two mid lane, and in this final game three, Peanut once again provided and facilitated the First Blood — attacking the win conditions or the focus for Rainbow7 in every game. The player of the match focused Rainbow7's Kayle pick in the top lane. Even with Peanut running amok in the early game, the Latin America representatives came out the gates with a much-improved performance. A stronger draft and a carry showing by their MVP, Brandon "Josedeodo" Villegas helped them punish xiye's mistakes of walking out too far in the map, allowing them to get a lead.
A key fight in the mid lane where LGD got a 3 for 1 turned it all around for the LPL's fourth seed as they slowly put themselves back in the game — getting picks and winning subsequent team fights. All of these combined were what led to LGD sweeping Rainbow7.
Rainbow7's World Championship was ended brutally, making it yet another year that a Latin American team hasn't reached the Worlds group stage.
MAD Lions VS Parapara SuperMassive
ParaPara SuperMassive showed dominant performances in a five-game series win over Europe's MAD Lions. Lee "KaKAO" Byung-kwon had multiple exceptional performances on the Lilia in games three, four and five — being named player of the series.
It was a dominant start to the game by Parapara SuperMassive beginning with a First Blood for KaKAO. In response to this play, Zhiqiang "Shad0w" Zhao went for a play of his own in the bot lane but would have it turned on him after an İrfan "Armut" Berk Tükek Shen teleport made a good play go sour — getting SuperMassive two more kills to begin the game.
With their backs against the wall, MAD Lions went for a Hail Mary play in the mid lane, allowing them to slowly get back into the game. Clean footwork and team fighting by the Europeans helped them secure the fight with a triple kill for Andrei "Orome" Popa.
The previous play would get washed as SuperMassive read the Lions play like a book. MAD Lions were waiting for a dragon setup, and No "SnowFlower" Hoi-jong made sure to punish that with a clean Alistar engage. These were the types of plays that SuperMassive continued to make with engages from their Hecarim and Shen combo coupled with the Alistar. Berkay "Zeitnot" Aşıkuzun was key fantastic in the team fights on the Ezreal as well.
No one:
Literally no one:
The gold graph: Moving up and down, side to side, like a rollercoaster
@supmass take an absolutely chaotic game 1 over the
@MADLions_LoLEN
, but this series looks wide open!
#Worlds2020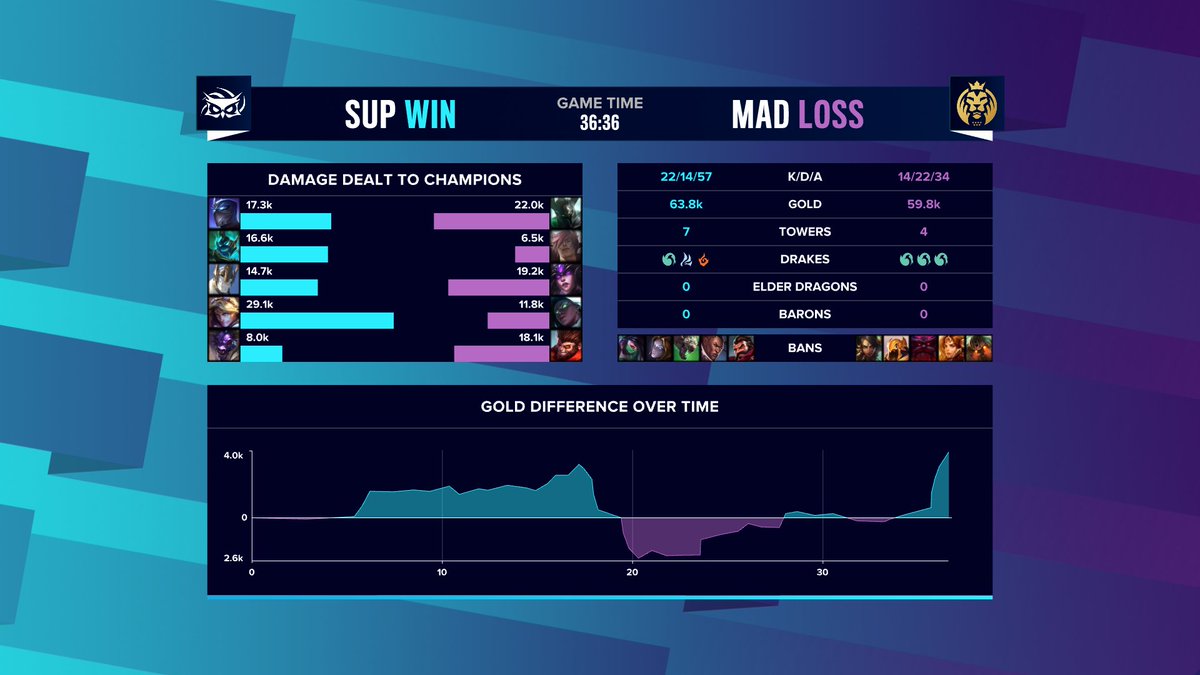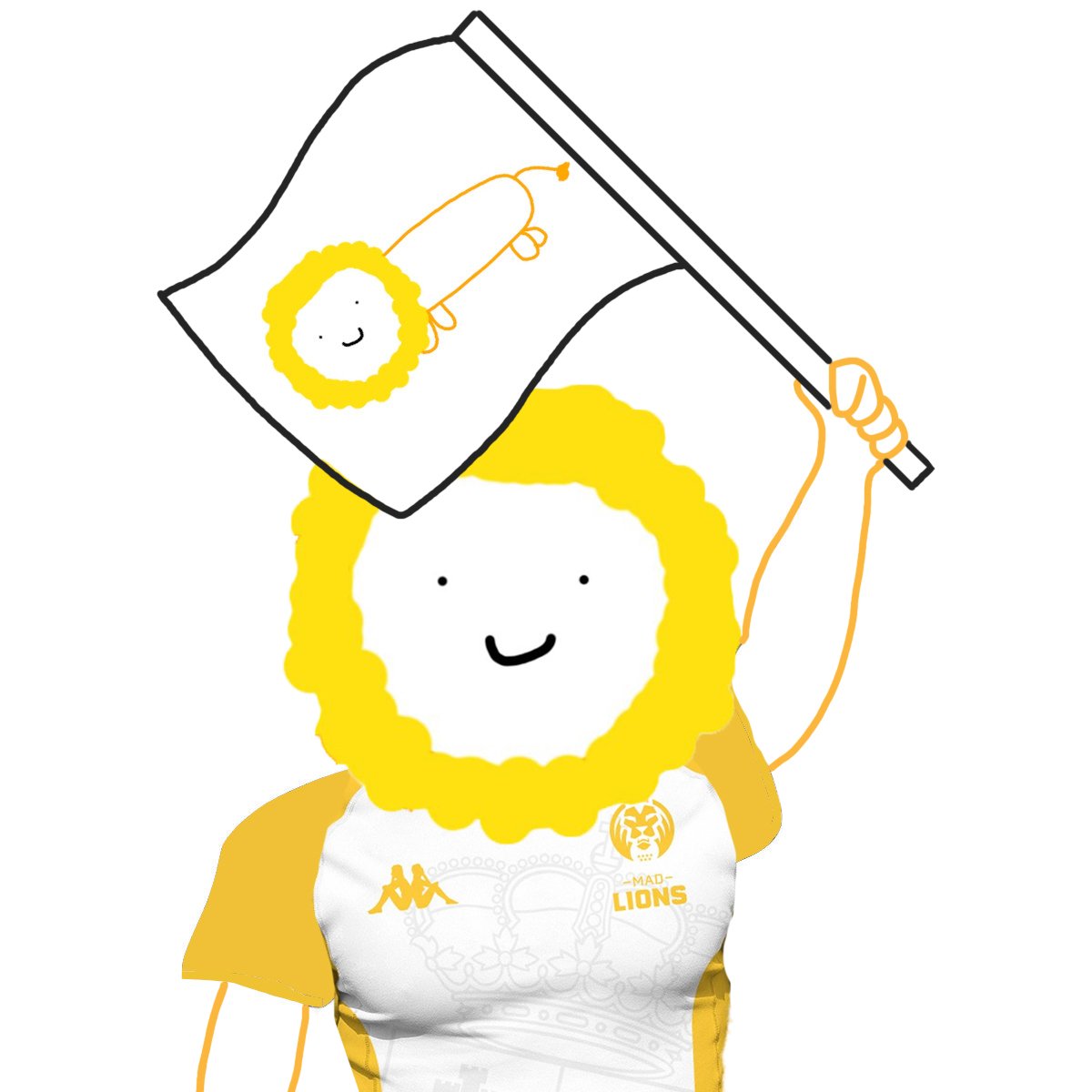 Even with the hiccup of Orome's Sett play — having an exquisite team fight denying SuperMassive's soul take — the TCL representatives were dominant from top to bottom. In this game three, KaKAO showed Shad0w what it means to have a good performance on the Lilia, showing him how to properly play the consensus trap pick champion. KaKAO was a monster all across the map with his Lilia, coupled with Armut's strong play and Onur "Bolulu" Can Demirol's Sett engages.
A surprising Vayne pick by SuperMassive didn't contribute as much as they'd hope for as they didn't have enough tools to shut down Humanoid's Cassiopeia — after throwing multiple bans at him in the draft phase. SuperMassive got to an early lead, but MAD Lions were able to delay them by the slimmest of margins, turning the game after a key soul point fight.
MAD Lions utilised the front to back style that their composition offered and gave themselves a fighting chance. With key picks and plays throughout the rest of the game, the Europeans forced the series to a fifth and final game.
To end the series, Parapara SuperMassive completely outclassed MAD Lions from start to finish, once again supplied by KaKAO's Lilia play. An Armut First Blood started off the game in which he tower dove 1v2, nearly getting himself two kills in the process. This was the precursor of what would come in the remainder of the game.
SuperMassive were just straight-up dominant winning team fights and turning around the team fights that seemed lost.
SuperMassive showed impressive play in each of their wins, making MAD Lions work on theirs. KaKAO's stellar play helped propel them past the Europeans. This is the end for the rookies in the MAD Lions at the World Championship after a gruelling five-game series.
Qualification Round
The play-in stage qualification round tomorrow decides the final two teams that will take the final two Worlds group stage spots. LGD Gaming face off against Legacy Esports for the first series of the day while Parapara SuperMassive play against Unicorns of Love.

For more Worlds coverage, go over to our League Of Legends Worlds Play-Ins: Schedules, Standings, Results, And Interviews article where we are giving updated information pertaining to the tournament.

Images via Riot Games