Over 1 Million concurrent people tuned into Day One of the League of Legends World Champions.
11:45, 28 Sep 2020
League of Legends World Championships 2020 kicked off with a bang. The most highly-anticipated event of the calendar year kicked off with hundreds of thousands of viewers tuning in to the opening game between MAD Lions and INTZ. As MAD Lions kicked off their Worlds experience with a convincing win, the level of performance set the tempo for what was to come.
The intensity and speed of the games were exasperating, and when the last two games of the day came around, viewing records were smashed out of the park.
PSG Talon versus LGD Gaming was the mouth-watering encounter that many were waiting for, as the second-seeded LPL and PCS teams went head-to-head. LGD were heavily tipped favourites to top the group but were stunned by a PSG Talon side that was savage in their team fights and capitalised on their early gold lead. With this, the viewership over both Twitch and YouTube surpassed 1 Million concurrent fans tuned in.
According to Esports Charts, when the LEC and LCS sides clashed horns, over 1.15 Million people saw Team Liquid dismantle MAD Lions and send them back to the drawing board with their tail between their legs.
#Worlds2020
Viewership for the opening day of play-ins (per
@EsportsCharts
)
This excludes television and Chinese streaming sites
It has already beat surpassed last year's play-in viewership peak of 986k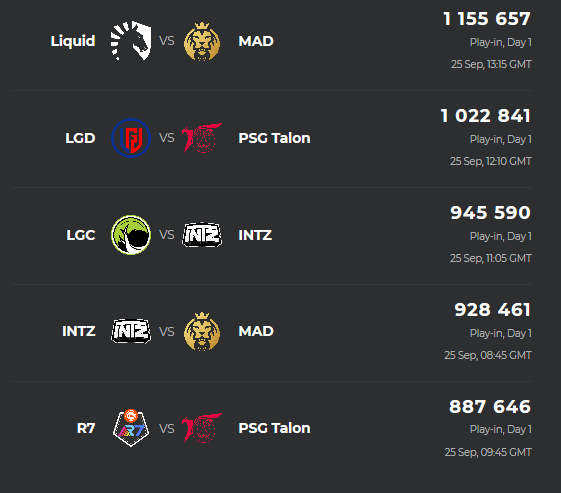 This data also excludes fans in China, one of the biggest fan bases in League of Legends, meaning that the LGD game was most likely watched by many more than the stats suggest.
The viewership of Team Liquid versus MAD Lions surpassed the viewership peak for the 2019 World Championships Play-ins.
Currently, the biggest viewership peak came in last year's World Championship semi-final between G2 Esports and SK Telecom [now T1], with just under 4 Million people tuning in. This year's pattern already looks set to smash this in the latter stages of the tournament.
Stay up to date with all the latest esports and gaming news by checking out our social channels here: Twitter | Facebook
Image via PSG Talon | Epic Games