RNG's roster for the summer split has been finalised, and Uzi isn't on it. Replaced by Betty, it seems that Uzi's time in competitive League of Legends may finally be coming to a close.
21:00, 02 Jun 2020
"Uzi" is a name synonymous with the ADC role, with China, and with League of Legends as a whole. Like Korea's "Faker", Uzi has carved his name into the landscape of competitive gaming through years of incredible gameplay. Even while suffering from serious health issues, Uzi has managed to climb over his competitors and become the face of an entire region.
Now though, the door may have shut on Uzi's dreams of eventually winning Worlds. As of April 30th, Uzi's contract with RNG came to an end and he has now been removed from the Global Contract Database. Now that he is a free agent, other teams should be fighting to pick him up, but he has not been finalised for any other roster so far. With a few teams yet to publicise their rosters, there is still hope, but it is also possible that Uzi is choosing to retire for his personal health. Uzi has even changed the name of his Korean account to "ggggggmeile" - 'meile' translating to something like 'no more' or 'it's doomed'.
Take a look at the RNG 2020 summer LoL division
Coaches/Management - Mata, Sereno, Tabe, Shawn and Shadow
Top - 705, New
Jungle - XLB, S1xu
Mid - Xiaohu, Cryin
ADC - Betty
Support - Ming
We will try to bounce back from our spring split and work hard in the summer!
#RNGWIN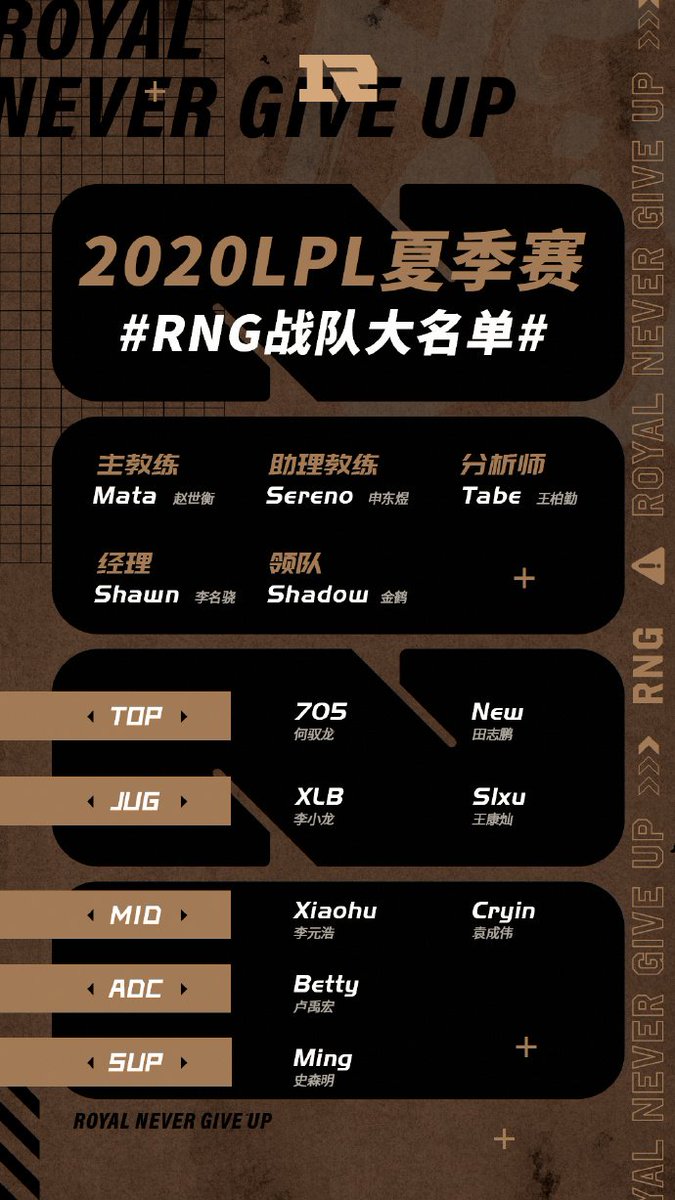 For a few years now, Uzi has suffered from wrist and shoulder pain, especially in the right arm. According to the star ADC, the pain starts at the right shoulder blade and continues throughout his entire arm, leaving him unable to play for more than a few hours at a time. A medical professional evaluated the 23-year old's arms as similar to someone who was 40 or 50 years old. Due to his injuries and the disruption caused by COVID-19, Uzi has not played a competitive match for RNG since Worlds 2019. At the event, RNG had a disappointing showing where they lost to SKT and Fnatic in the group stages and failed to enter the knockout stage. Since then, Betty has been filling in as RNG's regular ADC, and now he will be taking Uzi's position permanently.
It is also plausible that Uzi simply doesn't feel confident in winning with RNG anymore, and has decided to move on to more fertile pastures. Despite his place in RNG being almost as constant as Faker's in SKT T1, his ambition may have won out. Like all great players, Uzi has always had his eyes on the World title and having lost twice in the grand finals, it's likely that Uzi has simply outgrown the organisation.
Although RNG did manage to win the Demacia Cup in 2019, they have had little domestic success since. Their performance in the LPL Spring split was middling, just managing to secure a spot in playoffs with an 8-8 record. Unfortunately, RNG was then eliminated in the first round by EDG, losing the opportunity to represent China on an international stage at MSI 2020. Despite the event's cancellation, it's clear that RNG is not the same powerhouse that we saw raise the MSI trophy in 2018. Uzi certainly has the individual star power to get recruited onto almost any team, and with Worlds 2020 set for Shanghai, it would be strange for him to miss out.
There is, however, a more unsavoury possibility - contract issues. The LCS has seen its fair share of contract disputes and it wouldn't be surprising to see another. There have been rumours for some time about a clause in RNG's player contract that gives the organisation 'first right of refusal'. Such a clause may state that RNG has the opportunity to extend Uzi's contract before any other organisation can make an offer. According to these rumours, the clause expires after 5 years, meaning that if Uzi refused to sign on for RNG again, he would be unable to join another team for 6 months - forcing him to miss this summer split, playoffs and a Worlds tournament on home turf. Then again, there isn't much evidence for this view and so it should be taken with a grain of salt.
With no official news from either RNG or Uzi, the fate of the world's greatest ADC is still up in the air. Whatever happens, we know for sure that the RNG dynasty forged by Uzi has come to an end. We can only hope to witness him take one more shot at the World title before his injuries take their toll.
Image via lolesports