Will NaToSaphiX find his footing with a new team?
18:00, 06 Feb 2021
Norway's very own Nordavind have officially completed their roster for 2021 following the partial release of Niels Christian "NaToSaphiX" Sillassen. Nordavind played in roughly thirty tournaments last year and came out with a minor victory. They placed first at Eden Arena in their first week of competing and came out on top. After beating AGO in the grand-finals with a 5-0 record, Nordavind felt confident for the remainder of their season.
Perhaps their guard was lowered because Nordavind was at the bottom of the leaderboard for a majority of 2020. While NaToSaphiX was away subbing in for S-Tier teams, Nordavind was struggling to perform. They lost twelve events in a row which led to a much-needed roster change.

NORDAVIND'S 2020 SEASON
Multiple players were released from Nordavind due to interest from other teams. Haris "H4RR3" Hadzic was acquired by Dignitas after replacing Ruben "RUBINO" Villarroel due to a wrist injury. Thomas "Ryxxo" Nielsen played on loan for a few months before moving back in with AGF Esport. A team that had just finished in fourth-place at the DreamHack November Open.
Finally, Nordavind was left with a handful of benched players who were looking for another chance to play. The only thing is that Nordavind wasn't in the mood for second chances, but instead, they were focused on winning. After their final player moved on to play with x6tence, Nordavind began to distribute their master plan.
NATOSAPHIX EARNS A SPOT WITH THE BEST
While Nordavind was unfolding for 2021, NaToSaphiX was being called in as a substitute. After nine months of competition with Nordavind, the Danish AWPer was contacted by Complexity. As soon as Owen "oBo" Schlatter left due to feeling homesick, Complexity was left with two events and only four players. NaToSaphiX came in as a temporary player for the ESL Pro League and later on IEM New York.
The boys in blue rolled out and had a strong performance in the group stage. They were just three points behind Astralis which meant they had a spot in the playoffs. Complexity beat ENCE in the quarterfinals but eventually lost to NAVI by a total of two maps.
After losing to Astralis in the lower bracket, Complexity finished in sixth-place. Due to his consistent performance, NaToSaphiX moved on to IEM New York. Complexity was destroyed in that event and didn't even get a chance to play in the semifinals.
PLANS FOR THE FUTURE
Following his release from the North American org, NaToSaphiX was unsure of his role in the future. Luckily for him, Tricked Esport was also in need of a replacement for a big event. After going two months without competing, NaToSaphiX subbed in at Elgiganten Ligaen Season 15.
Their regular-season performance was nothing to brag about, but it was their playoff run that everyone was interested in. Trick Esport went undefeated in the playoffs and finished in first-place alongside their last-minute substitute.
@NaToSaphiX
from
@lyngbyvikings
leads his team to quick victory over
@honorisgg
: 16 - 11 on Inferno, 16 - 7 on Nuke 💪
Just look at that KD 👀They converted all their first kills into a round wins 🔥
Want more? 👉 👈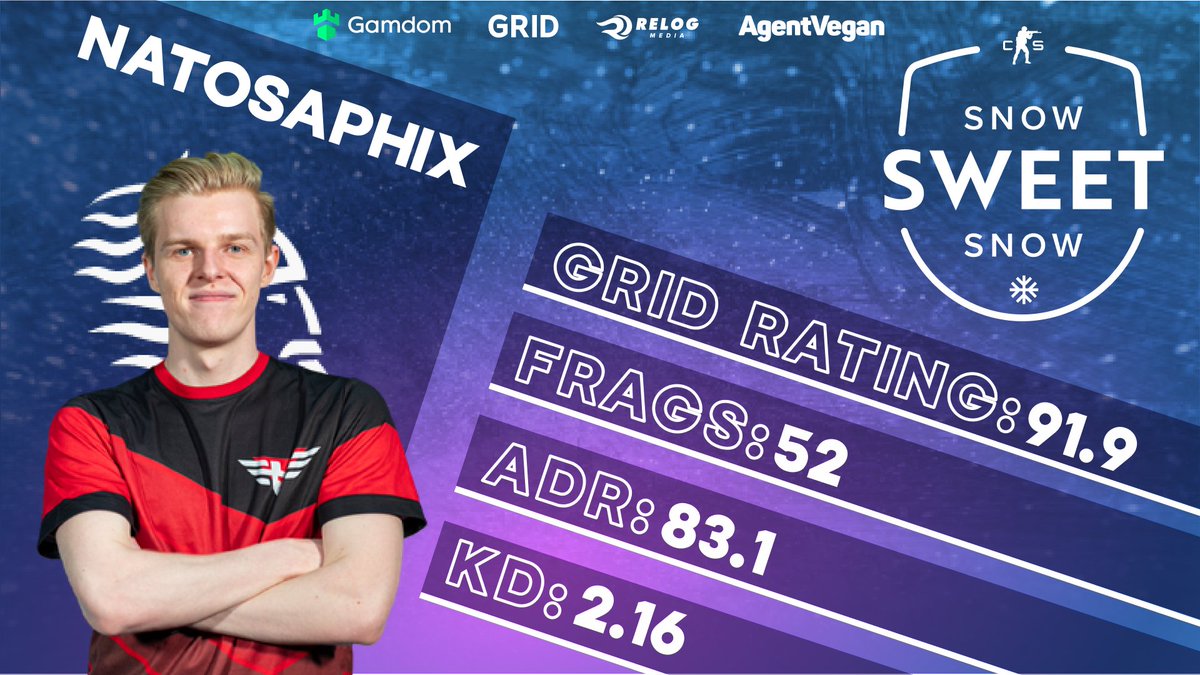 INTRODUCING THE LYNGBY VIKINGS
Once Nordavind made NaToSaphiX an official member of the bench, the Lyngby Vikings swooped in to pick up the young star. Unlike his time with Complexity, NaToSaphiX received a chance to AWP with his current team. After one of the biggest amateur events of the year was announced, NaToSaphix knew he had to compete.
Before Snow Sweet Snow, the Lyngby Vikings had a rocky start. They lost three qualifiers in a row except for the OMEN WGR European Challenge. An event that ended up placing third in. Luckily for the Lyngby Vikings, they were invited to one of the biggest events of the year. Leading up to the Main Swiss Stage they had two top-three placements before being knocked out of the race by Sprout. Hopefully, NaToSaphiX will find a permanent position for the following season.
NORDAVIND'S NEWEST ROSTER
As for Nordavind, their current roster for 2021 includes the following. Jesper "tenzki" Plougmann Mikalski, Daniel "mertz" Mertz, Kevin "HS" Tarn, Anton "supra" Tsernobai, and team captain Sabit "mirbit" Coktasar will be competing in ESEA Season 36. Head coach Dennis "Rytter" Rytter will take the lead in the Advanced League for the third year in a row with Nordavind. Even though Nordavind isn't one of the best teams in Europe, they still carry a lot of respect.
So much in fact that the biggest bank in Norway DNB is their head sponsor. Ex-Copenhagen Flames AWPer mertz will act as a permanent replacement for NaToSpahiX. He's been around the block for five years now and has changed teams roughly twenty times now. Maybe Nordavind will be the final chapter in his action-packed career.
As for the rest of the crew, Rytter has a lot to deal with if he wants to make a championship roster. Even though most people think dropping NaToSaphiX was a bad idea, there's nothing wrong with change. If Nordavind can execute their plans for 2021, NaToSaphiX might be off the team for good if his spot is tampered with. Nordavind's next match will take place sometime this month leading up to the Advanced League playoffs.
Images via Nordavind | Twitter