The VALORANT Ignition Series starts in Europe
12:10, 19 Jun 2020
With the G2 Esports VALORANT Invitational, the first tournament of the Ignition Series hits the road. The tournament will span the entire weekend with the playoff bracket happening on Sunday, June 21st. Group stage games will be best of 1 while playoff matches move to best of 3. The teams have been divided into two groups of four, with the top 3 advancing to the playoff bracket on Sunday. The first seed will automatically qualify into the semi-finals while the 2nd and 3rd seed will have to fight it out in quarters. You will be able to follow all the action starting tomorrow 3 PM CEST on G2Esports' Twitch stream.
The tournament is no ordinary competition, with 8 pre-selected captains and an additional 32 players from the European scene which have randomly been assigned to their teams. You can find the drawn teams here:
Group A is STACKED
Which team will come out on top? Presented by
@redbullgaming
⏰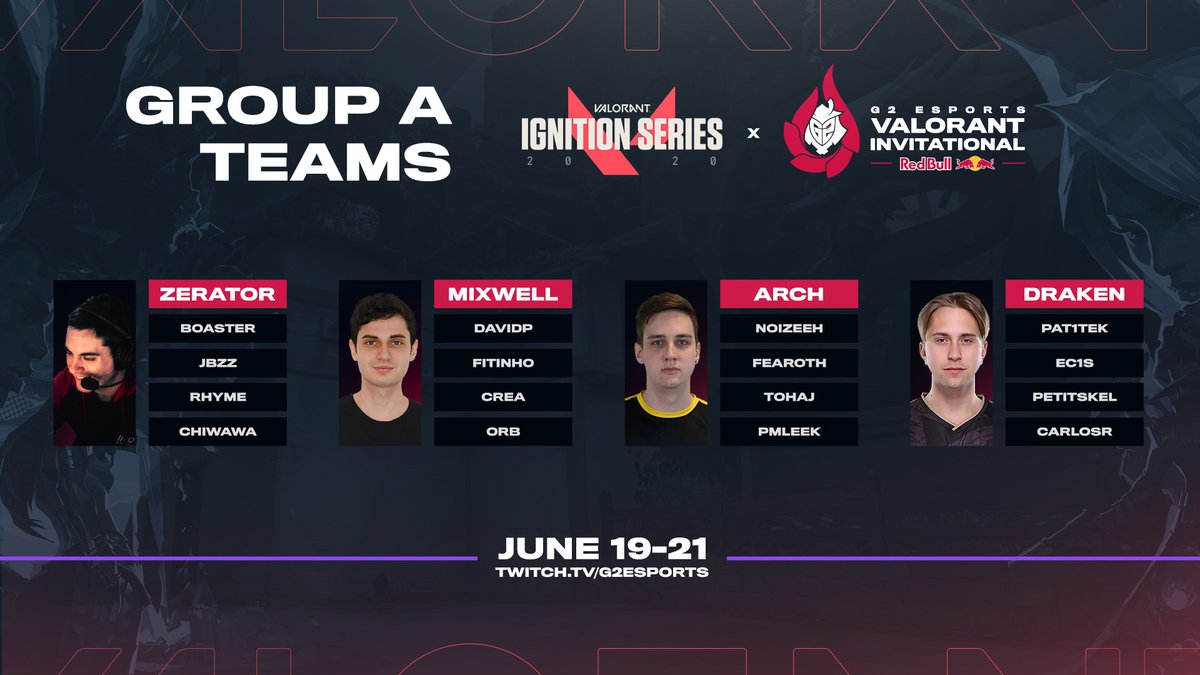 Group A
Team ZeratoR
Boaster
Jbzz
rhyme
Chiwawa

ZeratoR drew a decent team of esports veterans who all enjoyed success at the T2-T3 level in their respective games. Chiwawa and Boaster were part of Twitch Rivals winning rosters in similar formats, while rhyme and Jbzz got deep into brackets.

Team Mixwell
davidP
fitinho
CREA
Orb
Once again made up of entirely former CSGO players with Mixwell clearly being the one with the most success and having taken it the furthest in VALORANT so far. Mixwell, who just joined G2 as the first player on their VALORANT team, is considered one of the best European VALORANT players with multiple tournament wins.
He's back and ready for action!
Join us in welcoming
@Mixwell
as the first member of our
@PlayValorant
roster!
📰: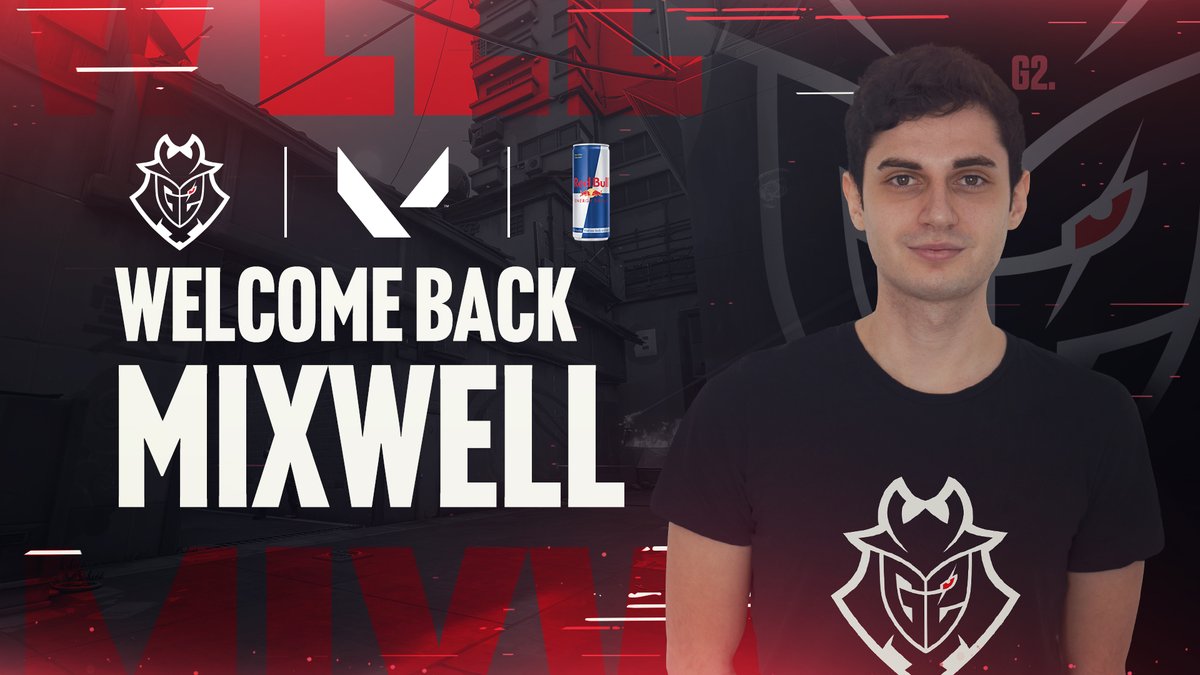 Team Arch
Noizeeh
Fearoth
Tohaj
Pm
Coming off a victory of the latest Twitch Rivals even with a CIS mix under the name "Team Duno", arch brings some momentum as well as notable individual skill to his team. Fearoth of HypHyp is another notable player on this team, having beaten both NiP and Fish123 in the recent Take The Throne.
Team draken
Patitek
Ec1s
PetitSkel
CarlosR

Perhaps the favourites of the group despite fielding former League of Legends pro player and CEO of G2 Esports, CarlosR (aka ocelote). Both draken and Ec1s have shown to be powerhouses in VALORANT already. Together with PetitSkel, another HypHypHyp player, the team looks fairly stacked and might just be enough to carry Carlos.
Who is going to win?
Which team are you most excited about? Presented by
@redbullgaming
⏰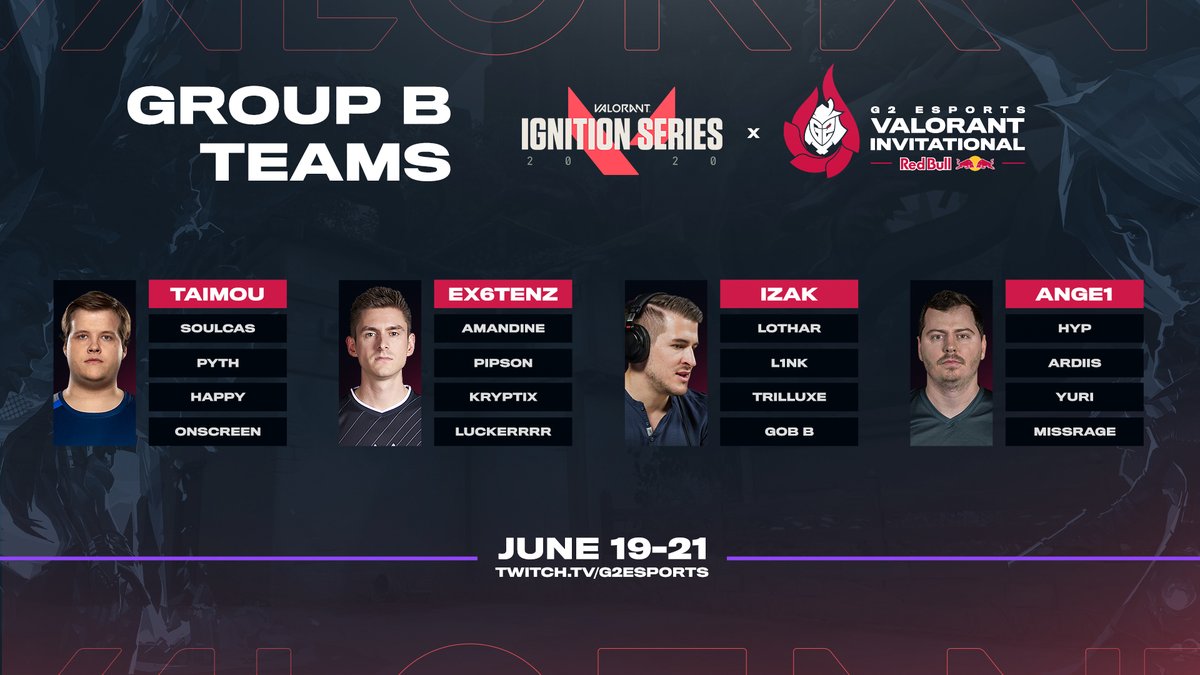 Group B
Team Taimou
Soulcas
Pyth
Happy
Onscreen
This team is stacked beyond reason and definitely the on-paper favourite to take the entire event. Made up of former Overwatch legends Taimou whose Operator has shown to be nasty, the lineup of Soulcas (Fish123) Happy and Pyth with a solid ONSCREEN is incredible in the context of this tournament.
Team Ex6tenZ
pipsoN
Kryptix
luckerRRR
Amandine
Legendary CSGO in-game leader Ex6tenZ is captaining a team, made up of former CSGO players as well as Kryptix of Fish123 fame. With the limited notice period, teams will likely not get to develop many defaults for the event, so the strategical impact that Ex6tenZ might have on a roster like this is limited.

Team izak
Lothar
L1NK
TrilluXe
gob b

Team Izak is a little weaker on the firepower side of things, being made up of Counter-Strike veteran and legendary in-game leader gob b and L1NK, the last fish in the talent pool yet to be dispersed. TrilluXe and Lothar are streaming and YouTube personalities and likely can't hang with the top players, making this team look like a heavy backpack for L1NK.
Team ANGE1
HyP
Ardiis
Yuri
Miss Rage

A really solid, yet asymmetric team. Hyp, former Overwatch League player for the Paris Eternal and Ardiis, formerly of Fish123, have both distinguished themselves as top players in VALORANT and together with ANGE1

Kick-off to the action will be between Team Mixwell and Team Draken at 3 PM CEST with Team Arch vs Team Zerator going on at the same time but off stream. Fortunately for those off-stream games, players are allowed to stream on their personal streams.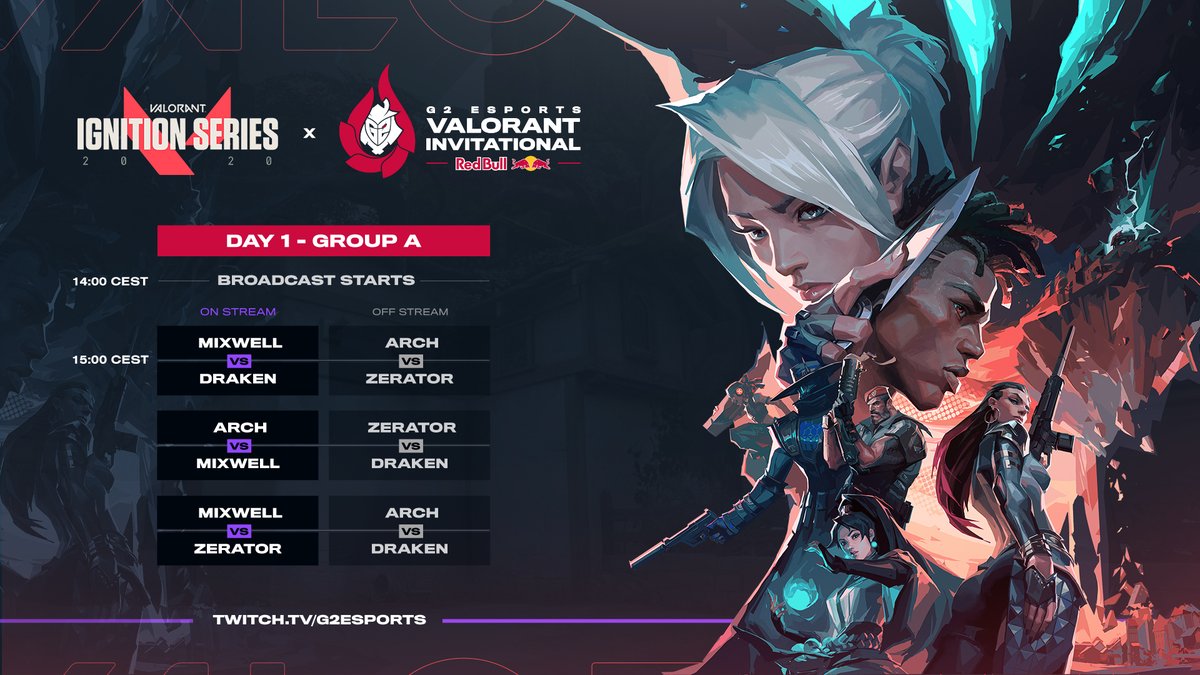 Images courtesy of G2 Esports and Riot Games