Coffee Stain are bringing the game to Steam early than expected!
18:00, 06 Jun 2020
Epic Game Store exclusive Satisfactory is coming to Steam on June 8 after its exclusivity contract ended sometime in March. The factory-building simulator has had its third major update, just before the Steam release was announced. Coffee Stain Studios joked that the game would only be available on its second birthday in 2021, however, the studio decided to release the game earlier than that, and it will enter Steam Early Access next Monday.
Hey guess what?! Satisfactory is coming to Steam on Monday, June 8 (for realz)!
And yeah, we said Tuesday in the past, but we say a lot of things.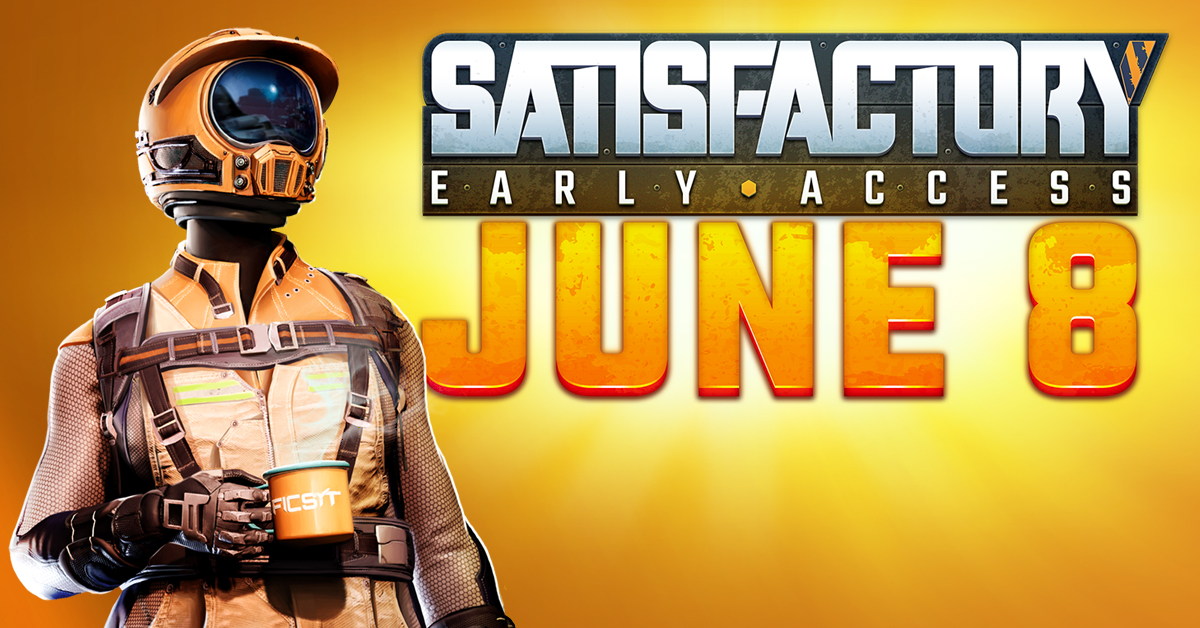 Coffee Stain Studios did this because they wanted to involve the players as much as they possibly could in the game's development, as their players have helped fix bugs and suggest changes to the overall gameplay, which has streamlined development for the Coffee Stain team. The game has a massive Discord and both an official and unofficial Reddit, where players can showcase their builds, discuss bugs, or talk about the game in general. Coffee Stain also has a questions site specifically made for Satisfactory, where players can report any issues or bugs that they run into during gameplay.
Satisfactory saw massive success on the Epic Games Store, selling over 500,000 copies within three months of release. This is the best a Coffee Stain Studios game has done upon launch, and this is the studio that created the ever-popular Goat Simulator back in 2014. The game is in Early Access, however, there is still a lot that players can do once they boot up the game.
In Satisfactory, you play as an engineer with one goal: to utilize the natural resources of the planet you've landed on by creating complex factory structures, complete with conveyor belts, endless tubes, and massive pipes. Eventually, players can automate the entire process of harvesting resources, with automated trucks and trains delivering resources to various stations across the planet, and conveyor belts carrying resources from their location to your factory's hub.
The alien planets at your disposal are 30km2 in area, which leaves a lot of room for exploration and resource harvesting. There are many different planets for you to colonize and explore... and create a massive network of factories that all siphon resources to the mysterious company FICSIT, whose true purpose will probably be discovered once the game leaves Early Access.
On its Steam page, Satisfactory boasts an open-world layout, co-op functionality, factory building in first-person, customization, and vehicle usage. According to Coffee Stain's write-up on the "Why Early Access?" section of the game's Steam page, planned features to the game are: additional FICSIT tiers, more resources and equipment, gameplay and UI improvement, more world and creature development, a full narrative, optimization, server and mod support, controller support, and achievements.
With all this in mind, they have a rough date of 2022 for when the game should leave Early Access and enter version 1.0. Coffee Stain also stated that despite the game's Early Access status, it takes over 150 hours to reach the game's current last Tier and build everything it has to offer.
As part of the
#EpicMegaSale
, Satisfactory will be 10% off until June 11th!
There's also a $10 coupon thing you can get for games or add-ons over $14.99. You can claim it here:
The game is going to be available at a 10% launch week discount on both the Epic Games Store and Steam. Many fans of Coffee Stain Studios' work and Satisfactory in general are hyped for this release, as it means that an even wider audience can enjoy the game since it will be available on two different game distributors' websites.
Coffee Stain has stated that they want to involve their fans as much as possible in the development of Satisfactory. They cite the current state of the game could not have been achieved without player input and feedback. Players sent in countless bug reports and helped test the game from Closed Alpha in 2018 and even up until now.
The game has been in development since 2016 and Coffee Stain believes that their players will help this 3D factory simulator become the best it can possibly be. The studio states that they want to balance their own feedback with each report and observation they receive from their players, that way they can achieve their original vision, all while keeping in mind what their fans want or notice needs to be changed in the game.
With how well the game has already done on the Epic Games Store, Coffee Stain Studios are excited to take their factory simulator to the next level by introducing it to a new audience on Steam, which could result in more bug hunting and QA testing by the players there. Their official announcement post on Steam has over seven hundred likes and over two hundred comments, and all of the people commenting seem excited about the game's Steam release. Some players even stated they would buy the game a second time, but this time on Steam rather than the Epic Games store, just to show their support for Coffee Stain and Satisfactory.
Images via Steam/Epic Games Store