The final four teams aim to book their tickets to First Strike.
20:00, 19 Nov 2020
VALORANT's First Strike is all but one closed qualifier away from beginning, the final four teams will be decided this week at the First Strike North America - UMG Tournament. Patiently waiting for them at the finish line are some of the top teams from the region including Team Envy, 100 Thieves, Renegades, and Sentinels. With that said, who are the teams you should be keeping an eye on throughout the weekend?
It all begins with the group stage—one that might not be going the way you'd expect at first glance.
The groups are set!
We're now just a few days away from Day 1 of the
@PlayValorant
#FirstStrike
UMG Closed Qualifier!
-
The action kicks off on November 19th.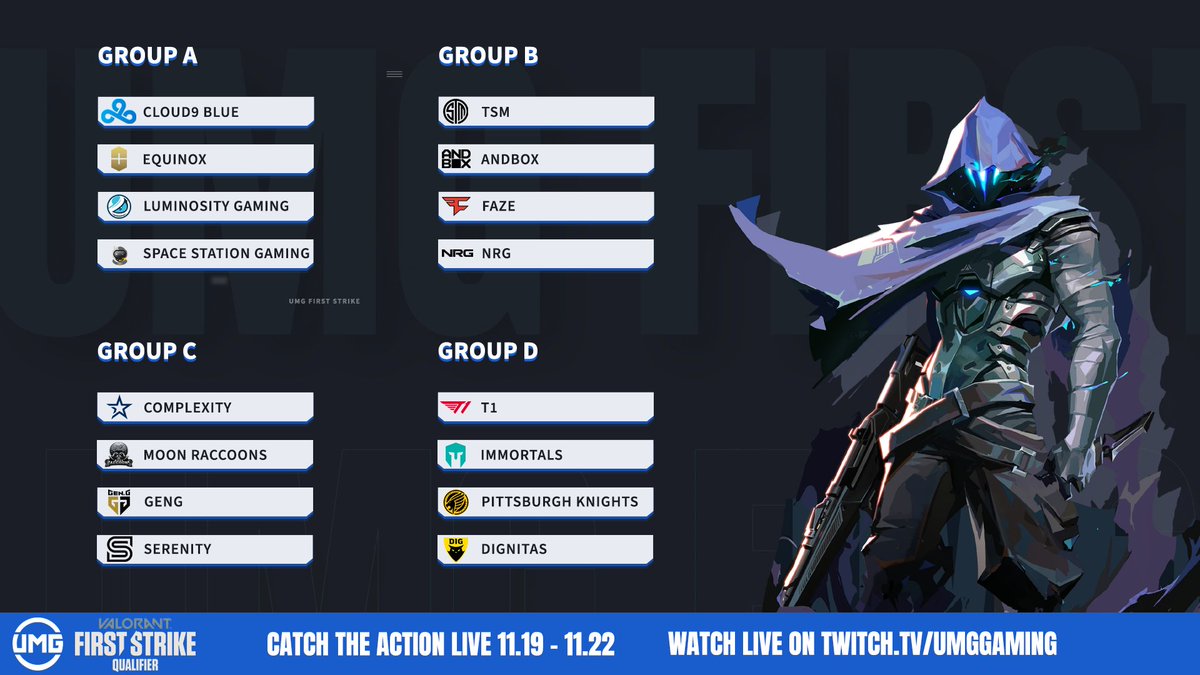 Group A
Projected Winners: Cloud9 Blue and Equinox Esports

What's not to love about Cloud9 Blue? Not only are they a treat to watch, but they are also one of the best teams in North America. Landing in the UMG VALORANT Tournament after suffering a frankly shocking upset loss to Renegades in the quarterfinals, Cloud9 look to bounce back to their winning ways—and when you look at this roster and their history together, the picture becomes much more clear.
With talents like Tyson "TenZ" Ngo and Skyler "Relyks" Weaver leading the charge and a support staff that is second to none, Cloud9 are a favoured lock not only for First Strike but in becoming mainstays in VALORANT esports.
While this second seed is a difficult race to call, Equinox Esports edges out their competition. To get to the dance, Equinox Esports had to beat Spacestation Gaming in the head-to-head during the first open qualifier. While it was a close match, having that victory against a direct competitor has to mean something—and then, while Lumonsity has potential their road here was not without some concerning bumps in the road. In the first UMG Open Qualifier, Luminosity fell behind Spacestation Gaming, and while they managed to bounce back in the following qualifier, their performance against beastcoast left us wanting. Now that's not to say that this is a vote for Equinox Esports carrying a lack of confidence. Look no further than Kevin "mina" Nguyen, someone who has been a spearhead in Equinox Esports getting this far. This team packs a punch and likely carries names that we will be seeing more of in the next few years of VALORANT esports.
Group B
Projected Winners: TSM and Andbox

For the longest time, North American VALORANT was a two-horse race, one of which has already landed in First Strike. However, TSM has not looked as strong as we once remember them. However, that doesn't strip them of their experience at the top and their star power. TSM still is a wildly dangerous team thanks to players like Taylor "drone" Johnson and Matthew "Wardell" Yu, two of North America's premier VALORANT stars.
TSM is one of the best North American VALORANT teams playing, and it would be one of the biggest upsets if they didn't manage to make it out of groups—that's the kind of expectations placed on them. With numerous titles to their name and experience that travels beyond VALORANT, TSM should be a lock for both playoffs and First Strike.
After their strong showing at the NSG x Renegades Invitational, Andbox has really begun to carve themselves a space in North American VALORANT. Their direct and aggressive executes were key in their victories over the likes of Cloud9, Immortals, Gen.G and Moon Raccoons. Now, this isn't to say Andbox has had a perfect record recently. The team did suffer an odd slip up against Luminosity Gaming during the NSG Qualifier. However, VALORANT is a game that truly is one that carries a litany of volatility. Any given day a team could suffer a misstep, and if you've followed North American VALORANT for the last few months, you know that all too well. That said, look towards Bradley "ANDROID" Fodor and Jaccob "yay" Whiteaker as the two spearheads of the Andbox charge. While the game is 100% a team effort, these two players were pivotal in their recent success, and if Anbox aims to advance to First Strike, these are players to keep an eye on.
Group C
Projected Winners: Complexity Gaming and Moon Raccoons

Having placed well in the Nerd Street Gamer (NSG) Closed Qualifier Tournament, Complexity Gaming should be considered a heavy favourite to advance from Group C. If the groups play out slightly differently and they don't land Team Envy in the first round, there is a good chance they don't even have to play through the UMG Qualifier and already have their tickets booked. When you've got players like Riley "ohai" Nguyen and Jonah "JonahP" Pulice playing the way they have been—it's a tough ask for most teams in North America to beat them. Complexity Gaming is not a team you can treat lightly; they very well might be looking ahead to First Strike with how they are playing.
As much as it might surprise you, Moon Raccoons should be considered favourites to make it out of group play. Aleksandar "aleksandar" Hinojosa and Magno "Pr0phie" Ramos have consistently put up huge performances in their qualifiers both in the UMG side of things and when they attempted to qualify through the Nerd Street Gamers' open qualifiers. These are players that are pivotal in their wins over the likes of promising upstarts, Mamba Mode Gaming, and household names like FaZe Clan—and that's just in this closed qualifier. If we travel back in time to just over a month, Moon Raccoons not only made it out of groups at the NSG x Renegades Invitational but took a win over Gen.G Esports in the quarterfinals and took a map off Andbox, the team that would eventually win the event. Moon Raccoons are the real deal, even if you haven't heard of them yet.
Group D
Projected Winners: T1 and Immortals

T1 is another team that was promised but never really arrived. Now they look to find their way to VALORANT's biggest tournament to date. T1 has left us all confused for a while now. Without a top finish since July of this year, they finally have settled in a stable roster, and with the time given to better synergise, they should be a lock to advance past their peers here. If T1 is going to make a deep run, Counter-Strike veterans Tyler "Skadoodle" Latham and Braxton "brax" Pierce are going to be under the spotlights. They continue to be weapons that T1 can consistently rely on and that should be showcased quite heavily as T1 advances out of Group D.
Immortals are one of the consistent threats in North American VALORANT, a team that is due for a title and one that is a constant medalist. With a strong showing during the NSG x Renegades Invitational, Immortals should be a lock to advance out of Group D. Young in his career, Andrew "ShoT_UP" Orlowski, is on track to becoming one of North America's best talents. Alongside him, you have players like Noah "jcStani" Smith and Amgalan "Genghsta" Nemekhbayar who have been familiar threats on this team for what feels like the last year. On top of that, Immortals is easily the best system team in North American VALORANT. With one of the most inconsistent rosters, the one throughline has been the coaching staff and their eye for finding and landing new talent. That should speak volumes for this team moving forward—perhaps even into First Strike.
Without seeing the teams in action, it's difficult not to give veteran teams like Cloud9 Blue and TSM an obvious nod moving forward into playoffs. However, we have to remember; the top four teams make it to First Strike, this means once a team has made it out of groups, that team only needs to win one best-of-three to land a seed. T1 advancing as a top seed should place them against a favourable opponent, but their record recently has not been something to bet on. On the flip side to that coin you've got teams like Immortals who've looked impressive and again, you can't count out Complexity Gaming based on their performance at the previous qualifier.

And as a darkhorse, an underdog that anyone can rally around; is it too farfetched to claim that Moon Raccoons has an outside chance to upset the world of VALORANT and land a spot at First Strike North America? In a world where the majority of teams feel the weight of their jersey, Moon Raccoons have nothing to lose and everything to gain here—and that is dangerous.
Images via Riot Games