Ninjas in Pyjamas debut their star-studded lineup at the WePlay! Invitational
20:00, 15 Jul 2020
Ninjas in Pyjamas were one of the first teams to enter the early VALORANT esports space and their most recent moves speak towards their future in the game. Sending a letter of intent to the European scene, Ninjas in Pyjamas has retooled their roster and signed some of Europe's hottest free agents, many of whom have played alongside one other in the past.
Stitching together bits of the Prodigy mix as well as HypHypHyp, Ninjas in Pyjamas come into the WePlay! Invitational as title contenders alongside the likes of G2 Esports and fish123 - and with a roster this talented, how could they not be considered as such?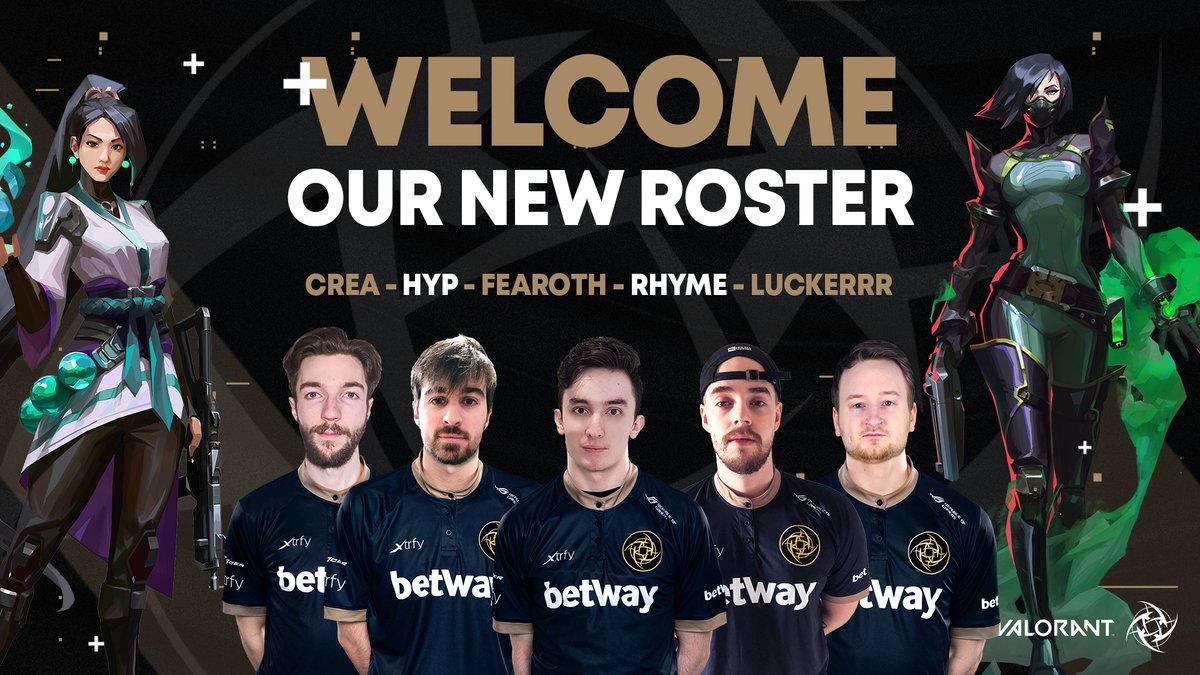 Not only is former professional Overwatch League player Damien "HyP" Souville a talented marksman, but he's known to be quiet the strategist. Alongside critically acclaimed Overwatch Contenders roster, Eagle Gaming, HyP was a vocal leader in the team and in essence, becoming an arm for the coaching staff within the team. With that kind of attention is was no surprise when he made his way into the Overwatch League on the Paris Eternal. With extensive experience not only as a pro gamer, but playing at the highest level in his field, HyP brings some of the best leadership money can buy. However, that doesn't mean he can't hang with the best of them. HyP recently lead Prodigy to a respectful second-place finish at the Vitality European Open and previous lead his own team, HypHypHyp, to success in the early European VALORANT scene.
Like many VALORANT hopefuls, Niels "luckeRRR" Jasiek comes from an extensive background in Counter-Strike: Global Offensive (CS:GO). Dating back to 2016, luckeRRR has played for teams like BIG and Fnatic Academy before making the move to VALORANT. As one of the first signings NiP did as they retooled their VALORANT roster, luckeRRR brings another form of veteran presence. The other half of that initial move is one of the Ninjas in Pyjamas standout players, Emir "rhyme" Muminovic, who came alive during the Vitality European Open playing under the Prodigy banner.
Charles "CREA" Beauvois is another player who carries over some experience with CS:GO. CREA played alongside dizLown in the French Counter-Strike scene for a good stretch of 2018. Enzo "Fearoth" Mestari also comes from a CS:GO background with experience on teams like Asterion and Smoke Criminals. While their roads to VALORANT might have been different, they both played within the promising European team captained by Hyp, aptly named - HypHypHyp. While it is difficult to say how this new Ninjas in Pyjamas lineup will operate, we can extrapolate on how things might play out by reviewing how Prodigy performed at the Vitality European Open.
One thing that played out quite often on both Bind and Ascent was HyP's preference to entry frag. Either on Reyna or Raze, Hyp will likely be the spearhead for this team on their offensive rounds. However, he isn't the only person that we've seen within this core of players that has shown a willingness to entry frag as rhyme will take some rare opportunities for aggressive peaks and jabs at the defence.
That said, it's usually the case that HyP enters the fight first, while rhyme follows up with the trade. This is a great clip of HyP coordinating alongside his team in a B Site execute on Bind. He is first to peak through Hookah, this sets up his ally to clear the angles leading into B Long and sets up the two-pronged push into B Site. Throughout the entire event, Hyp played an important role in his team's executes as a fearless spearhead, entry fragging into each site.
Another thing we can glean from their past together is that luckeRRR could possibly continue to be the team's primary Operator while Fearoth moves to flex on double Operator setups. However, luckeRRR isn't the type of player that is bound to the weapon, his rifle is just as strong. In this clip against FABRIKEN, he not only finds the trade as Prodigy attacks A Site, but he's also able to switch guns and win a key duel to secure the bomb plant. His positioning is important to note as well as he's usually 3rd or 4th in line to peak into an angle, which makes sense due to his tendency to play Sage.
We mentioned previously that rhyme came alive at the Vitality European Open and while there isn't a shortage of clips that showcase the sheer firepower he brings to the NiP lineup, this clip against G2 Esports in the grand finals encapsulates what he can become in the future. Staring down the barrel of a 2-on-1 clutch with seconds remaining on the clock, rhyme has the presence of mind to correctly shoulder peak the Operator sitting behind the box, plant the bomb and outplay one of the best players in Europe at the moment. This kind of clinical play is what we can expect from rhyme during the WePlay! Invitational.
With the additions of CREA and Fearoth, two players that made a name for themselves as standouts on HypHypHyp, you can start to see how stacked this roster actually is. CREA was easily one of the most explosive players on HypHypHyp in their run towards the end of June. His consistency is the glue that ties this whole team together into one scary package.
On little to no practice and in a mixed team, Hyp, luckeRRR, and rhyme lead the core of Prodigy to a strong showing in multiple matches against G2 Esports at the Vitality European Open which ultimately earned them a respectful second-place finish. Now that the lineup has been solidified under the Ninjas in Pyjamas banner, the world is their oyster. With time to practice and prepare, Ninjas in Pyjamas have to be contenders for the title at the upcoming WePlay! Invitational. Ninjas in Pyjamas will be a staple in the European VALORANT scene with this roster, you can count on it.


Images via Riot Games