Get excited, Pop Flash features exciting matches all week long.
19:30, 25 Aug 2020
B Site has stepped into the world of VALORANT esports with Pop Flash, North America's next entry into the Ignition Series. With the rivalry between TSM and Sentinels reaching a fever pitch, Dignitas stepping into the fold signing the core of a promising amateur team, and T1 losing a ton of momentum after being such front runners, it isn't easy to keep up with everything VALORANT esports. However, GGRecon has got you covered. Here is your survival guide, including some light predictions, for Pop Flash.
Will Dignitas Lockdown A Win?
After their impressive performance at the PAX Arena Invitational, amateur team Homeless rang the alarm bells and positioned themselves well on the radar of new esports organisations looking to move into the space. Dignitas would be the ones to answer that call, and will be debuting together at Pop Flash.
With wins over the previous iteration of 100 Thieves, Built By Gamers, and Team Envy, this is a team that should not be slept on. Headed up by tenured esports professional Harrison "psalm" Chang, who not only was a former Heroes of the Storm pro player, but also played Fortnite professionally. Alongside him sits former Counter-Strike: Global Offensive player Rory "dephh" Jackson. Rounding out the team is Phat "supamen" Le who also furthers this experienced core as a former professional CrossFire player, and young prospect Kevin "poised" Ngo. Dignitas is built with a veteran backbone that isn't set to crack under the pressure of playing against top teams. That poise, no pun intended, will be tested this week.
ive played 4 games at the pro level in 3 very different genres
i wish i wasnt getting old man
With the teams debut under the Dignitas banner, they not only aim to further their stake in the North American VALORANT space, but they also have their work cut out for them in Group A. Dignitas stand shoulder to shoulder with elite teams like Cloud9, Gen.G Esports, and TSM. While it isn't a foregone conclusion that Dignitas doesn't make it out of groups, they have to be on form to be able to top many of these established teams.
Can T1 Run It Back?
What once was an exciting top prospect in the North American region have slowly become a shell of their former selves, or perhaps T1 stands as a pillar to the idea that VALORANT needs a vast data set to truly tell how good a team is.
An update to my fans, and fans of
@T1
: As you may have noticed, I haven't been playing with the squad in competitions, and again won't be competing in this weekend's event.
With all the pessimism set aside for a moment, star player Tyler "Skadoodle" Latham was missing in action in T1's most recent showing at the Knights Invitational Gauntlet Series. With recent updates revealing that he has taken a step back from the roster, there can be some leeway given on that front. However, that doesn't discount their showings at the FaZe Clan Invitational, and even looking back at July at the PAX Invitational. It's difficult to frame this as redemption, but in a minor way, it is.
With such a star-studded lineup featuring stars like Braxton "brax" Pierce and Keven "AZK" Larivière, this team has the firepower and the backing to be a top team, but their seed out of group play is not assured. Group B is chock full of top North American talent like Immortals, Team Envy, and Sentinels. While 2020 has thrown us all for a curveball, one thing is sure - if T1 wants to be considered a top team, they need to show up soon, and with Skadoodle out, their chances at Pop Flash do not look great.
Enter The TSM Storm
TSM are the best mechanical team in North American VALORANT, period. There isn't a better team in terms of divisive calls, mentality, rotations, and pure consistency in duels won. Taylor "drone" Johnson not only has one of the best pistols in North America, but he has shown incredible flexibility and presence of mind throughout TSM run. drone is the tailwind in TSM's sails. The sail itself seems to be Matthew "Wardell" Yu. When the team does well, Wardell is consistently putting up amazing performances, however, in that same breath, you do have to critique his decision making and aggressive OP angles. Nitpicking aside, TSM is an incredibly strong team that should be considered favourites for this event.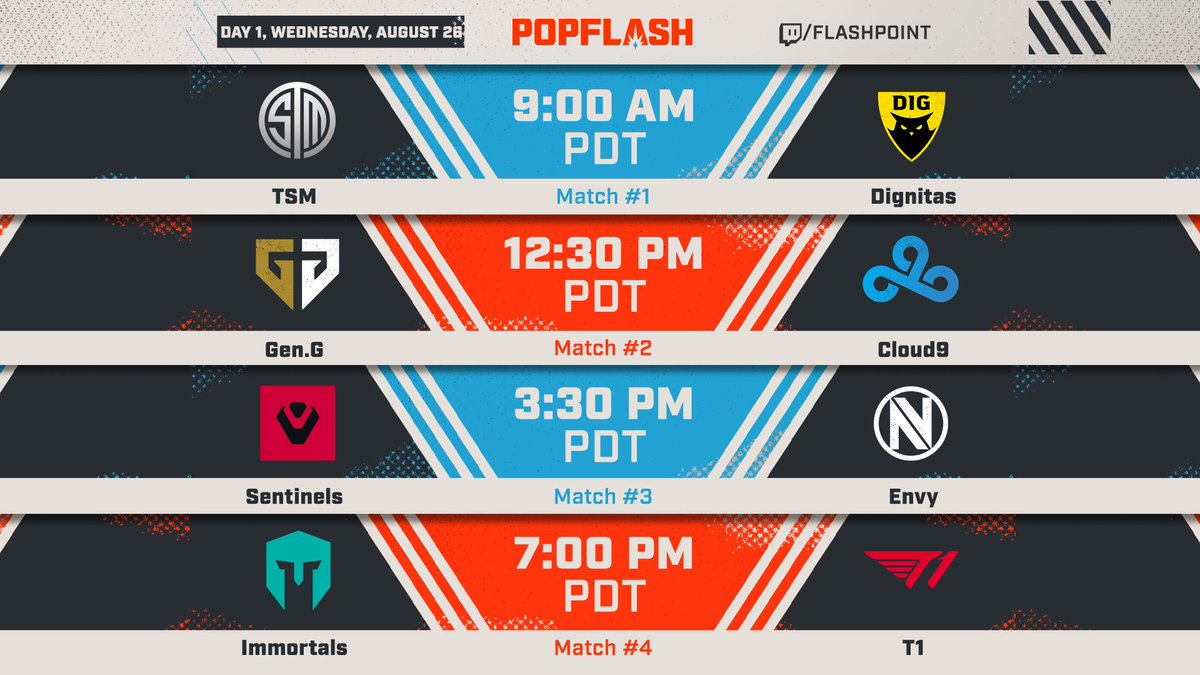 A win at Pop Flash would make three in a row, and while online VALORANT might be inherently more suspect compared to LAN performances, it's all that we have at this point to judge from. Three wins against the top North American teams would be enough to earn our vote as the undisputed best team in North America. While three is an arbitrary number, it does touch on the idea that the best team needs a stretch of dominance, one that was clear as crystal just a few months ago. However, there stands one team that could rip the crown away.
Can Sentinels Stop The Show?
Standing as a fantastic foil are Sentinels, the best team in North American VALORANT at finding value with their utility. The top seed in North America is a 1a and 1b argument with TSM and Sentinels leading the charge. This is easily the team to paint the town red with TSM's hopes and dreams at Pop Flash. With the creative stylings of Jay "sinatraa" Won and Shahzeeb "ShahZaM" Khan, they could continue to poke holes in the North American VALORANT scene. sinatraa has set the pace for the average amount of value a professional play should get out of their spells, ShahZaM is a consistent and safe OP presence, and the supporting cast are all consummate professionals.
Sentinels could easily be the best team in North America, but they need more on their resume before we make any claims. They, alongside TSM, are battling for North America's top spot. While most people would give the nod to TSM, rankings in VALORANT are all about consistency. TSM have been the more consistent ones, but Sentinels have poked holes into that, while also ramping up over time. However, a win at Pop Flash still wouldn't bump them into the undisputed territory, and it would only continue the idea that two teams dictate North America side-by-side.
Images via Riot Games