While the likes of Liquid and FURIA gone, Chaos have the opportunity to add to their trophy list.
18:30, 27 Nov 2020
The time is ripe for Chaos to become a championship-winning squad - at least for the time being, as some of NA's best are currently competing on European soil. With Evil Geniuses sitting out DreamHack Masters Winter NA as well, Chaos look poised to take yet another trophy home.
So, who is actually standing in their way? For one, it's their recent Grand Finals opponents, Triumph. Back during IEM Beijing NA, the Chaos boys dispatched them with relative ease over the course of four maps to win the event. They didn't even need Nathan "leaf" Orf to show up; instead, Anthony "vanity" Malaspina did all the dirty work. Their only dark spot at this event was a loss to Team Liquid in the Group A Winners Match, but they obviously got over that quickly with a victory over Evil Geniuses.
North America's best are definitely on leave as Team One and Yeah are the strongest Brazilian squads on offer at DreamHack Masters Winter. While they can certainly pack a few punches, they have not delivered a convincing takedown of Chaos so far. In the case of Team One, they did win one close Best-of-Three in October, but were soundly defeated just 14 days later. Chaos have recorded victories over Rugratz, Mythic, and the New England Whalers in recent times as well.
So that really leaves Triumph as the lone competitor in the tournament. They're the only ones who can throw a wrench in the works of Chaos, but only under the best of circumstances. For the impatient among us, DreamHack have thrown both Chaos and Triumph into one group together. This means that, provided they win their respective Opening Matches, we will see them go up against each other early on. The winner will take to the playoffs, whereas the loser will have to play the Decider Match for a spot. Given that Beijing was less than a week ago, not a lot has changed. Triumph have only one thing going their way, and that is practice time. Now that they've had the opportunity to extensively play against Chaos on a world stage, they hopefully have gathered enough intel to make it a more competitive fight.
IS THE NORTH AMERICAN SCENE DRYING OUT?
One thing that should not be forgotten is that teams like FURIA, MIBR, Liquid, and Evil Geniuses would usually attend an event like this, were it not for the European competitions currently taking place. But even with all of those teams added in, the playing field of this event still looks shockingly bare compared to its European counterpart. This is symptomatic of a much deeper issue within NA Counter-Strike: Global Offensive (CS:GO).
Currently, VALORANT is sucking the North American scene dry. Of course, the teams at the very top persist, but so much talent has left the competitive CS:GO space already. With Nick "nitr0" Canella, Pujan "FNS" Mehta, Damian "daps" Steele, and Joshua "steel" Nissan, its most decorated in-game-leaders have all made the switch to VALORANT. Promising talents like Sam "s0m" Oh, Tyson "TenZ" Ngo, or Daniel "vice" Kim have left in search for better opportunities within this new game.
This obviously has a multitude of reasons, but the most critical aspect is financing. There really is no money in this scene beyond the Top 10 of teams. In Europe, players from rosters like ALTERNATE aTTaX, who rarely ever leave the domestic German space, are paid full-time salaries. Triumph, who have now been runner-ups at IEM Beijing NA, almost certainly do not get the same kind of treatment. When VALORANT opened up, and so many organisations tried to establish teams early on, the Tier 2 and Tier 3 CS:GO players saw an opportunity to finally become actual professionals in esports - something that CS:GO has denied them so far.
When players like the ones from Swole Patrol attended international LANs, fought their hearts out to get recognised, and still didn't get offered any serious contracts, the players understandably had to make the move. Their careers and, by extension, their livelihoods, are on the line here.
What have you been feeding them
@ChaosEC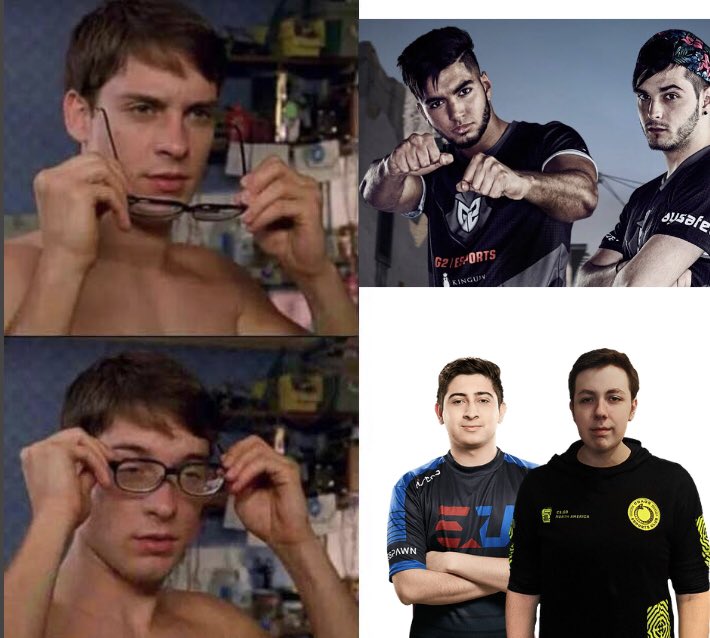 BACK TO DREAMHACK MASTERS WINTER
This digression aside, the tournament really offers no direct competitor to Chaos. While Triumph certainly holds the keys to an improved performance, the best they should be able to do is make Chaos sweat for their money. When the individuals are fired up, there is no competing with leaf or vanity - at least on this level of competition.
Chaos have the opportunity to close this year out with another win. While this won't be their last engagement in 2020, they don't stand a chance over at the IEM Global Challenge. If they manage to make it to Europe, they will be greeted by Astralis, Natus Vincere, and Team Vitality. So they should tackle DreamHack Masters Winter head-on and at least deliver a convincing victory over their domestic competition, because as soon as Liquid, Evil Geniuses, and FURIA are back, they probably won't get another shot.


Images via DreamHack | ESL