Another open qualifier and only four spots remain. Who makes the cut?
20:00, 09 Feb 2021
After the return of a familiar dominance, the North American VALORANT space is heating up. Sentinels, one of North America's long-standing success stories, made a definitive losers' bracket run to win VALORANT's Champions Tour (VCT) Challengers 1 and earn a direct seed into Challengers 2. They, alongside Immortals, XSET, and Luminosity Gaming, are one step closer to advancing to the next rung on the competitive VALORANT ladder. However, thousands of challengers stand hungry at the gate.
On February 10, those who cling to the hope of being among the elite few to make VALORANT history as the first class of Masters will be tested. Out of the litany of teams ready to make the climb, these are the four that are most likely to steal the show and advance from the VCT Challenger 2 Open Qualifier.
While they missed the inaugural Challengers event, 100 Thieves looks to be back in form, hungry to make up for lost ground. The First Strike champions were deferred but not deterred. We've seen them battle with North America's best and that is exactly the form you should expect from them as we approach the open qualifier for Challengers 2.
With Nicholas "nitr0" Cannella stepping back into the fold, they take an easy nod not only as one of the four teams to book their tickets through the open qualifier but as a team that is likely to make it out in first.
I'll be competing again this Thursday for the VCT open qualifier for those who have been asking. ✌️
Nitr0 has been sorely missed as one of 100 Thieves' consistent threats. Their frankly surprising loss to Carpe Noctum during the Round of 32 wouldn't have happened with their full roster. If there was ever a time to hold the stocks, it would be now 100 Thieves. One oddball loss with a substitute, doesn't mean the team is trending down and the Challengers 2 Open Qualifier will show that. 100 Thieves has had their fair share of 'challenging' teams in North America; their destiny sits in Masters.
GGs to
@Sentinels
!
We fall 1-2 in this match but rest assured we'll have all cylinders firing for the upcoming open qualifiers next week to qualify for VCT 2!
#GenG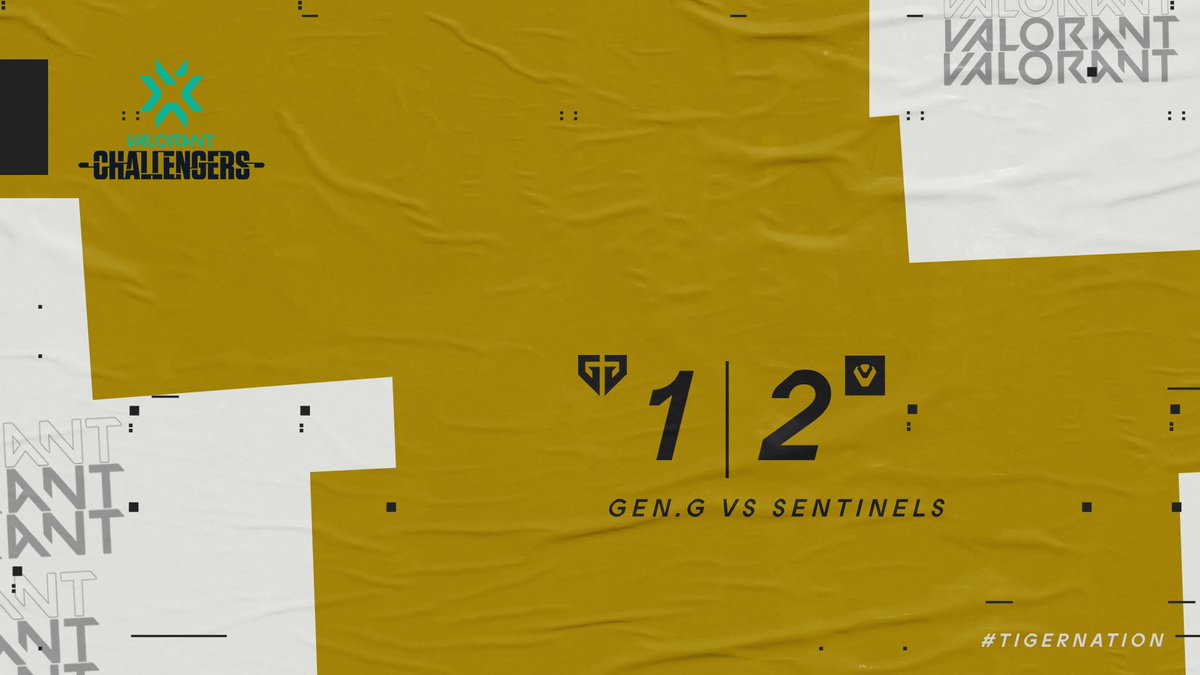 It's hard to ignore two of the teams that narrowly missed making top four during Challengers 1 are going to miss another chance at Masters. Gen.G Esports and Team Envy both feel like shoe-ins to qualify for Challengers 2 and their track records only cement that as fact.
Gen.G Esports has seen a massive revitalisation over the last month. The end of 2020 hadn't been too kind to them, but the new year has seen them return to form in a big way with some fresh faces. The addition of Kenneth "koosta" Suen has given the team a strong weapon, that over time, will only improve on the numbers he's already been putting up. Against the toughest North America has to offer, koosta leads his team with 252 average combat score (ACS) with 163.0 average damage per round (ADR). Pair that kind of potential alongside their top five core and you start to see why they look to be likely candidates to advance to VCT Challengers 2.
Lets go Austin! (btw Austin is
@Crashies
, I just call him by his first name because we are tight like that. Yeah I know top players, not a big deal to me lol)
One of North America's mainstay teams, Team Envy will make it through the open qualifiers relatively unscathed. Throughout the majority of 2020, Team Envy was placed well, beating teams they should and almost never falling to a team viewed as below them. Methodical in their ways, Envy feels like a team that is just a tweak away from stepping into title contention and with some of their recent performances during the VALORANT Championship Tour, it is almost a formality at this point.
During their run through Challengers 1, Envy was lead by Austin "crashies" Roberts who had some impeccable showings against NRG Esports and XSET. To put his performance into context; crashies put up 294 ACS with a 226.3 ADR in a loss to XSET and in their win over NRG he managed a 301 ACS with a 174.6 ADR—by himself. If Team Envy can continue to facilitate his Sova, then they can easily battle back and nab a ticket to Challengers 2.
GG's to GenG as NRG Valorant DOMINATE the Quarterfinal advancing to the semifinals of the Valorant Champions Tour Open Qualifier!
#NRGFam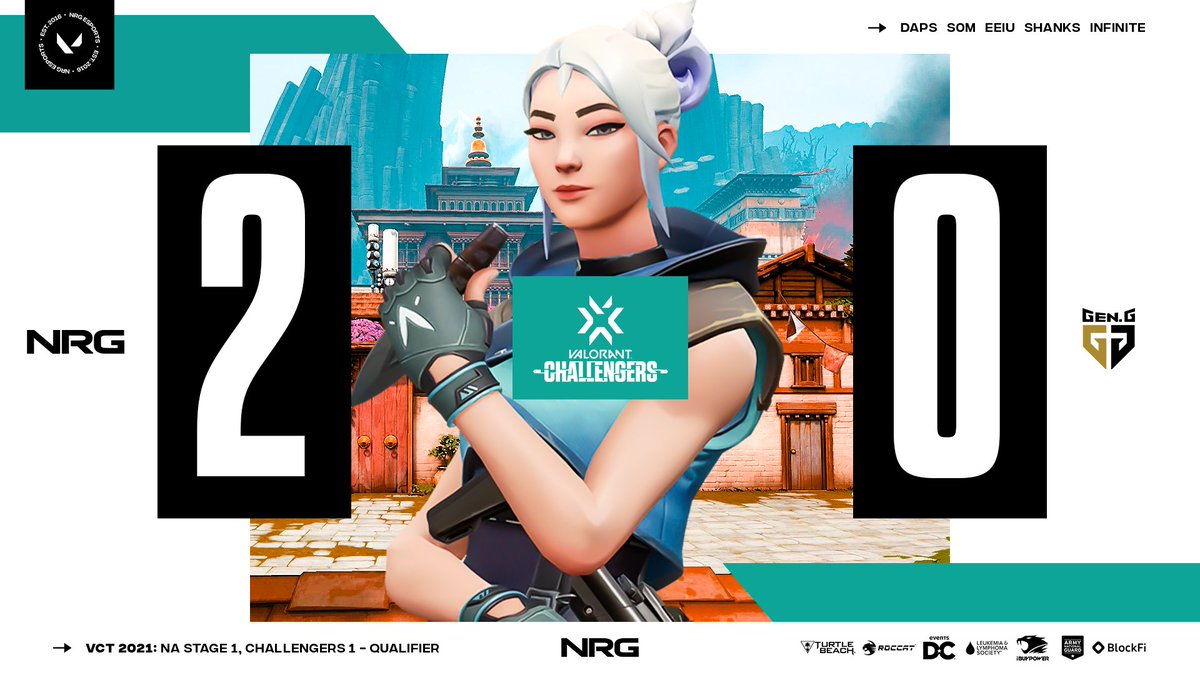 Last but certainly not least, NRG Esports will likely round out the group of teams set to advance through to Challengers 2. This means teams like TSM, FaZe Clan, and T1 are running out of opportunities and face the real possibility that they might have to sit on the sidelines when Stage 1: Masters begins this coming March. What looks like heresy is much more understandable when you look at the laundry list of showings NRG Esports has been putting up week after week.
Not only did NRG qualify for Challengers 1, but they also have shown recent promising performance against the likes of Sentinels, Gen.G Esports and XSET. Combine that with an ace in the making like Ryan "Shanks" Ngo, and things don't seem so farfetched. Examining their recent bout with Gen.G Esports at Challengers 1, shanks decimated the opposition, putting up 354 ACS with a 195.8 ADR. Now, to the naysayers, those numbers are not consistent, that's true, but just having someone like that on your roster is positive. He doesn't need to go nuclear ever match, the core around him can hold their own against North America's best and brightest, but that kind of firepower cannot be ignored.
With the potential that shanks carries, the consistency that Sam "s0m" Oh has shown in their last few outings and the infrastructure that the organisation has put in place with veteran coach, Chet "Chet" Singh, NRG Esports is posturing to become a name we remember when it comes to the history of VALORANT esports.
Images via Riot Games