With multiple modes available on Warzone, there are many records for highest kills, but who holds the Warzone kill records?
19:00, 14 May 2020
In recent Call of Duty news, Warzone is confirmed to have had over 60 million people drop into Verdansk, but one question looms large; who is the best player on Warzone?
The answer isn't as simple as just one overall person, as there are multiple ways that people play Warzone, with the different modes that are available. As per all battle royale games, the best players and streamers have been unofficially competing to set the Warzone kill records for each game mode and style of gameplay. Here we take a look at who currently holds the kill records in Warzone.
Warzone Solos Kill Record
The current holder for the Solos kill record is Turkish Streamer 'Forpantheon', who managed to wipe out an incredible 48 players in one game. This record was set during the Stimulus Solos limited-time game mode, where more respawns were possible.
In standard solos, the record is held by Russian streamer 'Recrent' who topped the previous record set by MuTeX. On the standard game mode, Recrent managed 43 kills whilst darting around with a RAM-7 and akimbo pistols.
Warzone Duos Kill Record
Duos was the last of the game modes to be introduced to Warzone, and the records since conception have actually been dominated by ex-Fortnite players. Previous duos Warzone kill records were set by Tfue and Huskers (56) before Aydan and MuTeX managed 64.
This record, as of 22nd June, now sits with 'Befra' and 'Thee Beast', with the pair collecting 68 eliminations in one game. Befra led the way with 38 elims, with his partner collecting the other 30.
Warzone Trios Kill Record
The record for the highest number of kills in a Trios game is simply outrageous. Metaphor, Frozone and Pieman eliminated nearly two-thirds of the lobby, claiming 102 kills between them in a single game.
After splitting up to 1v3 most of the teams in the game, Metaphor managed to rack up an insane 42 kills, Froizone with 32, and Pieman taking out 28, a simply staggering number of kills. This surpassed the previous record set by themselves at 93.
Warzone Quads Kill Record
Etching their name into Warzone history, as the best squad in the game, Vikkstar 123 and the Altlanta FaZe trio of Cellium aBeZy and Priestahh hold the record for the highest kill game ever, as well as the quickest. Albeit in two separate games, the lethal squad managed to rack up a jaw-dropping 138 kills in a single game or Warzone Quads.
Each player wiped out over at least 30 players, as they dealt just shy of 44,000 damage.
Cellium – 36 kills
Vikkstar123 - 35 kills
Preistahh – 34 kills
aBeZy - 32 kills
This beats the previous record, set by Priestah and Cellium, alongside streamers Deleo and Jukeyz who set the bar at 113 kills, showing that it'll take a monumental effort to beat it.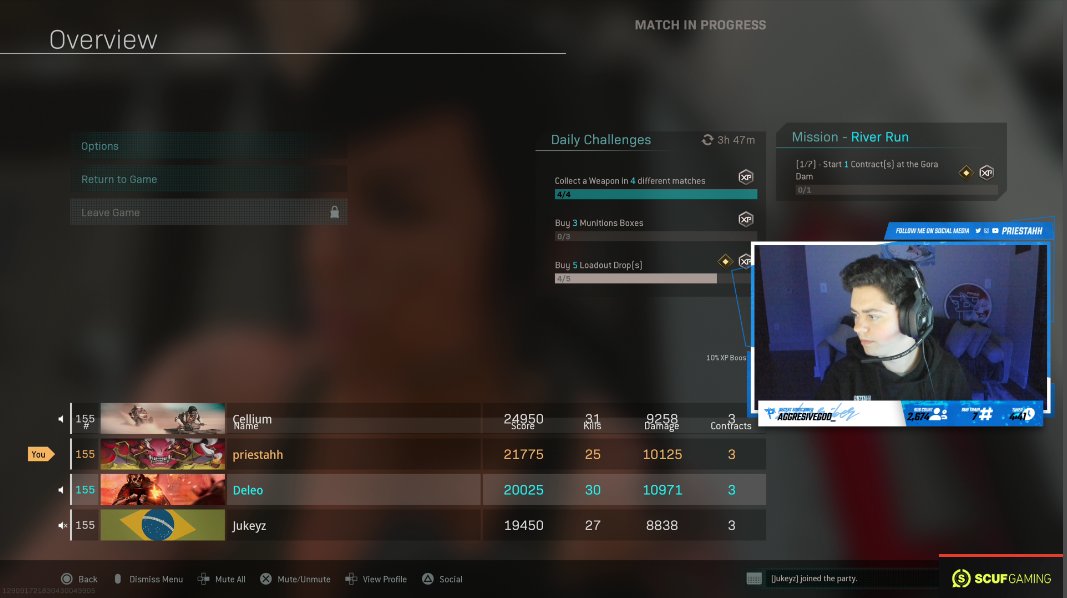 Solo vs Trios Warzone Kill Record
A different type of Solos kill record, this one involves the highest amount of kill in a Trios lobby by a single player. You may have a team, or go at it solo, however, this kill record is for the person who racked up the most amount of kills in a single trio game.
German Call of Duty content creator Tiger of Hell1 holds the record in this department, by wiping out 55 players in one lobby. Set on May 24th, he pipped the previous record by one which was set by Biffle just six days prior.
Solos vs Quads Warzone Kill Record
The Solos vs Quads kill record is arguably the most difficult kill record of the bunch, due to the number of players on the same team that you will have to wipe out, YouTuber Phanosy managed to get an astounding 53 kills in a single game.
Having wiped out over a third of the entire lobby, Phanosy actually failed to win the game, finishing third. Should he have won the game the bar could have been set much higher.
Fastest Warzone Victory Ever
The record holder for the fastest ever win in Warzone was broke by Vikkstar123, and Atlanta FaZe trio Cellium, ABeZy and Preistahh after they wiped through the lobby in 20 minutes and 4 seconds, notching up 83 kills in the process.
In a strange turn of events, the squad actually decimated the last player after 19 minutes and 15 seconds, but with the final player dying before the fourth circle finished, he still had his Gulag visit, meaning they had to wait for his redeployment to end the game.
This all but wraps up the current kill records in Call of Duty: Warzone, however, with the progressive nature of the game, it is likely that they will be heated in the near future.
*If you are aware of a kill record in a different department, you can let us know via direct message on Twitter @GGRecon_, or if a kill record has been beaten.
Image via Activision