One of Overwatch League's longest running squads bows out.
19:30, 19 Nov 2020
On Wednesday, November 18, it became official. The New York Excelsior announced that while Sung-hyeon "JJoNak" Bang would be remaining on the team for the 2021 season, Jong-ryeol "Saebyeolbe" Park, Hae-seong "Libero" Kim, and Taesung "Anamo" Jung would be the final departing members, thus ushering in every NYXL fan's worst nightmare into reality. What started with the release of Dong-gyu "Mano" Kim on November 2 had finally come to pass. The New York Overwatch core the world had come to know and love was no-longer, thus ending the tenure of one of the longest-running core of players in the league's and game's history. Rivalled only by the Philadelphia Fusion, no other franchise has committed to a group of players for as long, or has even seen as long an era of dominance and consistency.
At their peak, no one could touch the NYXL, and even when they didn't shine as brightly as they had in the past, New York's finest were still an insurmountable barrier for more than half of the league for over three seasons.
Here's one final toast to the trailblazers of the Overwatch League, the first best team in the world in the OWL-era of Overwatch. A squad so full of some of the game's most likeable, charismatic, and skilful personalities and players, that it would be an immense disservice to fans if they didn't find new homes in the league for the 2021 season. Innovators and heart-breakers, thank you NYXL for three years of some of the best Overwatch the game has to offer.
DUST YOURSELF OFF
As soul-crushing as it is to see one of the game's most iconic squads bow out into the pages of history, it's possible that in a year or two, this change would be seen as a positive and vital one for the New York franchise. Storyline wise, everybody just wants this squad and these players, to win a championship. Ever since their season-long dominance and subsequent sweep out of the 2018 playoffs, New York's entire image has been chasing for the trophy they should have been destined to claim. People want to see these players win; they want these players to reach that eternal glory granted by claiming the championship. However, instead of that dream being realized, it's been two seasons and some change of watching other teams perform better, and XL's position in the upper echelon of the league slowly slip away.
In 2018, they messed up and lost the most crucial series of their lives at the time, but at the end of the day, the runback next season was still possible. In 2019, they were clearly the best in a weak Atlantic Division, but also very clearly a cut under the Vancouver Titans and San Francisco Shock. With a few key changes in the following off-season, they could be contenders for the crown once again. Yet, in 2020, New York were simply no longer in the high-rollers club, watching the Shanghai Dragons or Guangzhou Charge fly high in APAC, while they had to look onward from the ground. This was the roughest season to be a fan of the NYXL, the pandemic shook their situation to the publicly unknown levels, pieces and parts didn't seem to be working out, and outside some brief moments of brilliance, it was too much of an uphill battle to climb for the Excelsior.
We did it,
#TigerNation
!
#SeoulDynasty
proved their strength by taking down
@NYXL
today with a 3:0 victory! Thank you to everyone who cheered us on today! The real hunt begins now 👊😤 See you all at the
#OWL2020
Grand Finals!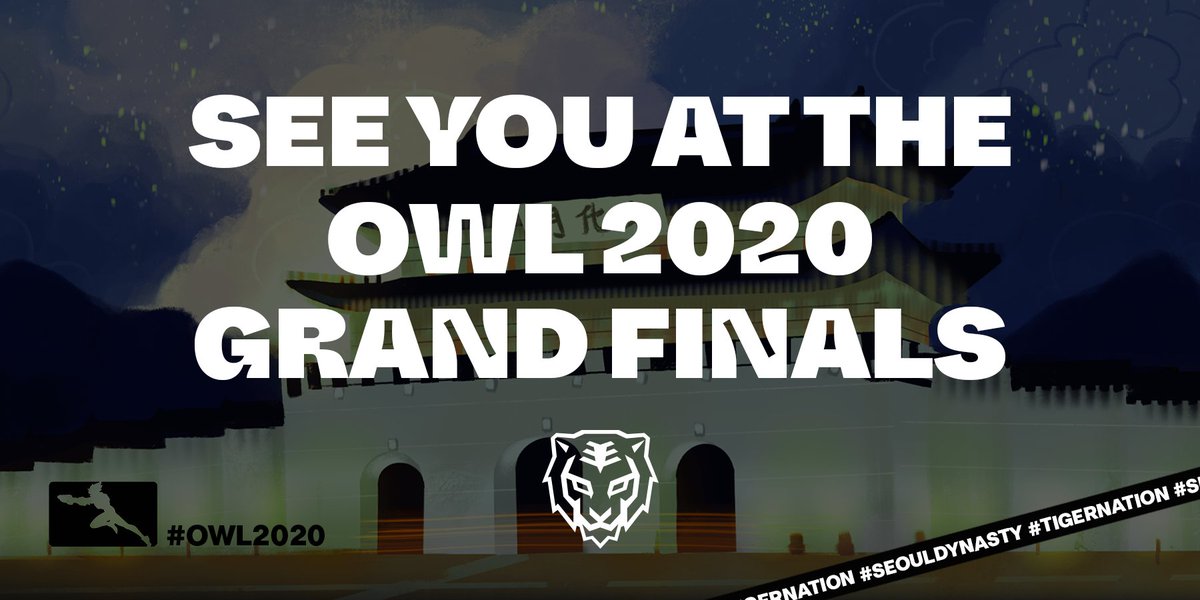 WHERE THE REMAINING PIECES CAN FALL ON THE BOARD
However, the great thing is, no member of this core has announced their intention of retiring from the game. We still have the opportunity to be blessed with these players gracing our screens come 2021. Those brief moments of brilliance were proof that individually, these players still have a lot to offer, and can still contend with the best in the world, as long as they get those right conditions to do so. As Yoda once said, "the greatest teacher, failure is", and even though this chapter of their collective careers is closing, there should be no doubt that these players still have the capability of standing at the top.
JJoNak – As previously stated, the XL has committed to re-signing JJoNak. It's exciting that one of the most gifted flex supports in the world, 2018 Regular Season MVP, and a staple of the franchise, will still don the red and blue for another season. It's also easy to forget how impactful JJoNak was during his debut, and how he continued to be a part of the upper echelon of flex supports throughout his career. With new teammates, and hopefully a more stable environment, it only seems like the Octopus King himself can only go up from here. 2020 may have been rough for the XL, but it would be ludicrous to not be excited to see JJ's return to the "stage" and also a possible return to form. The man is a fragger; he made a name for himself as the true OG bloodthirsty support. If one of XL's largest criticisms was this "need to play more aggressive style", then really is there anyone other than JJoNak that'll help you bring that prospect into reality?
Mano – Make no mistake, Mano is still one of the best main tanks in the world, and very possibly has the capacity to be the best. His departure for the Philadelphia Fusion is both history's greatest betrayal, but also not. Yeah, the Fusion were the team to crush the XL's hopes into oblivion back in 2018, and thus became New York's rival. But there's no doubt that since then, the Fusion have most certainly surpassed them, and have only continued to get better and better. With former champion and Shock coach Bumhoon "NineK" Kim at the reigns, moving an hour and a half away down south is only going to give Mano the chance to do what he has been craving for two seasons, win. Mano has the potential to have a complete career revival, the resources and dedication necessary to absolutely pound this upcoming season. Mano has always been great, but this opportunity on the Fusion could be one of the most mutually beneficial arrangements of the off-season. "Well, we both want to hold the trophy, and I'm the guy that's finally going to push you all over the edge to get there".
Libero – The most criminal aspect of the NYXL's 2020 season, was barely any Libero. Showing up to play Mei early on once or twice, but mostly rode the backseat to Seung-jun "WhoRU" Lee. When the Summer Showdown Genji meta-arrived, Libero played second fiddle again to both WhoRU and Hyojong "Haksal" Kim. Give the man a starting position on a team! Historically, his performances on Genji, Pharah, or even GOATs-era Brigitte were all top class. He's proven over the course of his career, this his versatility and jack-of-all-trades playstyle, makes him an immense asset to whatever team he plays for. While he searches for that new home, it would certainly behove managers to sign this young and brilliant player. Libero is so good, he can be an instant-fix for teams who are currently searching for, or who have traditionally lacked in that area of DPS-firepower, and with the English that he knows, could even prove impactful for any mixed rosters. The Toronto Defiant certainly seem in the market for a flex-player, the Los Angeles Valiant don't currently have the coverage Libero fills, and maybe he could even be that extra DPS x-factor Daehee "Crusty" Park is always so fond of. Regardless, Libero deserves a starting spot on a team that needs an all-arounder to fill in the holes.
Anamo – Anamo has been a key part of New York's toolbox in its three seasons. While not technically a Day 1 addition, Anamo's entrance in the 2018 midseason made certain that the XL's support line was meta-proof for a good while. Vocal and brash, and always visibly yelling into the microphone, Anamo has been Excelsior's tried and trusted multitool that was their choice to partner with the game's most killer support. One of the game's best Mercy's in her prime, Anamo has been the constant part of the XL's strategy that never changed, and that always provided. Through two different main support counter-parts, Anamo proved that his role and his ability were bar-none for the XL and a big part of their constant success. Teams like the Washington Justice, Florida Mayhem, Toronto Defiant, or Boston Uprising, are certainly aching for a capable main support to round out their backline and help speed their team onto success.
Saebyeolbe – The Captain himself. It was great to see Saebyeolbe play a bigger role this season on his signature hero Tracer, on the classical McCree, and on a new debut with Ashe. Saebyeolbe's impact on the esport as a whole is simply indescribable. Charming, funny, goofy, he's just too loveable to have to see leave New York City without ever getting that top trophy with his squad. SBB will always be beloved by many fans, and he'll always have that surprising wow factor when he plays his best. However, it seems like what the game requires has surpassed what SBB has been able to give, and a new chapter in Coach Saebyeolbe might be upon us.
He has always been that vocal leader, the sweet figure everyone looks up to, and maybe it's time for him to help lead from the reigns of coaching a franchise instead of playing for one. With his experience, his leadership ability, and the overall love from fans, Saebyeolbe, out of anyone else, should be given that opportunity to represent a team, regardless of his position on it. It would be the greatest shame of all, to not have Saebyeolbe represent a squad in some capacity, to not have him take part in the culture of the Overwatch League, because he truly is one of the game's brightest stars.
Thank you for always being one of the best teams to watch every season, New York. Regardless of who represents "the greatest city in the world" in 2021, there can be nothing, but fresh expectations and new hope for the new JJoNak led squad as they take on the immense challenges of an ever-evolving Overwatch League. As for the former players, and former members of that iconic core, they all deserve to have new franchises to call home this upcoming season, as they continue to be some of the most likeable and loveable personalities in the game. This story might be ending for the New York Excelsior, but the next chapter, the next page, should be all the more exciting to witness.
Hold your heads high as we move forward into the future XL fans, cause from here on out it's only ever going to be Ever Upward.

Images via Blizzard Entertainment