How big is gambling in CSGO esports and what impact does it have on the industry?
17:00, 05 Jan 2020
The influence of gambling on the CS:GO scene
Cosmetics known as 'skins' have become a core part of Counter-Strike: Global Offensive since their introduction in 2013. Either dropped while playing or found in cases which require a 'key' to open, skins can be used to give in-game guns a new look. While they give players no competitive edge or bonuses, the value of skins can range from pennies to thousands. During Majors, one viewer unboxed a special souvenir AWP Dragon Lore skin with stickers of Cloud9 and Tyler "Skadoodle" Latham on it, which then sold for $61,052.63 on the third-party site Opskins.com. It is perhaps no surprise that gambling with these items has been as prevalent as simple trading and money bets.
Following Cloud9's
#ELEAGUEMajor
victory yesterday, this beautiful Souvenir Dragon Lore quickly sold for a whopping $61,052.63. Yes, you read that correctly 😎
Listing: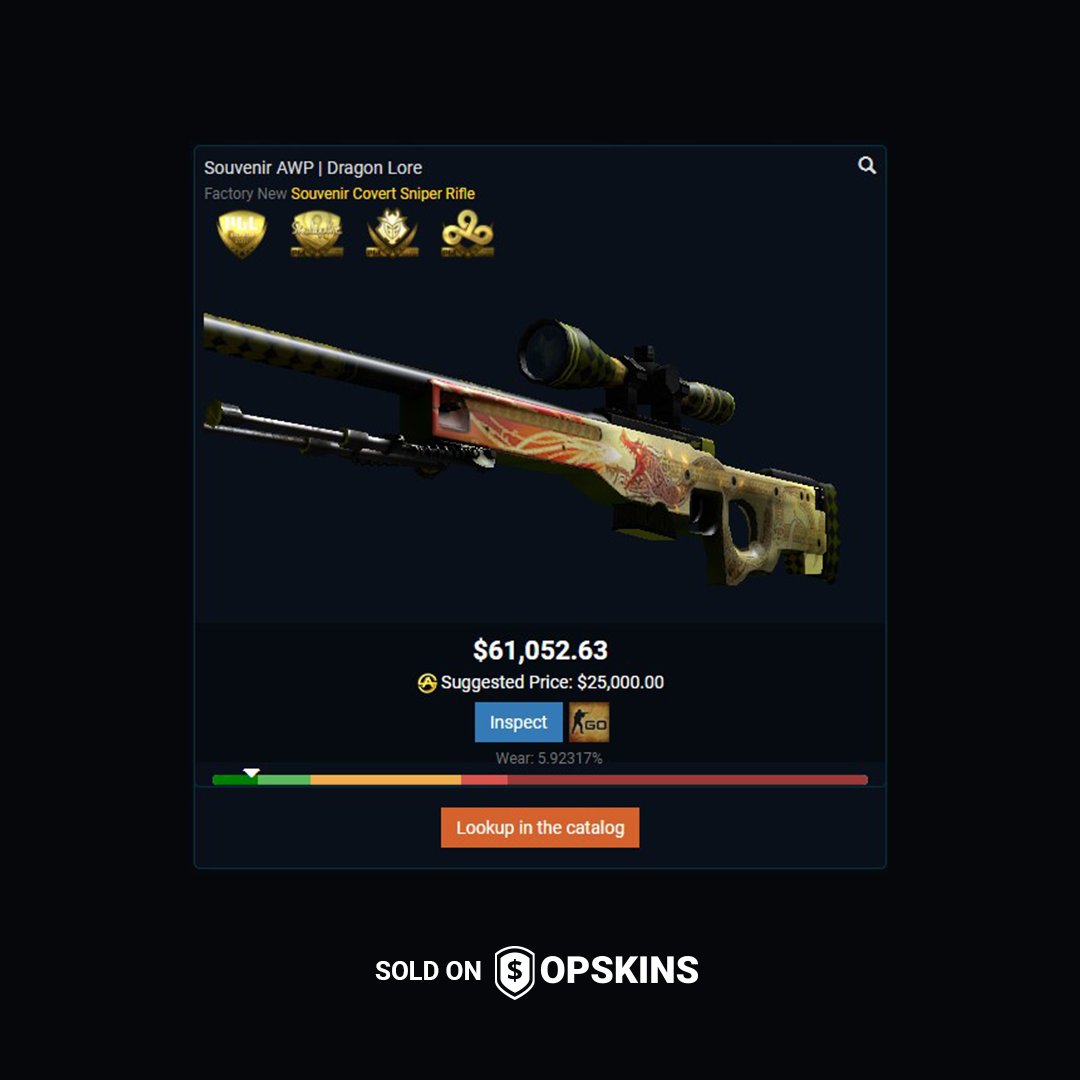 Gambling in Counter-Strike, whether it's game betting, coin flips or case openings, has had a rocky history. Research firms Eilers & Krejcik Gaming and Narus Advisors created a report which suggested over $5 billion had been spent in 2016 on skin gambling. This was double the estimate of $2.3 billion in 2015. Around 40% of this money was wagered on esports matches and a huge portion spent on unregulated casino games. One of the biggest sites, CSGOLounge, was 574th in the Alexa global rankings for most visited websites that year, with 38 million visitors in the month of March.
That was until Trevor "Tmartn" Martin and Tom "ProSyndicate" Cassel marketed a gambling site, CSGO Lotto, to their YouTube audiences without disclosing their stakes in the website. Valve then took action against certain websites, issuing cease and desists to many of the most popular. Instead of shutting down, many of the sites took skins as a deposit, turning them into money on the site, or their own currency which could then be used to gamble without directly being 'skin betting'. Some even developed cryptocurrencies in which skins can be traded for crypto that can be gambled or used to purchase other skins. Since then, gambling and the many gambling sites are back in force.
Gambling within the professional scene
The most famous incident of professional match fixing linked to skins and gambling is the iBUYPOWER Scandal of 2014. Journalist Richard Lewis investigated rumours of the IBP team throwing the match and placing bets against themselves to win skins, which led to four of the players, Sam "DaZeD" Marine, Braxton "swag" Pierce, Keven "AZK" Larivière and Joshua "steel" Nissan, being banned indefinitely, and then for life from Valve-sponsored events. This effectively ruled out those players from competing at any Counter-Strike Major, as well as many other tournaments until 2017, when ESL and DreamHack unbanned them from their events. Only Skadoodle, who lifted the ELEAGUE Major: Boston trophy at the start of 2018, was not banned in any way.
Other high-profile players and teams have either been accused or taken part in questionable betting practices. A match between Virtus.pro and Team LDLC during the FACEIT Spring League 2014 was played early and scheduled to be broadcast later in the day. Players who knew this then placed bets in order to profit from their inside knowledge of the game while knowing the result. Many players have sponsors in the form of gambling websites and have actively promoted gambling through Twitch streams, Twitter giveaways or YouTube videos. DaZeD was harshly criticised by many for uploading a now-removed video of himself using WTFSkins and pretending to make an accidental bet in which he won a Dragon Lore, complete with over-the-top acting. DaZeD's past with insincere gambling is what led to many having a strong reaction to the sponsored content.
Many of the big gambling and trading websites, including WTFSkins, sponsor tournaments, teams and players. In previous years, WTFSkins was a sponsor of cs_summit, EGB sponsored PGL Major: Krakow and StarSeries Season 4 had HellCase and LOOT.BET as sponsors. North's main partner is now GG.Bet, who also sponsors Natus Vincere and will be hosting a $250,000 tournament in London called the Ice Challenge in February.
There is a competitive market for skin websites which now work in connection with the professional scene.
While this might raise some ethical questions, the growth of these businesses in both esports and traditional sports mean they operate in the open and allows scrutiny like any other business vs. lurking in the unregulated shadows of the internet as they once almost exclusively did.
Outside of peripherals and hardware, skin trading and gambling is where the money is, and those websites have a vested interest in keeping their names in the spotlight and the Counter-Strike scene healthy.
Impact on the community
Valve has issued cease and desist orders to some websites, while banning the bots operated by some sites to handle deposits and withdrawals. Internet Service Providers in Denmark have been ordered to block access to many well-known skin betting websites.
This has not stopped the growth of the global skins market or the gambling community around them. While the actions of Valve and national governments might stop the casual or the curious, websites are able to move to new addresses, rivals that are unaffected can capitalise on the gap in the market and users are able to bypass IP blocks without too much trouble.
The demonisation of gambling is the fact young people make up a number of the users placing bets on unregulated sites with their items. Skin-betting was examined for the first time by the Gambling Commission in the UK in 2017 and found 11% of 11-16 year olds had ever used skins for gambling, considering it an 'emerging phenomenon' despite overall gambling participation having declined.
While the percentages of children actually engaging in skin gambling is low, around 80% had seen gambling adverts on TV for money betting and over half had seen the adverts at least once a week. Nine out of twenty Premier League football teams have betting companies as sponsors while the 2017/18 season is the first since the League's establishment that a beer company has not been on a team sponsor.
The fall of sites like CSGOLounge were not caused by people turning away from gambling and intervention, but also the sheer volume of gambling sites now available. From coin flips, to roulettes, to third-party case openings, skin gambling has never been so prevalent. The major change has been the growth of many of these sites and a desire to appear legitimate rather than being secret skin black markets.
Despite this, dodgy practices of rigging bets or using bots have not gone away and are unlikely to ever disappear with so many sites competing for users to use their services over their rivals.
When it comes to regular betting on matches, players are not unfamiliar with messages and threats by those who flutter.
An infamous case involving an AVANGAR content manager sending messages wishing for the death of Kristian "k0nfig" Wienecke after a lost $300 bet shows how esports gambling, like any other form, can bring out those who cannot handle the loss and take it out on others.
Content creation has also benefited from gambling. Betway has become a familiar name in CS:GO and produced content that connected with the community while sponsoring multiple teams. Rivalry sponsors Richard Lewis as well as Fnatic while producing content on their website with writers.
There is a downside to this. Some websites exist as content farms to generate clicks and drive traffic towards betting websites. Posting content onto the r/GlobalOffensive subreddit that is often poor quality or not entirely relevant, they share content that is often riddled with errors or inaccuracies as the end goal is purely about traffic.
While the natural distrust of gambling websites is understandable, their growth in traditional sports is simply being mirrored in esports. The potential conflicts of interest that arise when those same sites host tournaments and sponsor teams should not be overlooked but the overall benefits for Counter-Strike are overlooked even more by the average fan.

Image via ESL | Helena Kristiansson