With 4 domestic titles, spazzo might be the most successful coach outside of Overwatch League
18:00, 07 Jun 2020
The head coach of Talon Esports, Chris "spazzo" Infante, is perhaps the most successful left in Contenders. Winning Contenders twice with Fusion University, winning the Atlantic Showdown and now winning Pacific Contenders in impressive fashion, beating the competition every single weak and in playoffs, not even a dropping a single map has filled his trophy case. With GGRecon, spazzo talked about his philosophy and goals in coaching, his team and the importance of cross-regional competition for the development and scouting of new talent.
Congratulations to your PAC Contenders title, being yet again at the top of a domestic league. Most impressively, you didn't drop a single map in the playoff bracket. Was this season as easy as it looked for you? What kind of challenges did you have to overcome?

The goal of this team is long-term development of players who can be competitive in international competitions. The main challenges have been overcoming personal setbacks for players and building up to a level that is good enough to perform on the international stage.
You've been around the block in terms of the amount of teams you've coached and you had a say in building this roster. What were you trying to build this season? How does your current roster differ both from an inside and outside of game point of view? How would you describe this soul of your roster?

My main goal was to find a group of players who may have been overlooked and build a team that can grow and learn whatever gaps they had to fill in their own play. Learn how to be a proper teammate together and essentially just give them a path to grow. The culture of this team feels somewhat of a bridge between old and new players. For whatever reason these players weren't able to make it to the league before, so this feels like their last real chance, which is why I want to give them that opportunity. The culture stems from this goal.
With Talon, you're in a unique position to be able to scrim both PAC and Korean teams. What do your typical scrim partners look like? Are there stylistic differences between the teams? How far could Talon go in Korean contenders?

We only scrim Korean contenders and OWL teams. Some teams tend to pick a style or have pocket picks they prefer but for the most part everyone slowly gravitates to a similar meta. I'd say we could do well in Korean contenders. If we couldn't, then we wouldn't be getting those scrim partners, so we must be doing something right.

We saw the match of future champions which showed some Korean Contenders talent facing each other. Would you like more opportunities to show your team's qualities? Are there ways to promote player quality during these global challenges?
Showdown and Gauntlet proved that inter-regional tournaments were paramount in scouting for league teams and I think an opportunity similar in nature is essential for Contenders now. Tournaments will always be the best way to promote player quality to the scene and league staff. Given the global situation, I think more online tournaments between seasons is a feasible ask.
4X PACIFIC CHAMPIONS! 🏆🏆🏆🏆
Extremely proud of our roster for delivering our 4th Championship in the Pacific region. A big congratulations to our players and coaching staff for continuing our legacy. Thank you to all our fans for being with us 👨‍👩‍👧‍👧
#BLEEDCRIMSON
#PACIFIC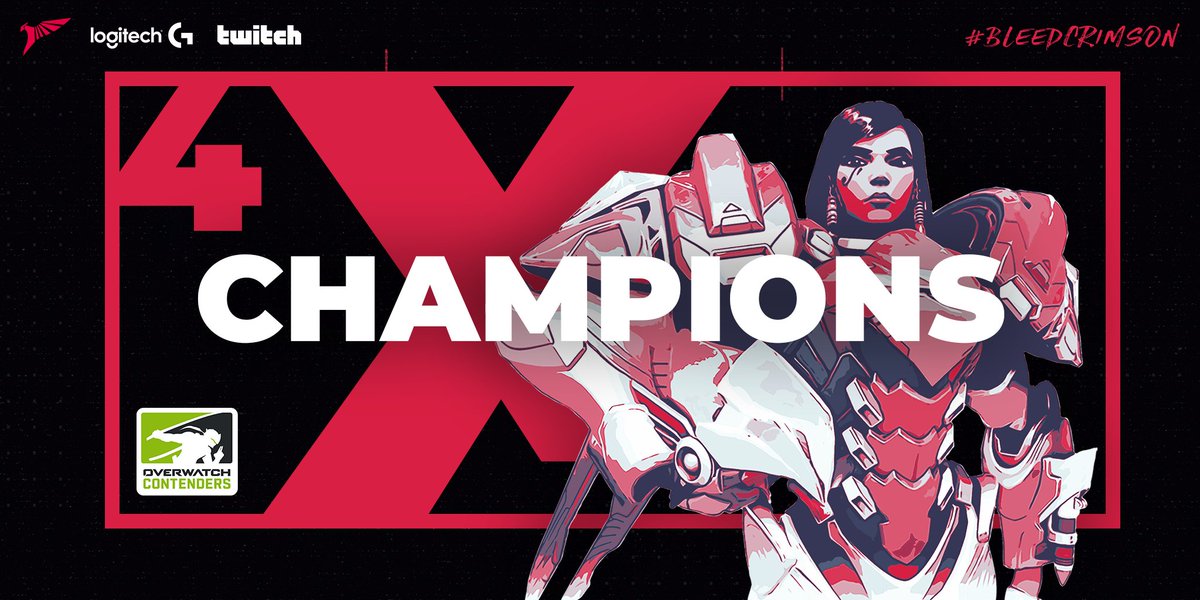 Last time we talked, your ultimate goal as a Contenders coach was to get your players into OWL. Has anything changed in your stance regarding that? Perhaps in a couple of words, could you make the brief case why your players deserve a shot?

Nope, the goal is still the same. The main difference now is we're transitioning from the old wave of players to new, so for some players it feels it's their final chance to get to the league. I think aside from that I personally wanted to give these players a real chance to grow, I'd say they all have their merits as to why they deserve a chance. They agreed to join a team in a weaker region focusing on the long term goal which I think speaks volumes about their character as players. Please give them a chance :)
You've lived in Korea for a while now. How is the Korean coming along and do you think you could be fluent by the time the 2021 season comes along? What have you learned about the Korean culture both inside and outside of esports and how does it compare to North America?

My experience has been rather unique since I've been working with Koreans for three years now. I think in terms of esports, the culture isn't as different as people would like to believe. In my experience, the reality is that Korean players tend to put in more hours willingly but I've also seen both sides of the coin for NA and Korean players in terms of effort. It's true though, Korean culture seems to push these players more, perhaps similar to their education system if I had to guess. I don't think it's healthy for people to idolize the Korean culture for esports but should simply acknowledge the higher average effort they put in.

As for the language itself, I'm slowly learning more and I'm going to a language school now. Hopefully by next year I should be sufficient in most conversations but fluent is certainly a goal that will take many many years. I love living here.

With Fusion University you won three in a row, with Talon you won every week of season 1 as well as the playoffs. On paper, you're the most successful coach left in contenders. Have you received any offers or did you have any trials in the off-season?

I didn't receive any offers this past off-season but I also didn't search. I was content with staying with T1 for multiple reasons, so I had already chosen in my mind to give Contenders another year given the circumstances. Sadly that didn't pan out but I think the situation has taught me a lot.
A point of scepticism I hear brought up towards your career is that both FUni and Talon have had a disproportionate amount of firepower and that it's hard to judge a coach's ability based on that (perhaps much like KuKi did with RunAway before joining the Mayhem). How do you respond to that? What kind of coaching philosophy do you bring to a team?

Firstly, it's no secret both of those teams have high-level players. It's really hard to lose many games in NA when you have players like Alarm, Bernar and Na1st but that type of thinking is disingenuous to the efforts every team has to put in to win regardless of how stacked the roster is. Coaching is not simply telling a player what to do but being an individual to offer direction and strategy while keeping the team as a whole all in the same mindset.

I consider each team I've been on in the past as its own entity and different points of my career in which I've learned valuable lessons. Every team I've coached in the past has had high-level players. As for Fusion Uni, it was its own super team so I can understand where the scepticism comes from. I think the players of a team know the impact a coach has on a team the best.
The success of a team is really indicative of the internal team environment and I can't compare any team I've been on in that aspect. There's way more aspects to the success of a team than the paper value of a player and it's fair to see those difficulties from the outside. I'd also argue that a weaker team is not indicative of a coach's ability as well. Teams are their unique amalgamations of skill, personalities and environment and there's many reasons why a team can do well or poorly.
The philosophy I've always tried to uphold is trying to help these players further better themselves as teammates and individuals both in and out of the game. Contenders is a very volatile environment, so I believe focusing on the macro and micro understanding of the game and building upon that will benefit them the most in the long run.

What goals do you have left in Overwatch?

I'd say continue helping players achieve their goals in the game and have the opportunity to work with a great staff at some point. I'd love to learn from other coaches directly.

Images via Blizzard Entertainment