Mario fans are struck with a major blow as the Super Nintendo World opening is delayed from February 4 due to the ongoing COVID-19 pandemic.
09:50, 14 Jan 2021
Cue Mario's wailing and Bowser's iconic guffaw from Super Mario 64 because the opening of Super Nintendo World has officially been delayed. Since Mario first broke free from the Donkey Kong games to lead Super Mario Bros. in 1985, some of us have dreamed about what it would be like to jump down a warp pipe and enter his blocky world. While you can't actually visit the Mushroom Kingdom (it's functional, duh), Nintendo is doing its best to recreate it in real-life with Super Nintendo World.
There's been plenty of hype surrounding Super Nintendo World's upcoming opening at Universal Studios Japan. The doors to Bowser's Castle were supposed to open in February and mark the first of several parks around the world. After Japan, Super Nintendo Worlds are expected to pull in big crowds in California, Orlando, and Singapore. Well, that's if we ever manage to beat the global pandemic.
Related: Super Nintendo World's New Website Teases Mario Kart Ride
Why was the Super Nintendo World opening delayed?
USJ announced it is postponing opening of Super Nintendo World from previoulsy-announced Feb. 4 due to ongoing Covid-19 situation. Sad, but right call.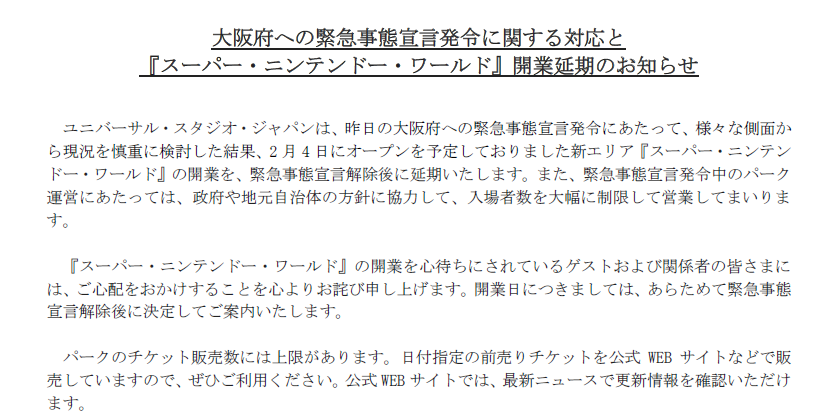 Despite ambitious plans to hit its February opening, a surge of COVID-19 cases in Osaka are the reason behind the park's delayed opening. Nintendo announced the news on January 13, which was quickly shared by several news outlets. Bloomberg News' Takashi Mochizuki posted the full statement. Nintendo gives its thoughts on the pandemic and how things are different in Japan compared to the Universal parks in America.
Nintendo's statement reads: "After careful consideration of all aspects of the current situation, Universal Studios Japan is postponing the grand opening of its new 'Super Nintendo World' until after the state of emergency for Osaka prefecture, issued yesterday, is lifted. Also during the state of emergency, we will set additional capacity limitations in accordance with the government and the local authorities' guidelines.
"We apologize to all of our guests and stakeholders for any inconvenience this causes. We know you are looking forward to the grand opening of Super Nintendo World when the time is right. We will announce the grand opening date soon after the lift of the state of emergency. Studio pass sales are also monitored and controlled, and there could be additional limitations to their availability. We recommend that our guests purchase date designated studio cases at our official website prior to their visits. Please see our official website for the latest information regarding park operations".
The news is a huge blow considering there's so much that's gone into the opening. Only recently, Game Director Shigeru Minamoto was seen happily touring the park with giant Mario and Luigi mascots to drum up interest in Super Mario World. It was here we got a first real glimpse behind the walls and the variety of attractions on offer. As well as explaining how the long-awaited Mario Kart ride works, Minamoto showed off the Yoshi's Adventure ride for younger kids and shed light on how the parks' Power Up system works to collect points and prizes. Everything was looking great for February 4, but then, coronavirus struck again.
Super Nintendo World opening delayed: When will it open?
Ok now THIS should be an attraction at Super Nintendo World!
The question on everyone's lips is when will Super Nintendo World finally open to the public? Unfortunately, the answer is indefinite. A state of emergency has been announced until February 7, with Universal Studios Japan expected to announce a new opening date for Super Nintendo World once it's been lifted. When it comes to the state of emergency in Japan, it's still relatively relaxed compared to some parts of the world.
Japan's state of emergency was originally only for Tokyo and surrounding areas, however, it was later upgraded to cover 11 prefectures - including Osaka. Restrictions mean residents are asked not to make non-essential trips, while restaurants and cinemas are asked to close earlier. Still, it's hardly a great time to open a new theme park.
This isn't the first time Super Nintendo World has been delayed. The plan was to have the park welcome visitors in time for the 2020 Summer Olympics, which themselves have been delayed. While the postponed Olympics are also now in doubt for 2021, it remains to be seen when Super Nintendo World will finally let us in to grab mushrooms, race carts, and rescue Princess Peach from Bowser's scaly claws.
Stay up to date with all the latest esports and gaming news by checking out our social channels here: Twitter | Facebook | Discord
Images via Nintendo | Super Nintendo World