SFS Proper: "Decay? It's Time For A Change, Make Way For The New Generation."
All images courtesy of Blizzard Entertainment and the Dallas Fuel
The debut match of the Kickoff Clash here in Arlington, TX was a nail biter and perhaps the best of the tournament so far. Number 1 seed, San Francisco Shock went down 0-2 in a flabbergasting display of Overwatch by the Number 8 seed, the Washington Justice. But in true Shock fashion, it's never over until it's over, and the two-time champions pulled off a reverse sweep for the ages in front of a roaring Texas crowd.
Players Colin "Coluge" Arai, Dong-hyun "Proper" Kim, and head coach Dae-hee "Crusty" Park sat with the press to discuss the match, with Crusty translating for Proper.
The three were positive, you could tell they felt relieved that they were able to pull off the win.
Coluge, you could be seen saying something to a teammate on stage when you walked out, do you remember what you said?
Coluge: "I told him I was so nervous and standing in front of the crowd, I was even more nervous. That's why we lost those first two maps I swear."
Crusty was confident in the team's ability to perform on the Winston and in the Moira/Lucio mirror, but nerves and mistakes were what let them lose a grasp on the first two maps. Mistakes like overcommitting to kill the backline and getting two easily baited by the Washington players.
Coluge, looking at you, you're a Contenders off-tank who now has to come in and be the whole Winston player for the Shock. Where do you rank yourself amongst the other tank players in the league?
Colleague: "Definitely top 3. In scrims I'm number one but on stage I get nervous, and I start doing stuff I'm not supposed to."
Crusty: "I don't think this guy was nervous to be honest, he was popping off every time. If that is nervous I hope you're always nervous!"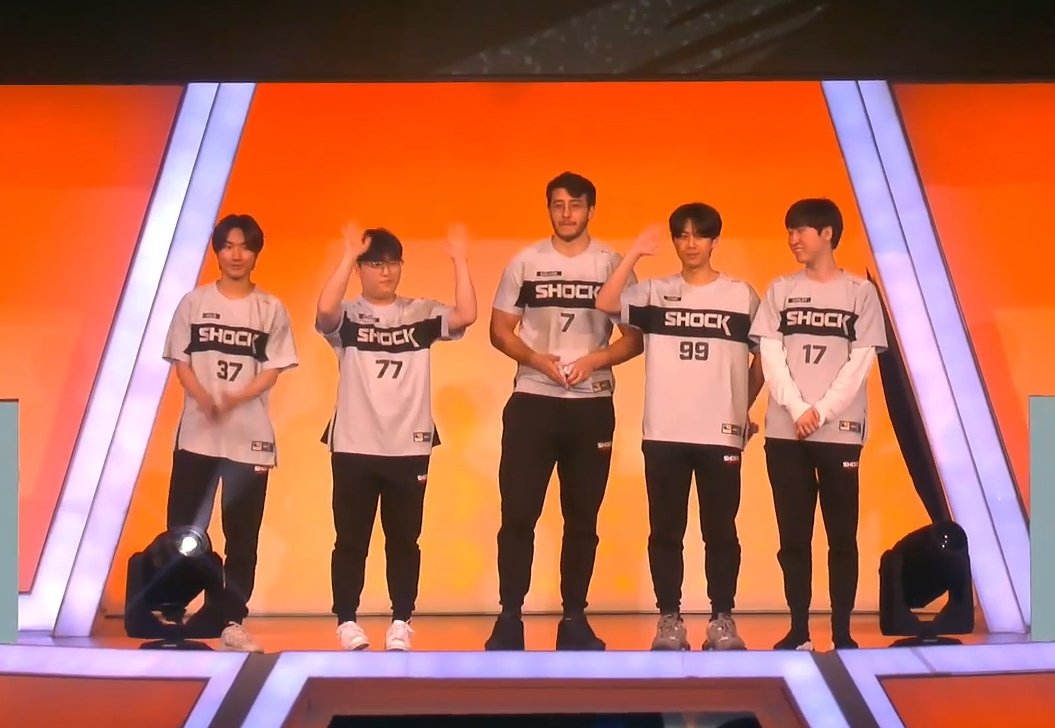 Proper people are forming a lot of hype around you as a player, calling you Alarm Rookie of the Year and MVP, does that come across your mind while playing? Do you turn up how you play to help build your case?
Proper: Just trying my best and just doing the usual. Not more or less, just keep my momentum and do what I do.
Cursty then went on to describe his experience building this rookie full team for the 2022 season.
"When I first signed O2, I knew they were really good players but because of the language barrier, he knew it would be a challenge… I have experience from my time on Boston and making the Shock in 2019, that always at the start it's going to be hard. But we study English and keep making certain calls, and soon they start to trust each other a lot."
Everyone talks about how the Shock came up short last year. What were the lessons you learned from that season for the Shock?
"Every year is a challenge. At that time we were, after two championships, we were burned out to be honest. I tried to design the team around provided players, players that were already good and who had proved themselves. But I forgot that in building a team you can't have a 6-star roster. As players they were all really great but not team synergy and team-building wise. So I was trying to focus on that this year."
Lastly Proper, anything to say to Washington's Tracer players, Gui-un "Decay" Jang and Sung-won "Assassin" Kim, after running a clinic on them in the final 3 maps?
"Assassin is pretty much the same age as me, so Assassin is fine. But Decay? It's time for a change, make way for the new generation."