Ratchet & Clank: Rift Apart players finally get to meet Rivet, as Insomniac's latest trailer introduces a female Lombax to the franchise.
10:31, 27 Apr 2021
Insomniac Games is taking us into a whole new era with Ratchet & Clank: Rift Apart. Much like Toys for Bob's Crash Bandicoot 4: It's About Time breathed new life into the series with a sequel to 1998's Crash Bandicoot: Warped, Rift Apart is the long-awaited follow-up to 2013's Ratchet & Clank: Into the Nexus. Insomniac has promised the game will appeal to both newcomers and long-term fans, meaning Rift Apart is already hyping itself as something big.
Alongside the titular Ratchet and Clank, it looks like there's a fresh face ready to make their mark on the franchise. When the first trailer showed off a female Lombax, players demanded to know more about her and how she'll come into the story. Now, the latest Ratchet & Clank trailer has officially revealed the female Lombax and given her a name. If you're ready to boot up your PlayStation 5, it's time to play as Rivet.
Who is the female Lombax in Ratchet & Clank: Rift Apart?
With Rivet officially revealed to the wider world, the female equivalent of Ratchet has a few tricks of her own, In the first gameplay trailer, we get to see Rivet pull off all the similar moves we know Ratchet for, however, it also looks like she's picked up a few smooth swinging techniques from Peter Parker and Miles Morales in Insomniac's Spider-Man games. In Rift Apart, Rivet comes from an alternate dimension that's ruled by Dr. Nefarious. The series big bad is a little more successful here and has even been promoted to rank of Emperor.
During the trailer, Nefarious uses a Rick and Morty-esque portal gun to transport our dynamic duo to the dimension where he always wins. It's here that Rivet comes into play. With Ratchet and Clank separated by their dimension hopping, Rivet quickly picks up the chattering bot and jumps into action. Although there are familiar mechanics like Ratchet riding on rails, there's lot's that's new here. Rivet looks like she'll quickly become a fan-favourite addition to this world and bring her feminine wiles to the game.
What else do we know about the female Lombax in Ratchet & Clank: Rift Apart?
@PlayStation
@insomniacgames
I like this feeling of her being this heroic figure in a corrupted metropolis (heck she even has a wanted poster!), reminds me of cool heroes like Spider-Man 2099. I just wonder now who is she exactly? It sounds like she is an alternative version of Ratchet to me at the moment.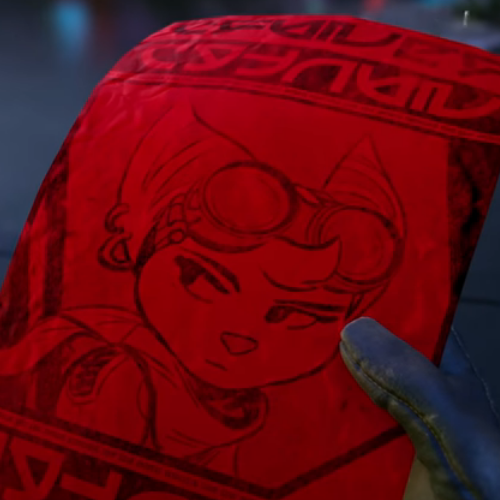 Insomniac is clearly invested in Rivet, and while the game is still called Ratchet & Clank, it looks like it should be renamed Ratchet & Clank & Rivet. If the title is a hit, expect this to be the start of a reinvigorated fan base for the franchise. Personally, we can easily see a Rivet spin-off for the latest addition to the Lombax family. Elsewhere, Rivet is voiced by video game royalty Jennifer Hale. For anyone who doesn't know, Hale has lent her vocals to everything from Star Wars: Knights of the Old Republic to Metal Gear Solid.
Hale is no stranger to championing female inclusion in video games. She famously voiced FemShep in the Mass Effect games and was recently seen getting emotional over the Mass Effect: Legendary Edition. As for Ratchet & Clank: Rift Apart, let's hope it's not a case of three's a crowd. The game is due to land on June 11, but be warned, it's set to remain a PS5 exclusive and won't be coming to the PS4. With Sony slowly pushing into next-gen only games, and Rift Apart introducing Rivet, the game marks an important stepping stone for the platformer series.
Stay up to date with all the latest esports and gaming news by checking out our social channels here: Twitter | Facebook | Discord
Images via Sony Interactive Games