Nade is now forced to get the line 'Sex is temporary, gaming is forever'.
11:02, 26 Feb 2021
Erind "Froste" Puka, a member of 100 Thieves' content creation team, has united the gaming community in one of the most rapidly-viral Tweets ever seen. The premise being permanently etching "Sex is temporary, gaming is forever" onto Matthew "Nadeshot" Haag, the 100 Thieves owner gave the goal of 100,000 retweets for it to be added to his skin.
With the goal in mind, Froste simply tweeted an image of the bet with the caption "Gamers, assemble". With the community forming like The Avengers versus Thanos, Froste gathered 800 retweets in the first 60 seconds.
Gamers, assemble.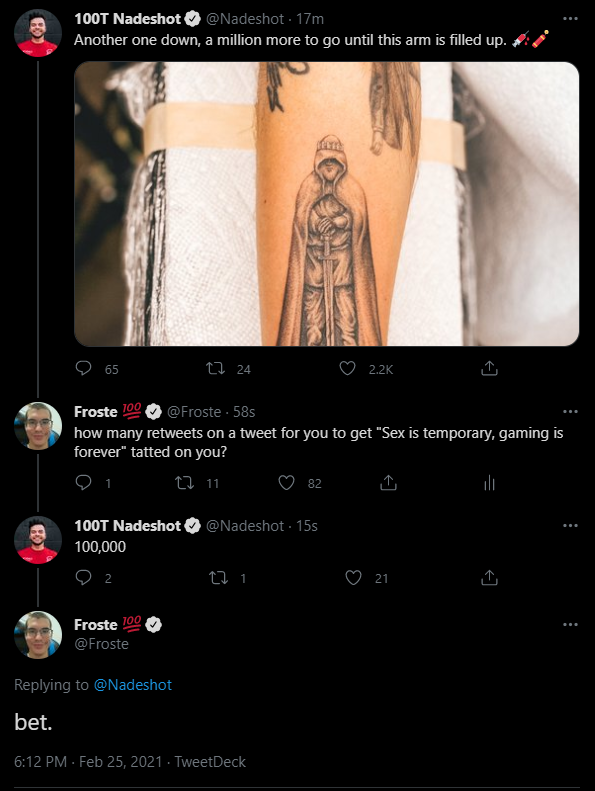 Instantly some of the biggest names in gaming began to get involved. OpTic content creator Davis "Hitchariide" Edwards became one of the first to share it, presumably to get some kicks at seeing former OpTic pioneer Nadeshot become branded with the tomfoolery. Shortly after, names such as Benjamin "DrLupo" Lupo, Timothy "TimTheTatman" John Betar, and Tyler "Ninja" Blevins got in on the act, before more of the 100 Thieves cavalry jumped aboard, such as Jack "Courage" Dunlop and Rachel "Valkyrae" Hofstetter.
With many of the colossal names tagging and sharing with other huge content creators, it wasn't long before even the likes of Anton "Zedd" Zaslavski and Christopher "Marshmello" Comstock arrived from the world of music and DJing to offer their support.
Nadeshot truly had turned into Thanos with every web of the gaming community pulling together to take him down.
Even Jeff "DaDSHoT" Haag (father) got in on the act, condemning Nade should he not live up to his word.
A mere two hours later and Froste had reached his goal. He took to Twitter again to state "WE F*****G DID IT. SEX IS TEMPORARY, TATTOOS ARE FOREVER".
The tweet is now sat at north of 200,000 retweets, doubling the goal set. However, Nadeshot has strapped on his boss-level shorts and gone one step further.
This time, with the goal set at 1,000,000 retweets within 24 hours, Nade will allow Froste to choose the position of his body that will be inked.
1 million retweets in 24 hours and you pick where it goes on my body(face excluded)
Despite this hilarious nature, the gaming community has shown its worth, even at the downfall of one of the largest names around.
As for Froste, with his group The Mob being disbanded and embarking on different paths in 100 Thieves, the attention has already gone a long way for him capturing more followers and even new Twitch donations - there's some genius thinking behind a devilish dare.
Stay up to date with all the latest esports and gaming news by checking out our social channels here: Twitter | Facebook | Discord
Image via 100 Thieves