The EU vs NA battle rages on.
19:00, 20 Jan 2021
The first-place throne at the BLAST Premier Global Finals is still in need of a championship team. Team Vitality and Astralis are currently some of the best teams in the event but are still competing against legendary opponents. The first two teams to lead the race became G2 Esports and Astralis after beating out FURIA eSports and Evil Geniuses.
Not only did the upper bracket quarterfinals provide fans with entertainment, but it was also a great way to debut the competitive season. People are constantly worrying about the state of Counter-Strike: Global Offensive (CS:GO) despite the legions of fans and massive cash prizes. Due to last-minute pickups and roster changes, teams have had little time to prepare for the million-dollar competition.
TRANSITION TO COMPETING
North American teams were stuck learning about the meta in Europe, while players spent countless hours studying their opponents. Naturally, FURIA has been set to the side, hoping to put Brazil back on the map and become number one in the world. With the help of their latest recruits, FURIA might be able to turn the competition around for good.
Astralis faced EG the other day with an action-packed performance from both teams. EG started off with a win on Inferno but was extremely close to losing composure and taking a loss. Their opponents Astralis climbed back by nearly seven rounds halfway through the game, leaving fans of EG shaking.
ASTRALIS IS BACK IN TOWN
After losing by just two rounds, Astralis knew what they had to do on Overpass. Andreas "Xyp9x" Hojsleth did a great job on CT and really took hold of the AUG and its higher power. He was able to secure a total of twenty-four kills that game putting him at the top of the leaderboard.
Finally, the clutch minister was back in his place under the supervision of head coach Danny "zonic" Sorensen. Astralis went on to beat EG by a whopping eight rounds which killed the North American organisation after their map one win. Vertigo was an even bigger struggle for EG knowing Astralis was well known for their dominance on the map. EG was only able to win a total of six rounds which clearly wasn't enough to take map three.
FURIA VS G2
The final match of day one at BLAST was FURIA vs G2, which was extremely exciting to watch. G2 took map one on Inferno by four rounds meaning FURIA wasn't ready to back down just yet. They went on to take Mirage by a very small lead and beat G2 by just two rounds.
Heading into map three, Lucas "honda" Honda was earning thousands of likes on Twitter, and he didn't even know about it. Not only did the rookie capitalise on the weakness of G2 but he shamed their entire org play after play.
Due to his performance, FURIA was able to find enough passion to play on Nuke. They ended up losing to G2, but that wasn't the end of their journey to the top. Next, they'll face EG in the losers bracket with hopes to ride it out till the very end and swipe some cash.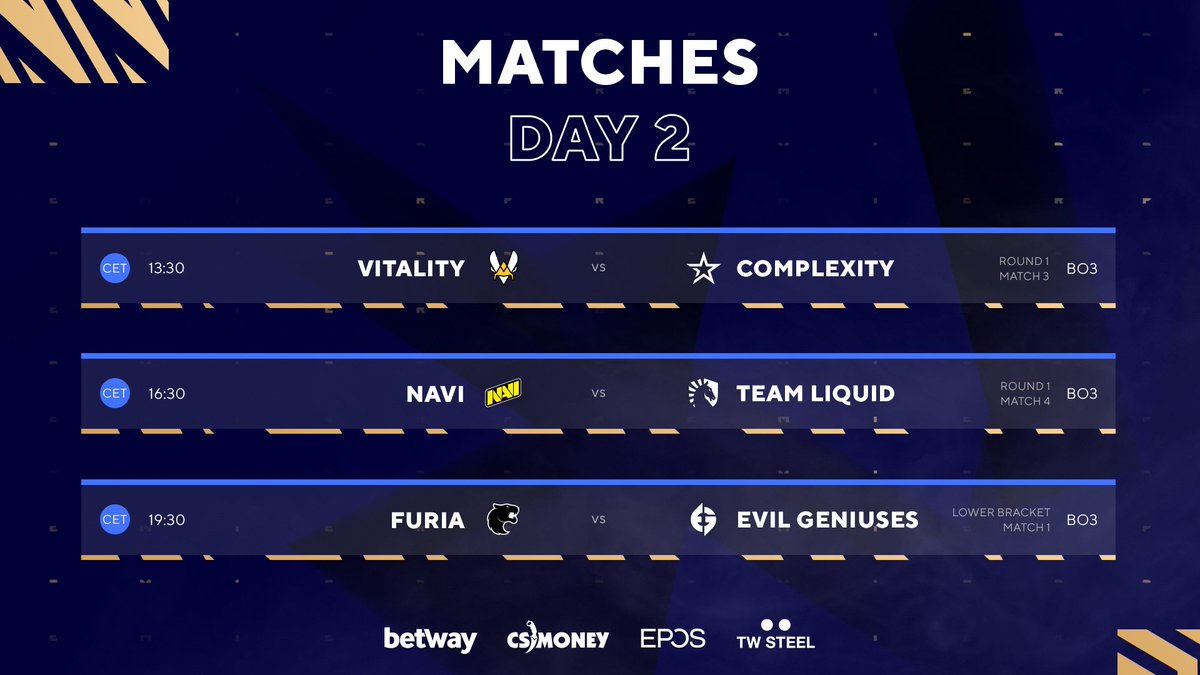 TEAM VITALITY IS A THREAT
Now for the battle between the elites in both North America and Europe. Team Vitality plans on securing their reputation by taking first at the BLAST Finals. But first, they have a heaping amount of teams looking to destroy them and eliminate Mathieu "ZywOo" Herbaut from the competition. Team Vitality even won a total of three events last year hosted by BLAST earning just over three hundred grand.
Their opponents, on the other hand, have one title, but it has a lot of meaning behind it. When Complexity thought they were finally at an all-time low, they beat Team Vitality in the BLAST Spring Finals. Not only was it a huge victory for Complexity, but it brought hope to North America as a whole. Now they have another opportunity to humiliate Team Vitality and prove North America as the best region in CS:GO.
FALLEN MEETS TEAM LIQUID
With Gabriel "FalleN" Toledo joining the crew over at Team Liquid, NAVI will see the battle of AWPers. Not only is FalleN a legend but he's still a consistent figure in the competitive world of esports. At any point in time, he could have stepped back from the main stage, but instead, he chose to stay. Now he'll have an opportunity to help Team Liquid take their title back and start 2021 off with a victory.
S1MPLE IS HERE FOR GOOD
Lastly, there's NAVI and their not so secret weapon Oleksandr "s1mple" Kostyliev. Both FalleN and s1mple will spend the following days proving who's the better AWPer. The two will face off in a best of three and challenge angles like no other. With the amount of competition at BLAST, who knows what will happen in the grand finals.
Images via BLAST