Young guns on the rise, clean as can be with little to no XSET wounds.
20:00, 12 Jan 2021
As the temperature drops, North American VALORANT has been heating up this past week with the results of Nerd Street Gamers (NSG) x Complexity Invitational tumbling in. Upsets were the name of the game this go around, as mainstay teams like Complexity, Dignitas, and Renegades all failed to make any semblance of a playoff run. However, in their absence, a relatively new team on the block filled the vacuum and now sails with the tailwind of momentum at their backs.
Enter XSET, your NSG x Complexity champions.
🏆 Nerd St. x Complexity Invitational CHAMPIONS! 🏆
🥇@Thwifo
🥇@WedidValorant
🥇@AyrinVal
🥇@PureRedfish
🥇@T1BcJ
🥇@SyykoNT
Thank you for all your support this weekend! 🥰
#RepTheSet
❌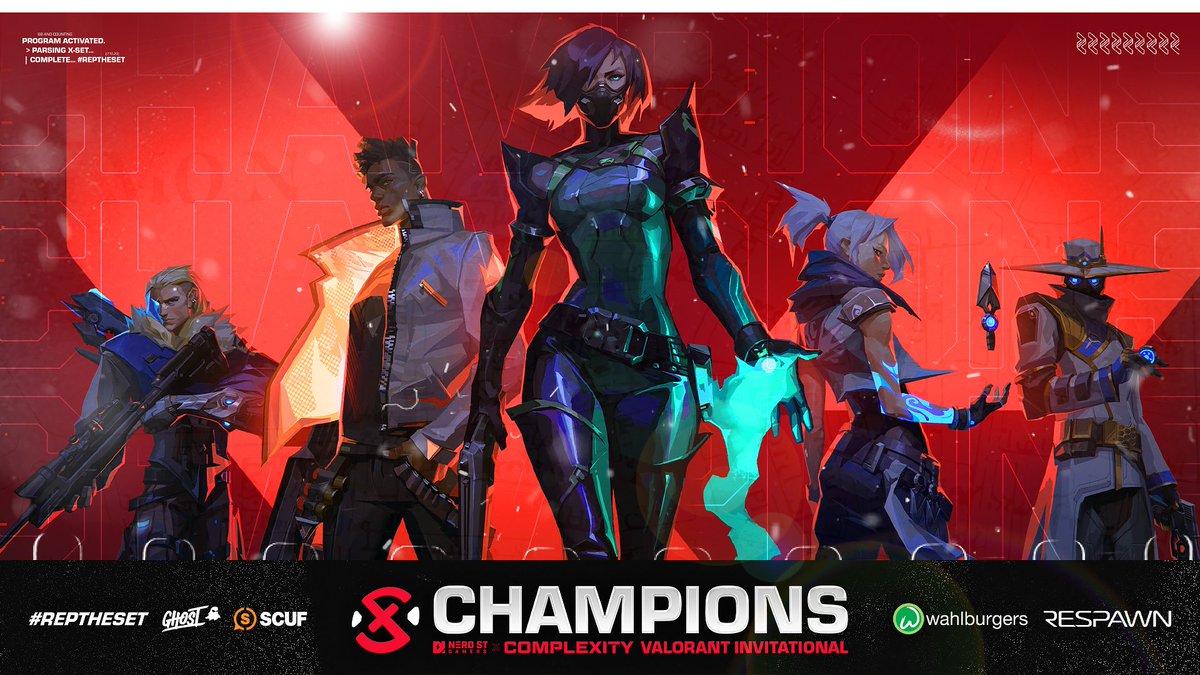 Beginning their run to the top as Pretty Boyz during the summer of 2020, the core of XSET quickly made a name for themselves in the North American monthly circuit, competing and performing well in events like the Nerd Street Gamers Monthly tournaments and multiple Fight Night Arenas. In July of 2020, captain Zander "thwifo" Kim was brought aboard, and by October, XSET found themselves the new sponsor of all of the Pretty Boyz. After swinging and missing during their first few outings, XSET has quietly settled into a groove within the last month, taking third at the Pittsburgh Knights Before Christmas tournament, and taking home the NSG x Complexity title.
However, it would be the NSG x Complexity Invitational grand finals that put XSET's style on display.
Haven would be the first map on the docket as XSET swiftly executed Built By Gamers, 13-7. Although, the focal points on the first half would be around gaining control of A Lobby. Rounds three, four, and six all saw aggressive pushes up through A Long while round 10 would see XSET's proactive defence shift from an A side focus toward C with C Long being the avenue of attack. This seemed to echo itself throughout the series and looks to be something that XSET utilises well to catch their opponents off guard.
Skipping ahead for a moment, Split would go by way of XSET for a lot of the same reasons Haven did. These aggressive off-site pushes have a high chance of causing the offence to approach with strange footing. At the very least XSET gains information and vital utility, however, on the upside, they can completely shut down pushes and force the enemy team to call an audible mid-play. Across the series as a whole, this also asks the enemy team to always consider a lurker and invest in what could very well be simply a potential threat. For instance, if XSET is not contested in their initial push off the given site, this opens up the possibility for that player to continue and surround the offence. Knowing that could be a possibility, all of XSET's opponents have to play with an air of caution when attempting to attack. XSET's style was a major factor in their NSG x Complexity Invitational victory.
However, another stylistic attribute that stood out was Matthew "Wedid" Suchan's Viper pick on Split. While the pick itself isn't too terribly surprising (historically Viper's only viable map has been Split for the past few months), it's how they utilised it that should catch your attention. Take for example round ten on Split. While Wedid, unfortunately, meets an early demise, the positioning of his utility paints a clever picture of what the execution could have looked like.
Showing no contest of the B Side ultimate orb and fully committing towards an A Site attack, Wedid sets up a Toxic Screen specifically to cut off the defenders high ground vision. As a push enters up A Long, the screen goes up to divide the lane into two separate sightlines equalising the playing field. This puts the defenders on the high ground in a weird position, do they stay to blind fire through the smoke? Do they toss utility? Do they push through to assist the hold? Do they rotate around? Every instance puts their Jett in a positive position.
Without spoiling it all, the initial push doesn't work, and XSET has to double-back through the middle of the map. And this is where Viper begins to, hypothetically shine. While she shows her hand often with her Toxic Screen, she is one of the only agents whose value scales with the amount of time that has past in the given round. So, XSET in this instance locks down the A Site entrance, rotates toward the mid lane to open up another angle all the while allowing the possibility of an A Long push to either scout or to begin to take space. The very threat of the Toxic Screen makes defending the site a nightmare because it consistently calls into question angles and corners that were just cleared. It puts the burden on the defenders in this instance because they have to retreat and reconfirm that no one is pushing through under the cover of the screen.
There is a lot to love about Wedid's Viper, it is patient, it is clever, and it is a weapon that is quickly coming online for this young, roster that looks to make their presence known in the North American VALORANT world.
Bind would be their only map loss throughout the entire event and while it was close through and through, Built By Gamers seemed to limit XSET's offensive play. Sure, you can look at the statistics and notice that one of XSET's biggest weapons, Bryce "PureR" Lovell, had a very quiet game. However, there is much more to the picture, more context to the loss than just one person performing poorly on an individual map. The team generally seemed to be marred by a failure to start on their attack half, partly due to some aggression from Built By Gamers end on their own defensive rounds.
This hamstrung any form of momentum and allowed Built By Gamers vital time to rotate and keep XSET to only four attacking rounds at the half. XSET also seemed to lean into slower, all-in commits that, while direct, can be scouted and don't offer much in the way of versatility. Jordan "AYRIN" He had an uncharacteristically bad map on Raze missing two crucial Show Stoppers and only managing 125 average damage per round (ADR). Having a few mulligans on those could have easily put XSET in the driver's seat going into the half. XSET rallied back on defence, but the deficit proved too much to overcome. While critical, we can't mince words; each round seemed to always come down to the wire, but Built By Gamers seem to set the pace from the start of the set until the end.
This win not only is the XSET's biggest success to date, but it couldn't have come at a better time. The North American VALORANT landscape is mere days away from its next tier-one event in the form of the Nerd Street Gamers Winter Championship. While XSET qualified for the event with their win during the Nerd Street Gamers Monthly October, their win at the Complexity Invitational is a fantastic vote of confidence as they approach even steeper competition. Only losing a single map against the likes of Renegades, Built By Gamers, and Luminosity, XSET is obviously ready for a new challenger to test them.
With the first year of the VALORANT Champions Tour beginning to sow its seeds, teams all across the globe are looking to not only make a name for themselves, but position themselves well for that first world title. And while XSET still has a ways to go before they can be considered within striking distance, they're making massive steps forward in closing the gap. The team, the organisation, and the individuals themselves have the potential to make a splash in North American VALORANT.
That said, XSET won't exit any time soon.
Images via Riot Games