Two teams. Two stories. One similar path.
18:30, 27 Oct 2020
We all remember the 0-40 Shanghai Dragons and their subsequent transformation from an absolute laughing stock of a team to becoming eventual grand finalists - and a team that wins tournaments. Among some of the weaker franchises, in terms of performance, one of them has taken notice and will manufacture their own luck.
The Dallas Fuel are, strangely enough, riding the coattails of the Shanghai Dragons and how they rebuilt their franchise. Their stories, while they differ in severity, mirror similar points. They are following a blueprint laid out and pinned with success, authored by none other than the team that was branded 0-40. It should be no surprise to us when we see the Fuel succeed because we've seen this all before. 2021 will see the revitalisation of Dallas Fuel. However, before we can understand and appreciate what Dallas has done, we have to see how Shanghai carved their path to the top.
The Dragons' Blueprint
To better understand where the Fuel are looking, we have to look at what the Dragons did to reinvent themselves. To be fair, this has been what the Florida Mayhem did as well in their 2020 rebuild - just to a lesser degree. It's proven to work and is deceptively more complex than people give it credit for. It first comes with a serious look at the roster, and the subsequent changes that come with it—usually, this arrives in the form of a massive amount of releases. It was clear the 2018 Dragons were not up to par, and a majority of them were released going into the 2019 season.
The Shanghai Dragons has released Altering,Freefeel,Fiveking,Roshan,Xushu,Ado,Sky and Daemin from their contracts with the team.
The entire SHD crew thank you for your dedications and contributions throughout the first season of the Overwatch League.
Next, the Dragons courted the core of one of the best Overwatch Contenders teams in South Korea, KongDoo Panthera, as their base to build around. This included names like Bae "diem" Min-seong, Yang "DDing" Jin-hyeok, Jin "YOUNGJIN" Young-jin, Yang "Luffy" Seong-hyeon, and Son "CoMa" Kyung-woo. This proven and successful core would be their base for the season to come, one that was paramount in their 2019 Stage 3 title win. The Dragons would not be where they are today without the KongDoo core that acted as the foundation of their growth.
Past that point, the Dragons have never sat still, which is an important detail to note. With the speed at which Overwatch changes, teams have to keep up with that. Iteration is vitally essential to success, something the Dragons have done well to showcase. Head coach Moon "Moon" Byung-chul brought with him an additional new wave of talent for their 2020 showing; this included talented names like Lee "LeeJaeGon" Jae-gon, Kang "Void" Jun-woo, and 2020 MVP Kim "Fleta" Byung-sun.
That said, the blueprint isn't some over-complicated formula or some AI-driven algorithm, it's simple; if it isn't working, fix it. Fix all of it. It is going to presumably cost you, but it is possible to turn the ship around.
However, the most important part is to not stop. The 2019 Dragons found a successful core to build around, but they continued to iterate and build past that which leads them to such a fantastic finish in 2020 being Asia's top seed going into the grand finals, and their eventual third-place finish. What's exciting is that this season the organisations have the power the make quick and sweeping changes at the drop of a hat, and it will be interesting to see how the Fuel utilise that new power.
Now the hard part sets in; it's very easy to say "just flip the table and start over", however, very few people take into consideration how difficult it is to find a balance between the collection of talent you want, and the team dynamic you need to be successful. Twelve great players do not make a good team, at the very least, not for very long. There has to be a balance of interpersonal chemistry and a healthy culture put in place to allow them to shine over the entire season. That's why it is important to apply the band-aid of taking a core of players that have worked together before and have a proven track record and building around them—and that is precisely why you should be over the moon with what the Fuel has done so far.
The Fuel's Application
While the offseason is young, the Dallas Fuel has already made strides towards their goal—strides that echo many of the same moves that the Shanghai Dragons did to rebuild their franchise.
They took the time to do a mass amount of self-reflection and made the sweeping changes necessary to allow themselves the freedom to rebuild from the ground up. Many of the players that have called Dallas home for the last few seasons are gone, and that refresh should open the team-up. Whatever culture that was there before can properly be replaced, any poor habits, any mould at the bottom of the fridge should hopefully be gone.
Today, we are parting ways with
@Onigod
,
@Crimzo
,
@Gamsu
,
@NotEvenBleu
,
@Trill_ow
,
@DF_aKm
,
@uNKOE
,
@Closer
and
@paintbrush
.
We want to thank them for all of their hard work, passion, dedication and time on the Fuel. We wish them the absolute best in their future endeavors.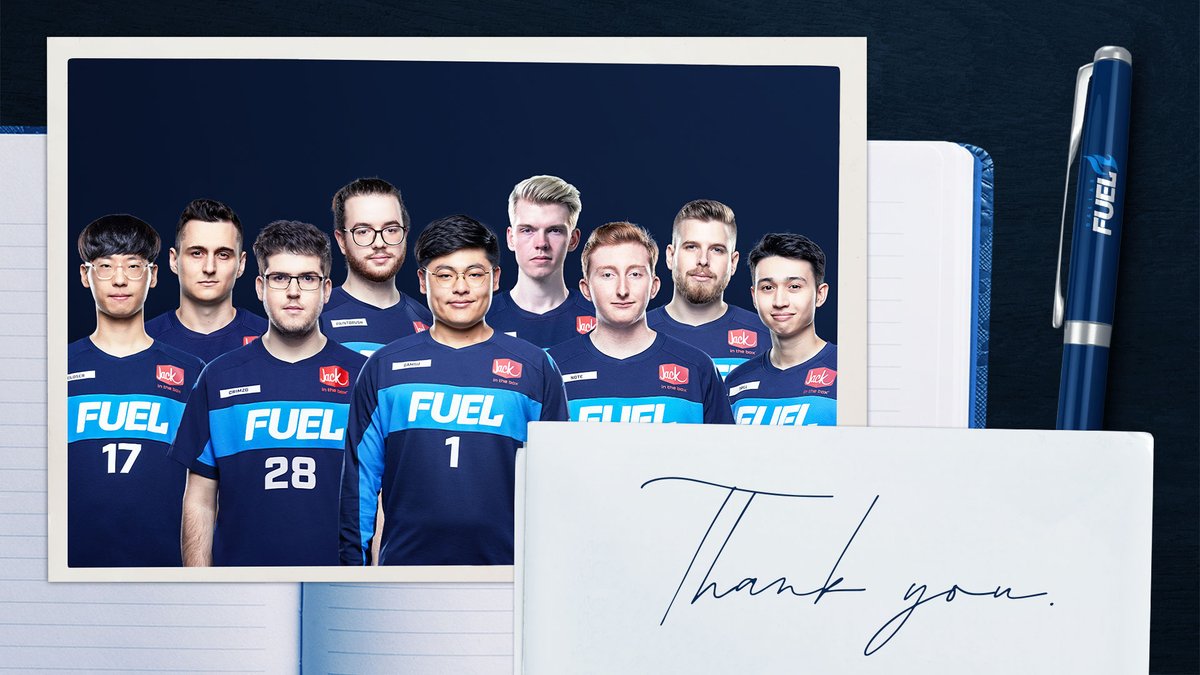 Next, the Fuel managed to not only court but reunite the former Element Mystic core headed up by their former head coach. Former head coach of the Paris Eternal, Yun "RUSH" Hee-won, has brought his talents to Dallas and is already creating something that Fuel fans can be proud of. As the former head coach of the South Korean amateur team, Element Mystic, RUSH has a proven track record of success. Not only that but he's proven himself in the actual Overwatch League itself. He reunited with the only set piece Dallas has kept from their previous season, DPS player Kim "Doha" Dong-ha. Alongside Doha and RUSH, you've got the bulletproof stylings of Choi "Hanbin" Han-been who wowed the Overwatch League community during his rookie season in 2020. On top of that 2020 Role Star winner and one of the duo's former Element Mystic teammate, DPS ace Kim "SP9RK1E" Yeong-han has also brought his talents to Dallas.
Do you see the pattern yet? They've set everything up to have a stellar year in 2021. They have the firepower, they're working with a talented core, one with proven synergy, and now they just need to check that final box; they cannot stop moving. They have to be active in the mid-season; they need to constantly reevaluate their position and their roster. Again, Overwatch is a fast-paced game, and the Dallas Fuel has to keep up. If they keep the core intact and use that as a foundation for the future, if they manage the attract more top talent to Dallas to improve their standings, then 2022 could be the year that the Fuel are in talks for title contention.
One action after the next, the Fuel seems to be in lockstep with exactly how the Dragons rebuilt their franchise from 0-40 to world title contenders. They have the right idea here, and this should excite their passionate fans. Season after season, Dallas seems to have a bit of promise but fail to meet expectations. As long as they stay the course they've set themselves on, the Dallas Fuel will find success in 2021.
If there was ever a season to support the Fuel, it would be now.
Images via Blizzard Entertainment