Everything you need to know from what happened at the Call of Duty League Paris Home Series.
19:39, 19 Jun 2020
The events are coming thick and fast as the Call of Duty League continues on at the Paris Home Series taking place from June 19-21st. The tenth event of the inaugural season of the CDL will see another eight teams in action, battling it out for the lion's share of $100,000 in prize money and those all-important CDL Points as the season begins to head towards its conclusion at the playoffs.
Unlike the Minnesota Home Series, all five of the top teams aren't in attendance but the Atlanta FaZe and Minnesota Home Series winners Florida Mutineers will both be competing alongside six other teams that have all undergone some form of a resurgence in recent weeks.
You can find everything you need to know about the Paris Legion Home Series our Coverage hub, including the standings, schedule, rosters, and rules.
DAY ONE RECAP
The opening day of CDL Paris has concluded and unlike last weekend, it was a controversy-free slate of matches. However, we did some a fair mix or blowout games and tight series. Though, the games you might have expected to be blowouts actually ended up being pretty close. Let's see what went down on day on CDL Paris.
Starting off the day was the reigning champion Florida Mutineers against the home team Paris Legion. There's not much to talk about in regards to this match, as Florida convincingly handled Paris in a 3-0 sweep. The Legion still haven't found the mojo they had at the beginning of the CDL season.
Up next were two matches that featured a few teams with question marks over their heads. The Dallas Empire and London Royal Ravens played after Florida and Paris and the series went all the way to a game five. While no individual map was really close except for the fourth, Dallas ended up pulling out a victory. If they want to defeat either FaZe or the Mutineers, they'll need a better showing.
The third match of the day was between the New York Subliners and OpTic Gaming. Both teams were looking to build on momentum gained from previous tournaments, but New York managed to secure a couple of close maps to win 3-1. While OpTic still looks improved from where they were before, New York was just too much to handle this time around.
Last up we had a great series between the Atlanta FaZe and Toronto Ultra. In classic FaZe fashion, they went down 1-2 and faced elimination in map four. However, like they always seem to do, Atlanta won two straight maps and won the series 3-2. The Ultra played one of the best teams in the CDL extremely close, going all the way to game five, round 11. This is a great sign for a team that just made it to its first semifinals and who just made a roster switch. We'll see if they can make it two straight semifinals tomorrow when the action kicks off at 1:00 PM ET.
Day One Results
Florida Mutineers 3 - 0 Paris Legion
Dallas Empire 3 - 2 London Royal Ravens
OpTic Gaming Los Angeles 1 - 3 New York Subliners
Toronto Ultra 2 - 3 Atlanta FaZe
Friday at the Paris Home Series has wrapped!
#CDL2020
Check out the updated schedule and bracket before heading into tomorrow at 1PM ET/7PM CEST on .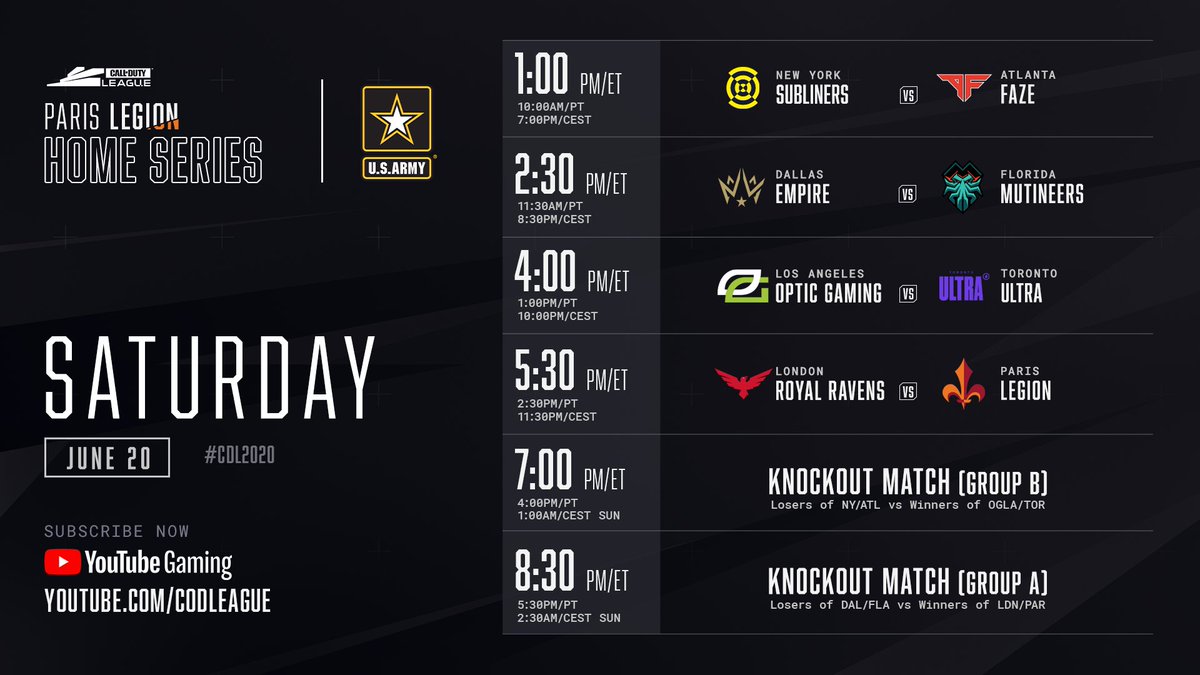 DAY TWO RECAP
Another day has come and gone at the CDL Paris Home Series and it was largely uneventful. Aside from one close match, every series was a bit of blowout with not much to write home about. However, there were some interesting developments that took place, so let's see what went down on day number two.
The first couple of series were the Knockout Matches which weren't close at all. Paris was eliminated from their own Home Series by London, 3-1. Then after that, we had the Toronto Ultra absolutely embarrass OpTic Gaming in a 3-0 sweep. OpTic needs to head back to the drawing board, especially for their respawn game modes. In one of the Hardpoint maps, OG lost 250-49 and was outslayed by a whopping 56 kills.
Next were the Qualifier Matches that saw Florida continue their streak of dominance against Dallas, winning 3-1. The Mutineers once again find themselves in the Semifinals of a tournament. After that series, the Atlanta FaZe took on New York in the closest match of the day. Of course, an Atlanta series went to a game five where they just narrowly defeated the Subliners. However, New York would earn a spot in the Semifinals after beating Toronto 3-1. As for the other Semifinal spot, that goes to the Empire, who swept London. Although, there is some controversy around the Search and Destroy after Skrapz lagged out for one round.
Championship Sunday begins at 1 PM ET with the Warzone Weekend event. The CDL action resumes at 2 PM ET when the red-hot Florida Mutineers take on the upstart New York Subliners.
Day Two Results
Paris Legion 1 -3 London Royal Ravens
OpTic Gaming 0 - 3 Toronto Ultra
New York Subliners 2 - 3 Atlanta FaZe
Florida Mutineers 3 - 1 Dallas Empire
New York Subliners 3 -1 Toronto Ultra
Dallas Empire 3 - 0 London Royal Ravens
CDL Sunday is set! Check out tomorrow's schedule and bracket for the Paris Home Series.
#CDL2020
Set your reminder now: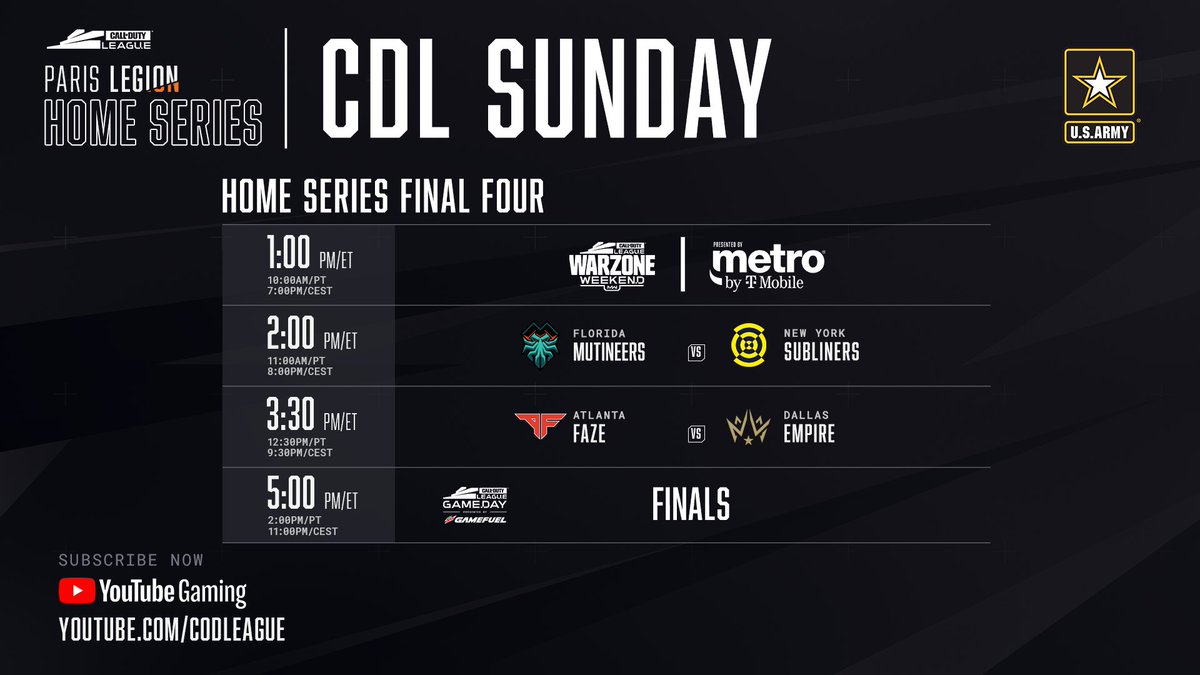 DAY THREE RESULTS
A winner has been crowned at the CDL Paris Home Series. Just like last weekend, we had a final consisting of the Florida Mutineers and Atlanta FaZe. While some were expecting a different outcome, the result was the same, and Florida has become the first team to capture three Home Series Championships.
On the other side of the finals was Atlanta, however, who were also competing in their second straight finals appearance. Whether it's sheer luck or a twisted strategy, FaZe seems to have a knack for advancing to Championship Sunday through game fives. Almost every one of their matches in the past two tournaments has gone to a game five. The exceptions? The finals appearances against the Mutineers, where they've been beaten by a total of a 6-1 map count. FaZe needs to figure out a way to close out the final match.
As for the other two teams that played today, Dallas can't seem to figure out the Mutineers either. They've been beaten by Florida twice in back-to-back tournaments just as FaZe has. On the flip side, the New York Subliners look much improved from where they were a month or so ago. This could be a squad to look out for heading into Call of Duty Championships.
The CDL takes a two-week break before kicking back into action on July 10 for the New York Home Series.
Stay tuned here at GGRecon all of your Call of Duty League news.
Image via Call of Duty League
BACK-TO-BACK: Florida
@Mutineers
claim victory at the Paris Home Series!
@Owakening
@CesarSkyz
@FrostyBB
@f3rocitys
@ColtHavok
They are the first team to hit three Home Series wins!
#FearTheDeep
#CDL2020