ACNH is cheering up the world!
18:00, 29 Apr 2020
During the coronavirus pandemic, life has significantly changed for a lot of people. Events have been cancelled across the globe, stores are limiting traffic, and jobs are encouraging people to work remotely. It seems as if life as we know it has all but shut down-- but during the peak of the quarantine... a beacon of light appeared on the horizon: Animal Crossing: New Horizons.
On March 20, 2020, people were no longer confined to their homes-- they could explore and build on a beautiful deserted island filled with animal villagers and even their own friends. With calming gameplay, loveable characters, and a carefree overall vibe, the game has been significantly helping improve the mental health of people affected by the coronavirus. As a testament to its popularity, the game sold five million copies during its first month of release and still continues to sell more as people hunker down for the remainder of the quarantine.
In online communities across the internet and in real life as well, people are using Animal Crossing: New Horizons to spread positivity to others, despite the effects of social distancing. Workplaces and schools are having "Animal Crossing parties" to celebrate getting through the quarantine, together. Some high schools and colleges are even holding "virtual graduations" in Animal Crossing: New Horizons.

Celebrated
@spideymalfoy
's birthday and graduation today on Animal crossing!!! I'm so thankful to have such lovely friends 🥺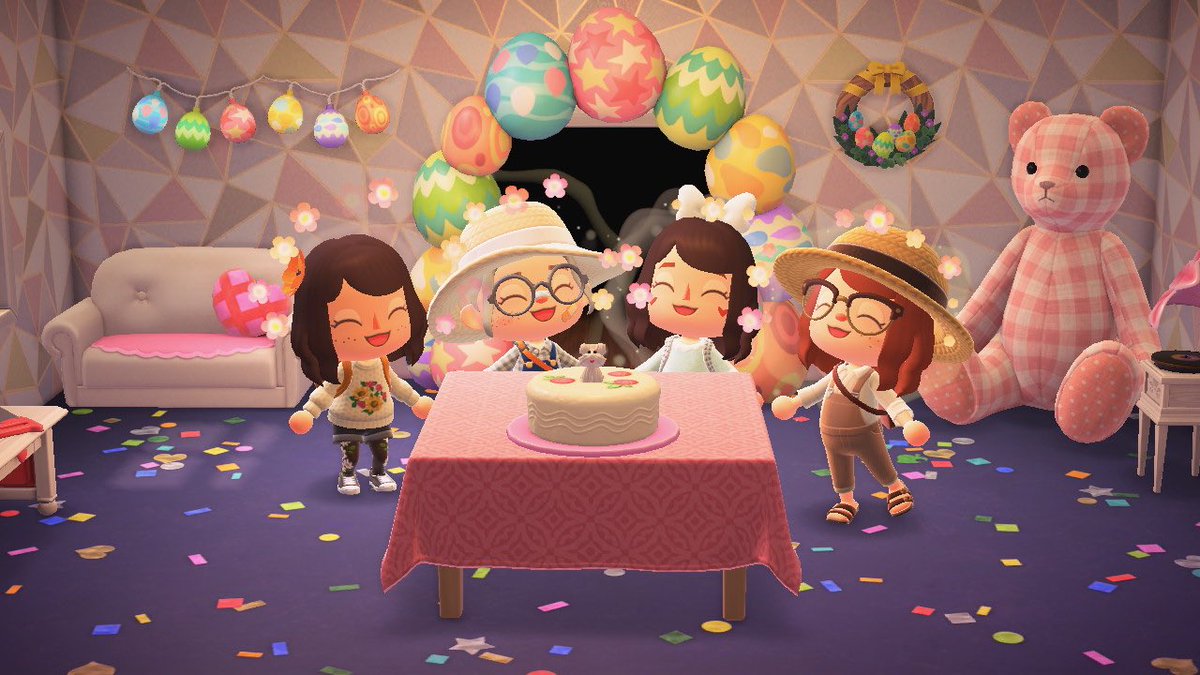 A couple went so far as to get married in Animal Crossing: New Horizons after their April wedding was cancelled due to coronavirus.
Today was supposed to mine and Mitchell's wedding day. So we got married in Animal Crossing 💕
Even Elijah Wood made an appearance in a fan's New Horizons island after she tweeted about turnip prices in-game. Wood took this as an opportunity to brighten the fan's day, complimenting her island and hanging out with her and her friends. Wholesome!
Artists across the internet have also lent their skills to ACNH, making everything from colourful tops to expressive paintings. The highly-customizable characters can wear a variety of different outfits and accessories, and can even decorate their homes with custom furniture and decor. One player recreated a Pokémon Tournament Center near his home, complete with Pokémon spritework wall decor since the establishment is temporarily closed due to coronavirus. Another player created a Katamari Damacy top for other players to wear, posting the download code on their Twitter account.
This isn't the first time that the Animal Crossing series has helped to significantly impact the mental health of its players-- the previous games in the franchise are embedded in the public self-conscious due to their appealing characters and calming vibe. Since the franchise's launch in 2001, Animal Crossing has left quite the impression on both casual and hardcore gamers. The non-stressful atmosphere of the Animal Crossing World is perfect for both hardcore gamers looking for a change of pace and casual gamers looking for a first new title to explore. The plot of the Animal Crossing games is what you make of it. The general concept in each is that you star as a human avatar that suddenly gets to become mayor of a town full of animals. It's up to you to build up this small town and create something beautiful, all while emotionally connecting with the townsfolk and shopkeepers along the way. The only linear element of the games is the realtor Tom Nook, who provides you with home loans for your ever-expanding house. Other than that, the Animal Crossing games are relatively open-ended-- as the player controls the game's flow and pace. Alongside the open-ended sandbox feel of the game, the series was notable for its differing town layouts, randomly-generated villagers, and relaxing all-day soundtrack.

Many people that grew up with the franchise still listen to the Animal Crossing music when doing things like studying or commuting, and judging by the countless number of soundtrack uploads and the sheer number of views that each of them has, this is a popular alternative to playing the game. Even if you don't have enough time to check on your villagers for the day, memorable music can help players get through their own real-life days.
It isn't just the music that makes this game special, however... it's the huge cast of huggable characters-- with fan favorites such as Rosie, to the loveable Pashmina, the cool Kid Cat, and the adorable Able Sisters. There's a character in Animal Crossing for everyone... whether you're sporty, preppy, silly, or cranky! The villagers help to make Animal Crossing players feel a little bit less stressed and anxious in their daily lives by cheerfully greeting, conversing, and surprising them with gifts and kind gestures. Writing letters to the animal villagers helps make them even happier than just interacting with them and after you've exchanged enough letters and presents-- your friendship is certain to blossom!
The Animal Crossing villagers have always helped kids and adults alike deal with loneliness and social isolation. Even if making friends is difficult, the wonderful cast of Animal Crossing are there to cheer up players everywhere. As quarantine takes its toll on people's psyche, the villagers are there to cheer on the player, keeping them company during these trying times. Humanity needed an Animal Crossing game now more than ever.
The game's overall feel is designed to make players feel as if they can jump right in and play at any time-- because they can. No matter what bizarre circumstances are present in the real world-- even if those circumstances are COVID-19-- the Animal Crossing villagers will be happy to welcome your online avatar into their world. And if you sit back, relax, and unwind long enough, you just might see that the island could be the best place to spend your quarantine. So hop on a Dodo Airlines flight and get started on your Animal Crossing adventure today!

Images via Nintendo