VALORANT turns it on in Europe, with the next two weeks of IGNITION SERIES crowning the European kings
19:00, 09 Jul 2020
Another weekend, another VALORANT IGNITION SERIES event. The circuit turns back to Europe with the Vitality European Open, an open bracket tournament with an eight-team final stage which will take place from July 10th - 12th. Europe's finest will battle for a prize pool of €15,000 (~£13.500).
After the initial qualification bracket, the teams were split into two groups of four from which only two teams each will advance into the knockout stages. According to Vitality, more than 128 teams had participated in the open qualifier. The playoff bracket will be held in a double-elimination format. All matches throughout the weekend will be played in a best of three format. It's a thorough system that allows teams to showcase their skills and whoever emerges victorious will have a solid claim for the throne in Europe until next week's WePlay! x IGNITION hits. It's a good time for European VALORANT.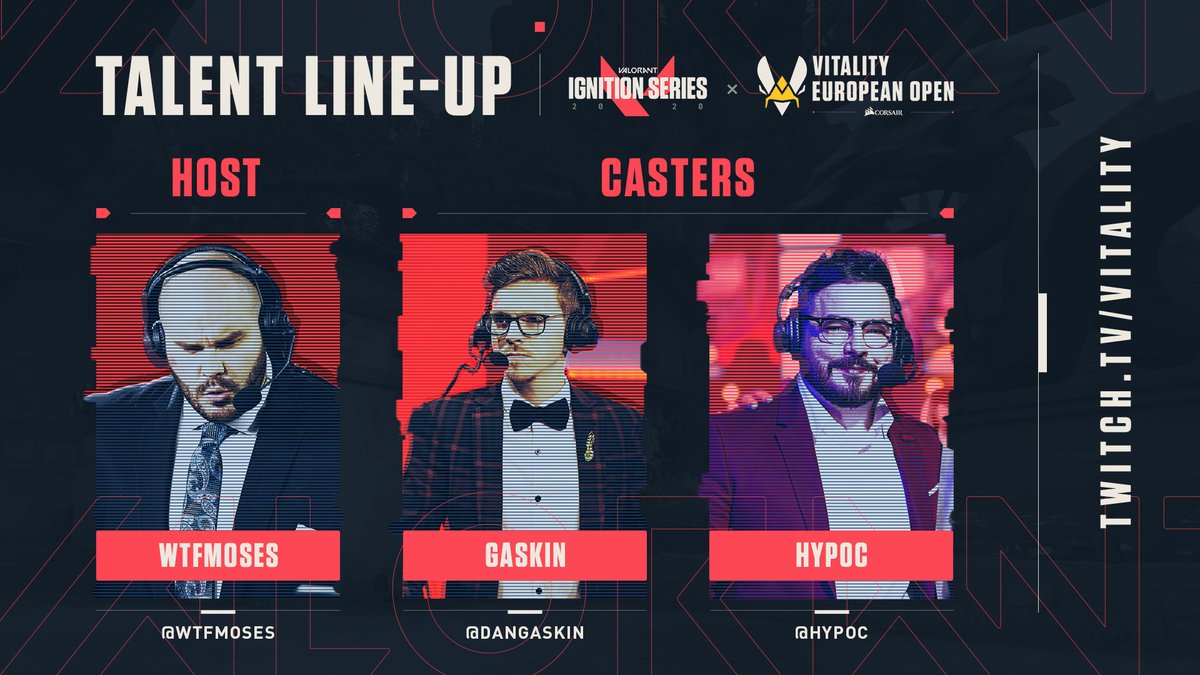 The first match between Apexis and need more DM will kick off the action at 3 pm CEST / 2 pm BST on Friday, July 10th on Vitality's stream.
The groups shook out as follows:

Group A
G2 Esports
The newly assembled core of G2 esports is looking to prove themselves. A large number of maps played this weekend due to the Bo3 format, and the fail switch of a lower bracket, will leave little wiggle room for excuses. Due to the format, anything but a grand finals appearance would be a disappointment for this roster. Team captain mixwell has made a case for himself as potentially the best player in European VALORANT but the team assembled around him are no slouches either. ardiis of Fish123 fame has shown himself to be one of if not the best Operator on the continent and paTiTek has shown a sweet rifle throughout the early stages of VALORANT. Pyth is another CSGO veteran with T1 experience, having played with the legendary NiP core in 2016 and 2017. davidP is a player this roster has now repeatedly competed with and one has to wonder if an announcement is imminent or if the team is looking to go through the next streak of IGNITION events to stress test the Belgium player.
FABRIKEN
With HypHypHyp disbanded and Fish123 out of the picture, FABRIKEN is arguably the second favourites going into this tournament. The Swedish team around former Overwatch T2 player LATEKS has had a great start to VALORANT and most recently won the Rise of Titans tournament, a competition which saw many of the teams participating in this event as well. The player to watch out for on this team is probably Zyppan, who has shown that he has a nasty pistol and gets a ton of value out of Raze's kit.

Apexis
Not much is known about this Turkish roster. In the qualifier, they beat another low profile team to qualify for Vitality European Open. Considering the competition in their group with both favourites stacked against them, they're unlikely to make it out of the groups especially since all matches are played in the best of three format.
Need more DM
The Hungarian team need more DM has popped up in several European events and has started delivering decent performances in the last couple of weeks. During the Rise of Titans tournament, they narrowly lost against StartedFromCS in the semi-final. They have a small chance for an upset if they can continue on their trajectory, though they would've had an easier time in the other group.
Group B
Prodigy
Prodigy has not had a consistent roster, becoming a case study for the ship of Theseus. Bringing on arguably the best pieces of the old NiP line-up in rhyme and luckeRRR as well as former Overwatch League player HyP, who himself has had impressive wins in VALORANT already, the team has a solid foundation to build upon. It's likely they will be playing for the group B victory just by the quality of their components.
Bonk
The Swedish roster won't have an easy time in Group B. Bonkar might be a name for some who have kept up with European VALORANT, having just recently been let go by NiP. He also competed with Team Draken for the last Ignition Series event in Europe, the G2 Invitational, in which he took second place with Team Draken. Nobody else on the team has really carved out a profile for themselves yet in VALORANT. Bonk has competed with each other for a couple of weeks now but has yet to find their groove, going out early in the Rise of Titans event.
breadHUNTERS
breadHUNTERS are another question mark in this event. The Turks beat another low profile team in putsch in a 2-1. There are few other indicators as to how they will perform in this event. Given their competition, they are unlikely to make it out of the groups.
PartyParrots
The second team to go to playoffs will likely be PartyParrots, the team around Counter-Strike veteran of 15 years, ANGE1. At 30, he still showed that he has more left in his pro player career and has assembled a Russian mix around him which he has been playing with for a while. PartyParrots has some impressive trophies on their shelves, having beaten both Prodigy, which at the time were a mix with luckerRRR, rhyme and davidp, and FABRIKEN. Recently, they've been on a mild downswing, losing to need more DM in the Absolute Masters round of 16. They're a safe pick to get out of groups, though going all the way at this event against the new G2 Esports roster and a sharp-looking FABRIKEN is unlikely.

Images courtesy of Vitality and Riot Games