With a unique flair and strong counter-picks, Renegades should not be slept on.
19:00, 13 Nov 2020
The first qualifier for VALORANT's First Strike tournament has wrapped up, and with that, some surprising results have surfaced. While shoo-in teams like Cloud9 and TSM haven't found their direct seed to the dance just yet, one team that few expected to have already booked their ticket to the First Strike Regional Final. That team is Renegades. After a stretch of disappointing results since July of this year, Renegades was a team few people had on their radar as a team, let alone a team that could topple some of North America's best.
Now they find themselves with a massive opportunity, one that could begin the shifting of their narrative in VALORANT's developmental stages, but how did such an unsuspecting team make such a splash?
The first four teams have secured their spot in First Strike: NA. Who's next?
After Renegades dismal performance at the NSG x Renegades Invitational, the team made a conscious decision to move their former Breach player Alexander "RetrQ" Kadan to Jett. This move landed well, and has given Renegades a consistent weapon that has been a big performer in their last few outings.
In Renegades loss to Team Envy during the Nerd Street Gamer Closed Qualifiers for First Strike, RetrQ put up a 256 average combat score (ACS) with 137.1 average damage done per round (ADR) across the series. During the Nerd Street Gamers Open Qualifier, Renegades took a narrow defeat against TSM. There, RetrQ put up a 214 ACS and ended with a 127.6 ADR. This is a player and a team that not only can compete with the top teams in North America, their players statistically match up well in the head-to-head.
Then you've got Ryan "Winsum" Johns's mobility is a weapon that can and often does swing rounds that seem lost in Renegades favour. He is easily one of North America's top Raze players, someone who not only finds consistent value with his utility but someone who makes her Blast Packs look nerf worthy.
Digest this clip for a moment. With Renegades at a numbers disadvantage, Winsum dashes unseen out of A-Rafters, finds two kills, uses his Paint Shell to deny the easy entry into the site, and then sticks the de-fuse, clutching a key round win against Cloud9 Blue. However that isn't the only time Winsum takes flight, take this clip for instance against TSM where he challenges—and wins—a duel against North American star Matthew "Wardell" Yu. Rarely does a team of TSM's calibre let this happen, which should say something on its own. Renegades truly are coming at you from all angles, even the ones you don't expect. That said, Winsum and RetrQ are not the only x-factors that Renegades wield coming into First Strike.
Renegades isn't just built on the laurels of their stars; their strategies are unorthodox—and that is something that deserves credit. This leads us to really examine one of their best VALORANT maps to really get a good sense of the team and see under the hood of this team that no one really thought had it in them. If you take a look at their recent performances during the First Strike qualifiers, Split is a big map for Renegades.
Through both Nerd Street Gamers' closed and open qualifiers for First Strike, Renegades boasted a promising Split record of 5-2. Throughout both the qualifiers Renegades won 51% of total attacking rounds and on the flip side to that coin, they continued to impress with a 53% total defensive rounds won. Previous to that, during the Nerd Street Gamers October Monthly, Renegades landed a 4-0 win-loss record on Split with 73% attacking rounds won and holding to a strong 66% defence rounds won.
Split is by far the teams best map and for good reason and one of the keys to victory for them is keeping this ace in their back pocket. If they can consistently win Split and take top teams close, momentum can seriously shift, and Renegades might just be able to will and change in the direction of the wind. Split is the odds on comfort pick they can rely on and one they seem to express themselves the most on.
Qualified!!!!!! Need we say more!!!!!
@Cp2fps
@BerghyFPS
@IamRetrQ
@winsumfps
@randyySAVAGEVAL
@coachJocko
#RNGWIN
#RNGVAL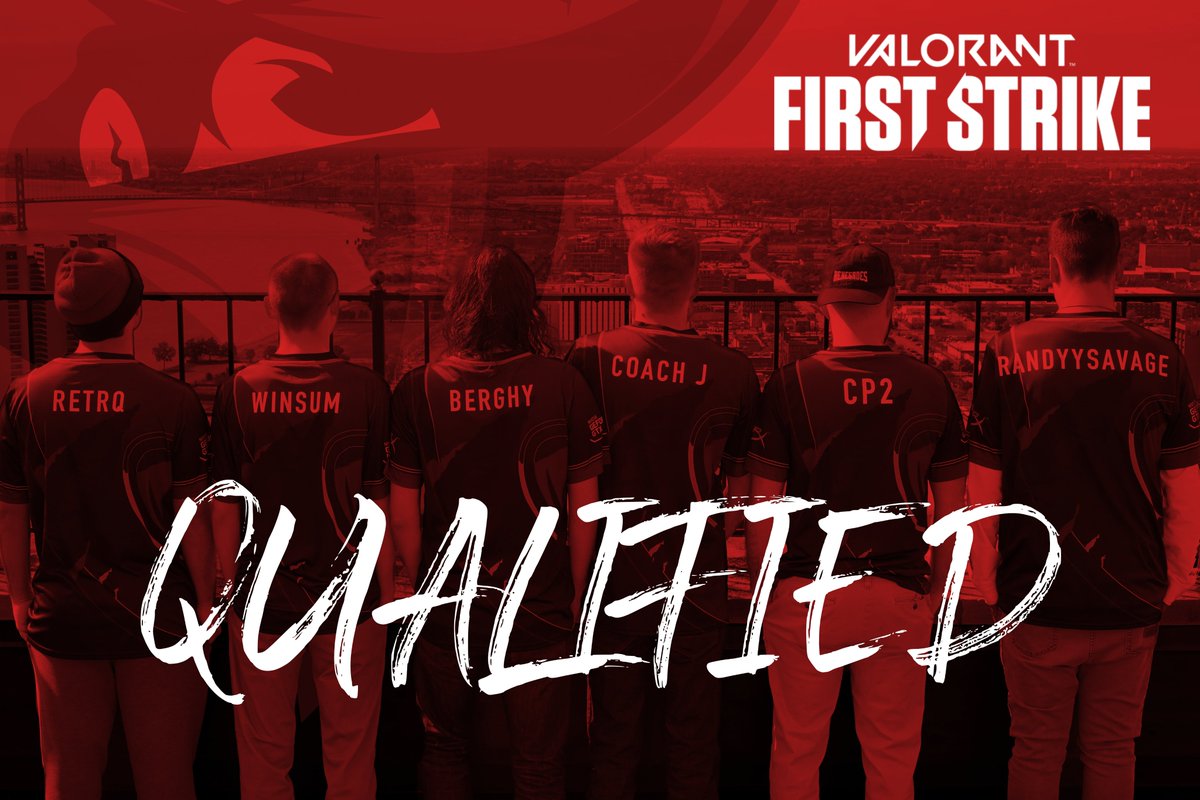 Direct and aggressive B-Site attacks make up the backbone of Renegades offence on Split. Once they have control of B-site, Renegades seems to invest heavily in holding control of B-Alley in the post-plant. This gives them better access to Heaven and cuts the defenders off at the pass when the defence begins its rotations from the A-side of the map. The default here are these quick blitz-like pushes up through B-Main. To be frank, Renegades offensive defaults aren't new by any means, it is your typical "dash and flash" but what is interesting is how successful they are at it.
To set the stage, RetrQ plays entry on Jett, with Winsum following up quickly behind him with Raze's Blast Packs. This push is usually covered by a Paranoia towards close angles or the high ground as well as something from Breach's kit. This simple, yet effective, strategy has been key in punching their tickets to VALORANT's First Strike. Now on defence, that air of unorthodox plucky-ness that we mentioned before starts to shine through.
Renegades has penned this interesting B-Site defence hold on Split that teams need to take notice of if they want to stay ahead of Renegades. There are a number of times where Renegades splashes in this B-Site strong-side defence. This was showcased primarily in their run through the closed qualifiers against the likes of Cloud9 Blue and TSM.
Killjoy alone locks down A-Site by herself. Her turret notifies her if someone attempts to push through A-Main and both her Nanoswarm grenades make it incredibly difficult for the offence to push through the chokepoint. A-Ramp is equally as difficult to get through because of the Alarm Bot and the rotation from the Raze. Winsum in this setup looks to be the audible, floater player. In some instances, he can be seen taking an early rotation to B-Site once Renegades believes the offence is committing or there are instances where he plays forward on A-Vents to stymie an incoming A side push.
On the opposite side of the map, if we really examine the B-Site hold, Breach is the fulcrum to setting up plays. If there is a push through B Main, Jett is the first response, either by committing to taking the duel or dashing to cover allowing Breach to either Fault Line or flash to give her advantage on re-peaking the offence. If the majority of the push happens to come Omen's way looking at Heaven, not only does he have the first contact, but he can hamstring the push with a well-timed smoke or Paranoia. Jett can then rotate over to assist and Raze can be called to B-Site for further support to control the defender's entrance to Heaven.
This defensive setup directly fights against direct engagements but forfeits a lot of map control. Without any attempt at fighting for the middle of the map, this allows the offence the ability to attack from multiple angles without spending much in the way of resources. This begs the question; is the trade worth it? Is having weak overall map control better or worse than further asking the offence to concoct intricate plans of attack to plant the bomb in the time allotted to them? While rhetorical in nature, the question furthers the point being made. Renegades are a team that has some weight to them, they've secured their position in First Strike: North America for a reason. There is an attention to detail with their defence while their offence can look berserkly aggressive, this Jekyll and Hyde playstyle not only makes them exciting to watch--but extremely potent against those who overlook them.
There is nearly a month's time between now and First Strike: North America and another closed qualifier to finalise the four other teams set to compete. Having a seat at the table for the big dance, the most important tournament to date is something to be proud of and possibly a sign of good things to come.
Renegades are no joke and could cause some serious upsets come First Strike.
Images via Riot Games