Call of Duty Season 3 is dropping tomorrow, so here's what you can expect, including new maps and Warzone Quads mode
17:05, 07 Apr 2020
Call of Duty Season 3 is now live and there has been much speculation on what will come with it. Rumours have been rife with updates to the Warzone map, new operators and skins, and even Zombies…
Here's what is you can find in Call of Duty Season 3...
A New Operator: Is Alex alive?
In a recent Call of Duty news release coming from Infinity ward on Twitter, the new operator coming to multiplayer is Alex. For those who haven't played the campaign, Alex is a key character in Modern Warfare, and is last seen setting off a chain of explosions in the chemical weapons factory. Since then there has been a huge debate within the Call of Duty community as to whether he survived the explosion and joined the 'Ghosts'. In the ending cut scene of the campaign, you see Captain Price establishing Task Force 141, with Sergeant Garrick, John 'Soap' MacTavish, and 'Simon Riley'. The latter comes with no picture or information, which sparked the initial debate as to whether Alex could have survived the explosion and is now operating under a new name. This theory is backed up further by the image released by Infinity Ward, where you can see Alex wearing a prosthetic leg. Alex has survived the explosion and will most likely feature in future campaigns. Alex is available to be purchased to use and looks pretty awesome in-game.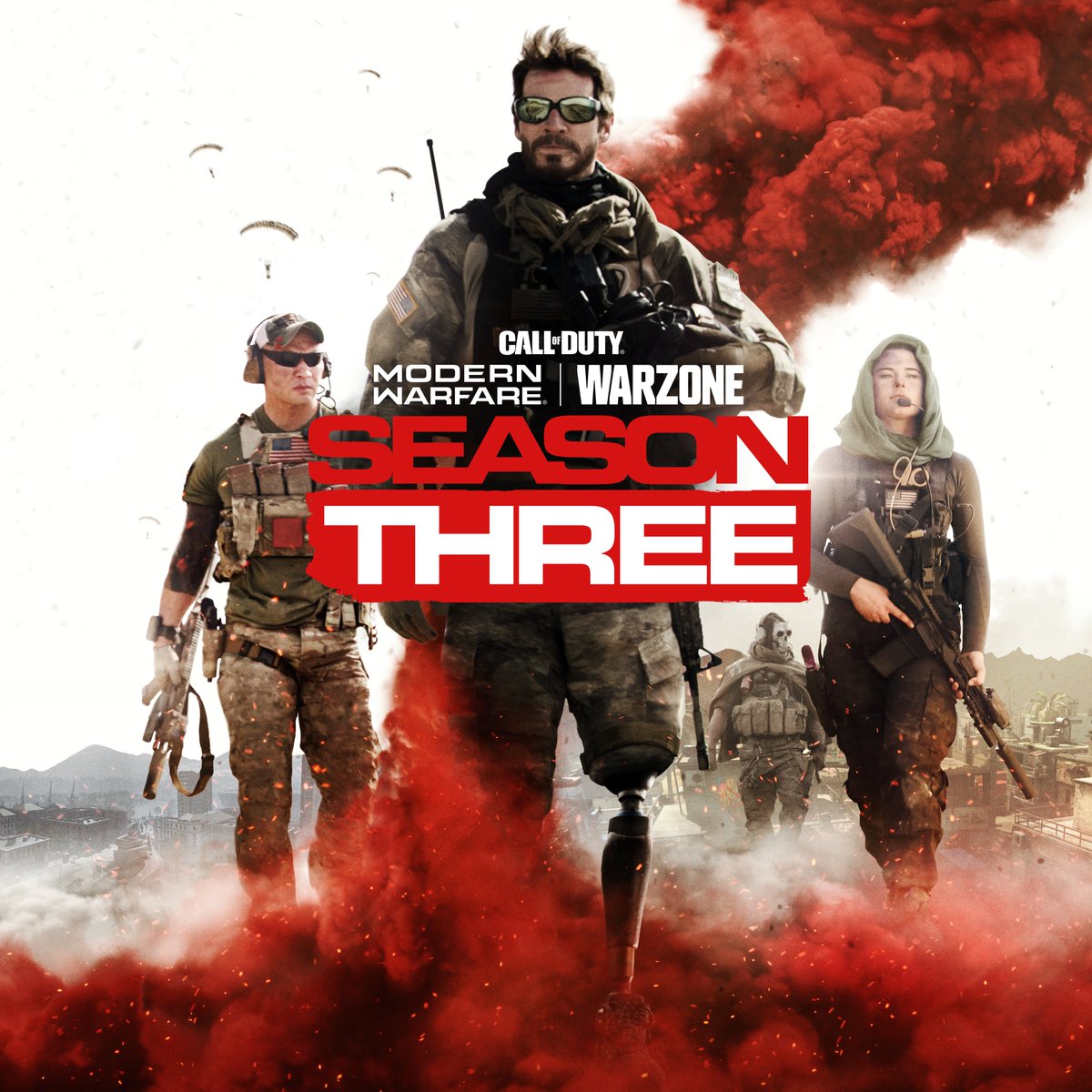 New Maps: Backlot, Hovec Sawmill & Aniyah Incursion
Season two of Modern Warfare saw a trip down memory lane, with the nostalgia satisfying introduction of Rust, and season three is following suit. The popular CoD 4 map 'Backlot' has been introduced. Set in Urzikstan Backlot is a relatively small map with a centre square and buildings on either side, including a large, three-story construction building to the west. A popular map when CoD 4 remastered hit our screens, Backlot will be available to play in season 3. There is also a possibility that Backlot may feature in Warzone, however, this has yet to be confirmed. It features in the bottom right of the released image, which contains further subtle hints at some Warzone features discussed further down this article.
Hovec Sawmill has been down in the files as 'Villiage'. meaning meant people thought we were going to see a smaller rendition of the MW3 African jungle map. However, this is not the case. Hovec Sawmill will be quite a small 6v6 map seeming to be very SMG orientated.
Aniyah Incursion is a smaller version of the 10v10 map Aniyah palace, centring around the building in the middle, AKA the Palace. Scaling this down, it is now playable as 6v6 map, as well as the full map being playable on 10v10 moshpit or team deathmatch. For those who haven't played the map yet, it is set in Urzikstan and features a beautiful white palace in the centre which has fallen to the devastation of war. With quite a lot of open space surrounding the p middle palace, it offers a range of game styles, from those who like to get up-close and personal with the SMG, to those who prefer to pick opponents off from distance; a decent all-round map.
New Weapons: SKS Sniper Rifle & Renetti Pistol
Snipers have been a huge success so far in Warzone, and there is to be a new sniper introduced to Call of Duty Season 3. The SKS Sniper Rifle is a semi-automatic sniper, with much resemblance to the Barrett 50cal. The semi-auto sniper favours fire-rate over accuracy but is set to be more powerful than the Dragunov. A carefully placed round will still prove just as deadly as the bolt-action snipers.
The Renetti pistol is another semi-automatic pistol and will have a quick fire-rate and mobility, at the expense of some power. Unlike the desert eagles, this pistol will take three or four shots to kill in multiplayer. Nothing too special here but a solid secondary.
Warzone update: Quads mode and map updates.
In the image released by Infinity Ward, we can see Alex and three other characters who are a part of the same team. This confirmed quads coming to Warzone as of the Season 3 release. There have been multiple game modes rumoured to be released such as duos, and a 200-player mode, but it is quads that has been dropped first. It joins solos and trios as the third squad size, and lobbies will be 152 players large, just two more than the other playlists. Choosing your place to land in quads will be critical to how well you do in this game mode.
Future playlists include:
Battle Royale Duos - Teams of Two. Loot and Kill. Last team standing wins.
Battle Royale High Action "Claustrophobia" – The gas moves in much quicker than normal, causing quicker and more action-packed games
Battle Royale Shotguns and Snipers only.
Battle Royale One-Shot – Normal paced game but 1 shot kills to the head and no Loadout Drops.
Hardcore Battle Royale – No HUD unless with a UAV, and lower health. Friendly Fire.
Infinite Revive – No cash payments for revives
No Revive – One life and cannot be bought back by teammates.
The map has stayed as it is. It had been rumoured that we will find what has been hiding in the bunkers that have been located around Verdansk. There have also been multiple classified areas added to Activision's Warzone Strategy guide as you can see below. This hints at new areas being added to the map, maybe featuring some old maps from previous Modern Warfare games, but nothing has been implemented in with this update. This may happen in a later update.
Will Zombies be in Modern Warfare?
Zombies will not be coming to Modern Warfare as a game mode. However, there could be scope for them to be integrated into the previously mentioned Warzone bunkers. Blackout featured zombies in their battle royale game mode, providing you with the chance to get wonder weapons. Leaker TheGamingRevolution has found an image of what appears to be a zombie arm within Modern Warfare files, but the likelihood is that it is from a zombie that is being used in Black Ops. It is unlikely that Zombies will come to Warzone, with the bunkers possibly containing paths too other sections of the map, or loot locations, similar to the vaults in Apex Legends. Zombies have not been added to Season 3 amid the rumours, leaving very little room for them in the future.
Call of Duty Season 3 went live this morning at 8am GMT, where you can access all of the above. Stay tuned for more Call of Duty News and guides here at GGRecon.
Images via Activision