A recent letter to a community for a different esport lends credence to Overwatch.
20:00, 13 Sep 2020
In a recent Medium post to his community, Dota 2 analyst and personality Kyle Freedman addressed the biggest issue plaguing his esport and its growth: no The International, no update on the Dota Pro Circuit season, and virtually no communication from Valve. In a time where nothing can be set in stone due to COVID-19, it's still incredibly worrying to not have a plan moving forward for your game's competitive scene.
Organisations rely on the engagements, players rely on the competitive experience and prize pools, and fans rely on this unique form of entertainment in which they are so wholly invested. When there's no promise that a competitive scene is still being supported and worked on, things can become incredibly volatile. In his post, Kyle mentions the ultimate phrase that completely resonated with me as soon as I read it.
Uncertainty in esports is death.
Ironically, when I read the post, I didn't think about Dota 2. I didn't think about TI or Dota's competitive scene at all. For all its issues, Dota is still one of the best esports in the world, and host to the number one tournament in the scene - no question about it. Valve's practices can sometimes borderline on baffling at moments, but at the end of the day, the game receives regularly healthy updates and new content.
Even if that new Windranger arcana is at a ridiculous level 575 in this year's battle pass, the battle pass itself is a wealth of new content added to the game. The third-party tournaments are still incredible online, especially We Play's OMEGA League, an absolute masterclass in esports production and content creation, rivalling only League of Legends' LEC broadcast in this current age of the world. Dota still has a lot going for it.
Yes, it's unlucky on an astronomical level that the Overwatch League's debut year for its homestand model got completely obliterated by a once-in-a-lifetime global pandemic. For what we got early on, those homestands were hype. If I could live a weekend in a time loop, I would be spending my life in the Hammerstein Ballroom. The homestands gave Overwatch League fans access to the games and esports production that they never had before, unless they travelled to Los Angeles, or were at the 2018 or 2019 grand finals. At the time, we were reaching the promised land, that truly global market where every city got to put on a show, and every fan had a chance to experience the true wonder of a live event themselves.
Of course, that didn't last long. The league transitioned online, and without the homestands, all eyes started looking elsewhere, and the Overwatch League started to slip into irrelevancy. All of the questionable or controversial decisions made in the past couple of months from this point started to worryingly pile up.
#OWL2020
continues to make history 🙌
Tune in next week to witness how our first EVER Hero Pool will impact gameplay 👀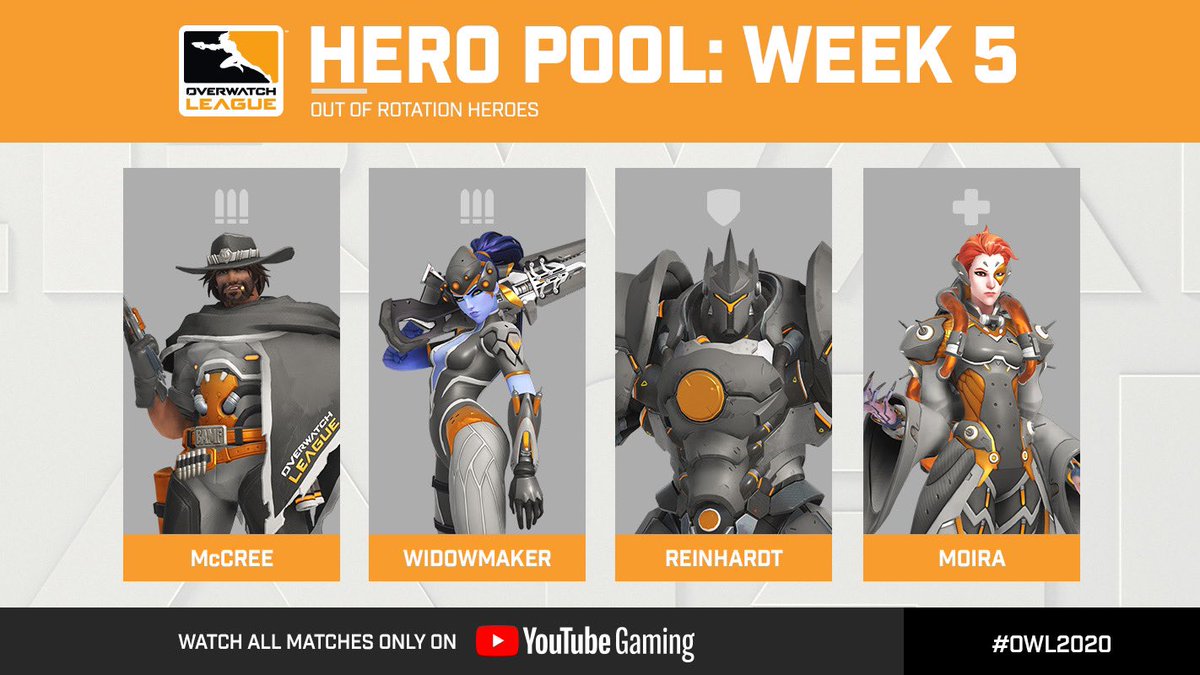 The weeklong hero-pools ended up being a bigger burden than I'm sure a lot of fans realised. It turns out that no matter the game, having the meta change on a weekly basis is, uh, bad. When a game's meta has to artificially be changed for the sake of viewership, leaving its team's actual players and staff stressed each week to have to adapt to a meta based on a random number generator - it's not healthy. It causes massive burnout and massive uncertainty. Multiple times, GGRecon has heard from these professionals themselves that hero pools did not work and were massively misguided. They don't sync up with ranked play for the players, and at the end of the day, they didn't even help increase viewership.
Hero pools were a band-aid solution made of duct tape for the game's real problem - the terrible balancing. Yes, the dev team is committing to updating the game more frequently, which is great. But there has been no communication or roadmap at all as to what the vision of the game is intended to be, and where the balancing for the game is going. When the patch drops, we'll know, but nothing is worse than a patch that sees a massive nerf to shields and the way a certain role works, which by the way is now the patch the playoffs will be on. Best of luck, everyone!
I haven't even covered more than a quarter of the problems facing Overwatch and its esport. And the supposed solution to all of the problems facing Overwatch and the league is supposed to be Overwatch 2. It's supposed to revitalise a declining game and its esport, and reinvigorate life into the franchise. But at this point, Overwatch 2 is a conspiracy, a collective fever dream everyone had at Blizzcon 2019, that made us imagine a new game was coming out. No promotions for OW2, no new information, no announced tie-in announcements with the 2020 playoffs or the Overwatch League in general.
All new content introduction besides cosmetics has been halted until Overwatch 2, so it has been over a year without a new map, almost half a year since the release of the final hero to an already widely criticised minuscule roster, and not to mention not a single new event since 2017. A game that is supposed to herald a new future has absolutely no new information about it, almost a year after a playable demo was given in November, 2019.
Update on Competitive Scene
If uncertainty kills an esport, then Overwatch is on the path of being terminated. What is going on at Blizzard, that nothing significant is being done about the declining state of the game and the scene? Two days after Kyle's post, Valve gave an update as to their plans, dates, and possibilities on the future of the scene. Where is Blizzard's update on the vision for the game, on the development of Overwatch 2, on the issues plaguing the competitive scene from anywhere in Overwatch? I would like to stay optimistic about the fate of the game, and it's just becoming increasingly impossible not to be.

All images courtesy of Blizzard Entertainment