With multiple modes available on Warzone, there are many records for highest kills, but who holds them and how many players did they eliminate?
19:00, 14 May 2020
In recent Call of Duty news, Warzone is confirmed to have had over 60 million people drop into Verdansk, but one question looms large; who is the best player on Warzone?
The answer isn't as simple as just one overall person, as there are multiple ways that people play Warzone, with the different modes that are available. As per all battle royale games, the best players and streamers have been unofficially competing to set the Warzone kill records for each game mode and style of gameplay. Here we take a look at who currently holds the kill records in Warzone.
Warzone Solos Kill Record
The current holder for the Solos kill record is YouTuber Risible, who managed to wipe out an incredible 39 players in one game whilst using the AK-47.
This record was set on May 3rd as he overtook the previous record set by popular streamer HusKerrs. Risible has set the bar incredibly high and it will take some doing to top it.
Warzone Duos Kill Record
Duos isn't a legitimate game mode, unfortunately, however, this hasn't stopped players from selecting 'no-fill' and heading into lobbies as a pair to try and rack up as many kills as possible. KEEMSTAR also hosts 2v2 battles on Quads mode on Warzone Wednesdays, which allows for duos to join the kill chase.
This record currently sits with 'Lymax' and Micka, with the pair collecting 55 eliminations in one game. Micka led the way with 31 elims, with his partner collecting the other 24.
Warzone Trios Kill Record
The record for the highest number of kills in a Trios game is simply outrageous. YouTuber otherGun and his two teammates Seoxi and Swiko eliminated nearly two-thirds of the lobby, claiming 93 kills between them in a single game.
After splitting up to 1v3 most of the teams in the game, otherGun managed to get 26 kills, Swiko with 33, and Seoxi taking out 34, a simply staggering number. This surpassed the previous record set by Atlanta Faze's Priestahh, Seattle Surges' Apathy, and Ex-Dallas Empire player MuTeX. The CDL boys were overtaken on April 30th.
Warzone Quads Kill Record
Whilst Priestahh was outdone with his Trios record, the 21-year-old professional holds the record for the highest amount of kills on Quads. His team made up of Atlanta Faze teammate Cellium, and streamers Jukeyz & Deleo, racked up 113 kills in a single game of Quads.
This comes as the highest kill game ever on Warzone and it'll take a monumental effort to beat it. Each player wiped out over at least 25 players, as they dealt just shy of 40,000 damage.
Cellium – 31 kills
Preistahh – 25 kills
Deleo – 30 kills
Jukeyz – 27 kills
Deleo and Jukeyz also have a 107-kill game under their belt, when they teamed up with three-time Warzone Wednesday winners Vikkstar and Itz WarsZ. It's looking like anybody who wants to set this record will have to team up with the deadly duo.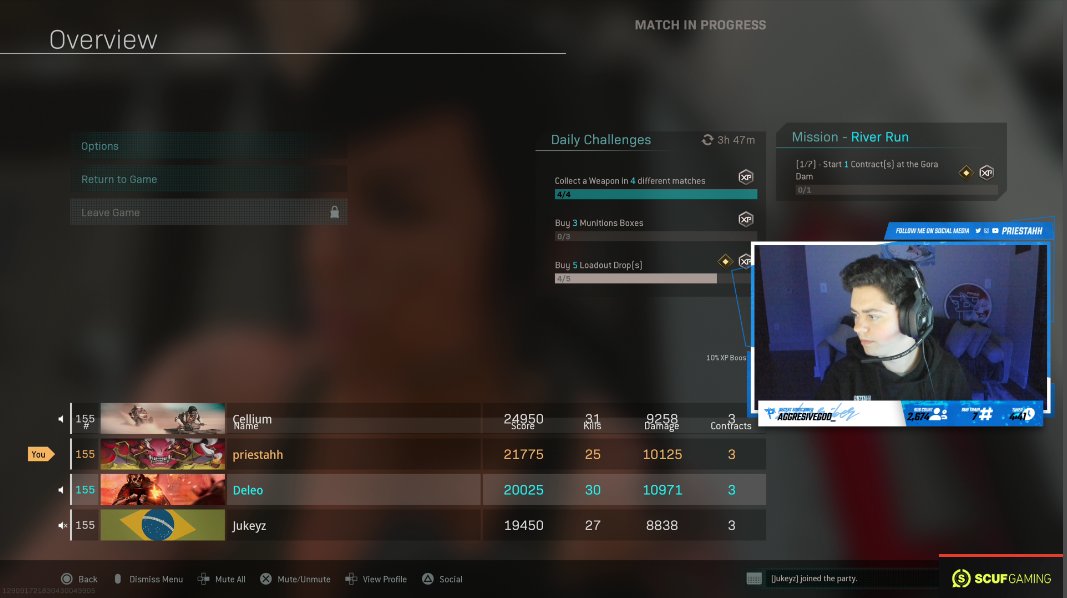 Solo vs Trios Kill Record
A different type of Solos kill record, this one involves the highest amount of kill in a Trios lobby by a single player. You may have a team, or go at it solo, however, this kill record is for the person who racked up the most amount of kills in a single trio game.
Call of Duty content creator Bartonologist holds the record in this department, which actually equals the Solos record, by wiping out 39 players in one lobby. Set on May 9th, he came just short of what was then the Duos record, before it was smashed by the previously mentioned pairing of Lymax and Micka.
Solos vs Quads Kill Record
The Solos vs Quads kill record is shared after two streamers both hit the same total. In this instance, it amounts for one single person's tally vs Quads and has been equalled by two players. Arguably the most difficult kill record of the bunch, due to the number of players on the same team that you will have to wipe out, YouTubers Fukluvey and RyyGaming managed to get an astounding 48 kills in a single game.
Fukluvey set his record in a team of three, where his two teammates only managed a further 10 kills between them before his record was matched on May 3rd.
This all but wraps up the current kill records in Call of Duty: Warzone, however, with the progressive nature of the game, it is likely that they will be heated in the near future.
*If you are aware of a kill record in a different department, you can let us know via direct message on Twitter @GGRecon_, or if a kill record has been beaten.
Image via Activision