All the details of VALORANT weapon skins.
16:11, 02 Jun 2020
The full version of VALORANT has finally launched and is now live and free-to-play in all regions. The hype for the Riot Games FPS title is real, and the cosmetics have been a hot topic.
While the rumour of Agent skins has been shut down by Riot for the time being, although other reports suggest that they will make it to the game at some point, weapon skins are alive and well, and included in the Battle Pass for Episode 1: Ignition.
There is a total of 12 gun skins to collect and earn through the 50 tiers of the Battle Pass, but there are plenty more leaked skins on their way. The Battle Pass has three different sets of skins - Kingdom, Couture and Dot Exe.

Click on the links below to check out the latest leaked weapon skins for each patch.
Kingdom Bucky Weapon Skin
The VALORANT Store operates with a premium currency called "VP" (VALORANT Points) in order to purchase items, skins or bundles, with "Radianite Points" serving to evolve certain weapon skins, which can be earned via the Battle Pass. The Store rotates weapon and melee skins in two categories; Featured (every 2 weeks) and Offers (every 2-3 days).
Currently, VALORANT Points come in purchasable bundles of 475 to 11000, and prices range from $4.99 to $99.99.
The Battle Pass itself is 1000 VP, or $10, to unlock.
VALORANT 1.00 Weapon Skins
@ValorLeaks has posted more detailed images of the weapon skins not currently available to purchase in the Store.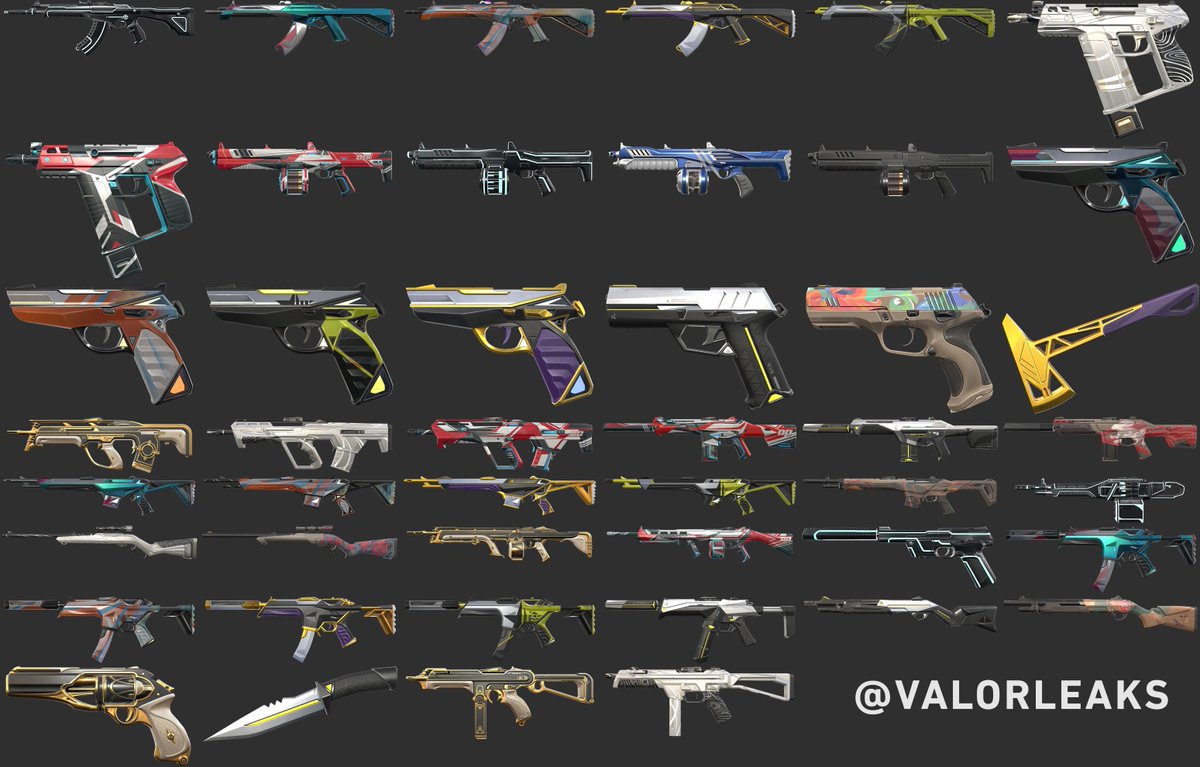 Content creator and dataminer extraordinaire (everything from Animal Crossing to Fortnite) Fire Monkey leaked all 45 skin variants found in the game back in April 2020, and these include upcoming skin sets and bundles. The names of these sets include 'Luxury', 'Fantasy' and 'Arcade'.
All 45 variants/skins for the weapons in the game:
Fire Monkey also provided high-quality images of the weapon skins he named in his leaks, check them out below.
Fantasy - Image via @FireMonkey__
Iridescence - Image via @FireMonkey__
Luxury - Image via @FireMonkey__
VALORANT 1.01 Weapon Skins
The latest VALORANT update and patch notes have brought new weapon skin leaks to light, thanks to PlayerIGN.
The latest skin collection is named 'Sovereign' and the gun skins can be seen below.
#VALORANT
got a new skin collection codenamed: "Sovereign" in the recent update
Graphics include:
- Skin Brand (the white icon)
- Knife Skin
- Gun Skins
- and Collection Store Banner/Wallpaper
With every update, it looks like much more is to come in terms of gun skins for VALORANT players, assuming they stock up on VP.
Images via Riot Games