Top teams beware; the Moon Raccoons are coming.
20:00, 20 Nov 2020
Moon Raccoons march into the final closed qualifier for VALORANT's First Stike as an underdog darling looking for their capstone. While things haven't gone as smoothly as they might have liked, they still have put up an impressive showing, one that commands respect. With victories over some of the best North American teams, Moon Raccoons have what it takes to compete at the top.
With talent spanning across games like PLAYERUNKNOWN'S BATTLEGROUNDS (PUBG), Counter-Strike: Global Offensive (CS:GO), and Overwatch, what on the surface looks like a plucky mid-table team that packs a respectable amount of experience, hides an aggressive and precocious team that has dug scars in many of the top North American VALORANT teams. It's time to meet one of the best teams you've never heard of. It's time to spam this moon and meet the Raccoons.
🌜🦝RACCOONS WINS BABY!
With that win we advance to top 8 tomorrow!
GG's
@Complexity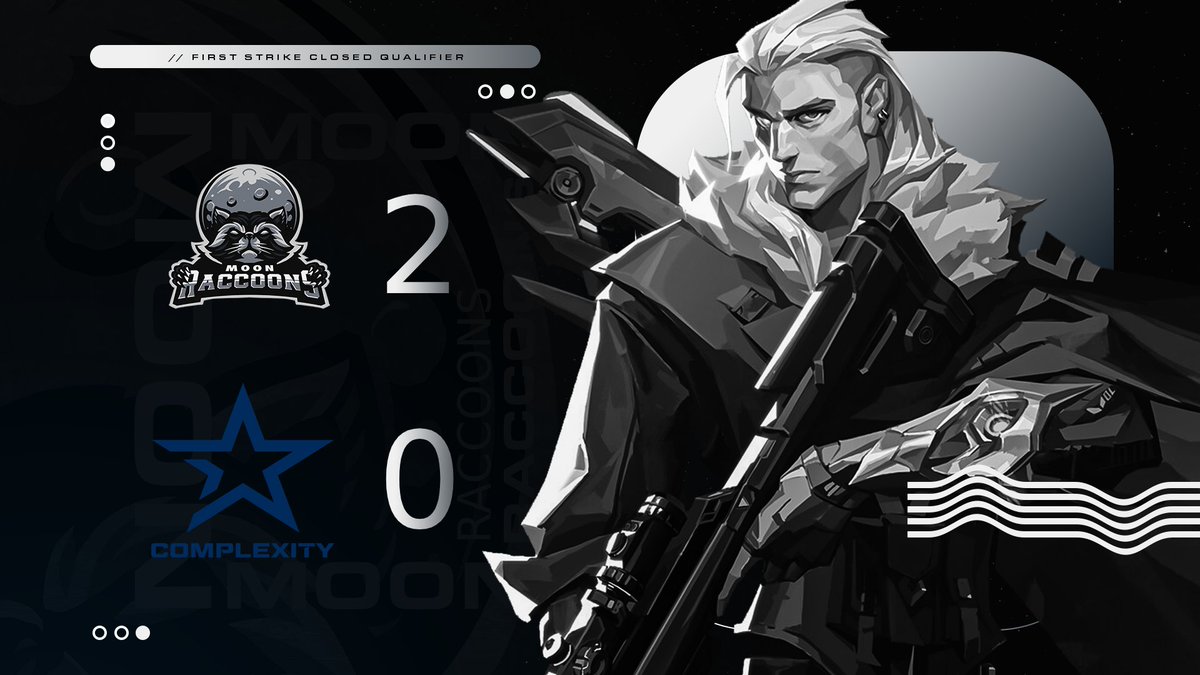 Complexity Gaming, FaZe Clan, Renegades, Gen.G Esports, Andbox. These are some of the teams that Moon Raccoons toppled throughout the last few months. Add to that some close bouts with 100 Thieves during the Nerd Street Gamers (NSG) Open Qualifier, and Cloud9 Blue at the NSG x Renegades Invitational, and you really start to see why pundits have been high on this team. With a body count that high and packed to the brim with names that would always be considered favourites, Moon Raccoons not only have some serious mental fortitude, but also contain stellar leadership for such a young team.
Coming from a background in CS:GO, Chris "Rebo" Heindel is the defacto in-game leader and captain for Moon Raccoons. When asked about his abilities in an interview with GGRecon, head coach Gannon "RaptorZ" Nelson gave glowing praise of Rebo's leadership qualities. He said: " [...] he has an amazing brain for VALORANT, and also is a strong leader working with his teammates to push himself and them to new growth points." This is someone who not only is leading assisting with strategy and someone who is able to think on the fly, but he is leading a plucky group of young VALORANT players and beating top teams consistently. That kind of package deal is difficult to come by—a phrase you could apply to every single member of Moon Raccoons.
One of the hottest drops that Moon Raccoons has landed has been former PUBG ace, Magno "Pr0phie" Ramos. Not only is he a consistent weapon, the Moon Raccoons wield in their frequent upsets, but Pr0phie is a big reason they excel at Ascent in particular. The map already lends itself to Sova, Pr0phie's agent of choice. While there is a litany of different ways to gain value from Sova's toolkit, what sets him apart is his ability to more control fights with his utility.
Here, the team is alerted to a B-Site push after the enemy Killjoy uses her ultimate. Not only does he quickly remove the threat of Killjoy's Lockdown with his own ultimate, he uses his last bolt to both deny and gain information by shooting it through the primary chokepoint on B-Main. After tagging two players, he adds to his team's vision by using his Recon Dart to scout a general area on B-Site as well.
This cuts down on so much of the guesswork Moon Raccoons would normally have to do on the retake, but with Pr0phie's quick thinking they can approach the site and make a confident retake.
And while it's obvious that Pr0phie has the brains it takes to become a star in VALORANT his brawn looks just as good. To look at one of their most recent matches against Complexity Gaming, Pr0phie put up a stellar 267 average combat score (ACS) and managed 170.5 average damage per round (ADR) throughout their 2-0 win. While it is true that if Pr0phie is up towards the tail end of a round, anything is possible, that same courtesy should be applied to the team as a whole.
One attribute that separates the Moon Raccoons from other North American hopefuls is their ability to play as well as they do in the clutch. While Pr0phie gets a lot of love for this, especially recently—it feels like the whole team has had their time to secure a 2v1 or a key round win and have come out on top. Whether it's Zander "FIEND" Bates or Aleksandar "ALEKSANDAR" Hinojosa or Nolan "Temperature" Pepper, the Moon Raccoons are not here to play possum; every fight is winnable, every duel is one in their favour, and that aggressive mentality shows in all facets of their play.
Looking at North America, it has been a trend with teams like Andbox, Renegades, and other top teams to shift Jett away from her more rigid role as an Operator and really refining how best to use her as an entry fragger. Moon Raccoons' FIEND is another Jett that showcases why the agent has moved away from specifically being an Operator specialist into being a viable entry option. That's not to say that he is a poor sniper, but the North American metagame has opened up quite a bit on this front. You still have certain teams that tend to favour a slower attack and other teams like Moon Raccoons that have their Jett's place a cement block on their W key—and this shows itself even in the numbers.
Over the course of a series, FIEND leads his team in average first kills. This not only shows that he's winning his opening duels fairly frequently, but he's also able to gain valuable information and stick some chip damage onto the next target. This snowball of damage begins to add up as the team continues their hypothetical execute. With that kind of an entry fragger combined with the firepower that people like Pr0phie and ALEKSANDAR bring, it's no wonder why they rival some of North America's best.
This is just one element that puts them on the forefront of the next wave of teams and players and staff truly making a name for themselves in VALORANT. Narratively speaking, Moon Raccoons, have exactly what people love in a team and skill-wise they are subtly terrifying. These are attributes you prescribe to contenders, again, this team—as a whole—is the real deal. They have proven time and time again that they can compete with some of the best teams. They not only deserve support from an esports organisation, but they deserve to be considered a core that can be built around if Riot Games begins to scale up VALORANT esports in the future.
There is something to be said about players that get their start within a game, and while the Raccoons boast experience in other titles, the potential of this team could see them become a mainstay top ten team in North America. Regardless of how the UMG Close Qualifier Tournament pans out, the Moon Raccoons are a team that we will remember throughout VALORANT history.
You can bet on that.

Images via Riot Games