Get in the know before the tournament kicks off on December 3.
18:30, 28 Nov 2020
The biggest and most competitive VALORANT tournament to date is just around the corner, but with the scene and the meta ever-changing, it's not always easy to predict what's going to happen. On December 3, seven different regions will be holding their very own First Strike Finals, but we're going to focus on one of the biggest regions, Europe, and break down three things to expect at the upcoming VALORANT tournament.

Unsigned teams aren't necessarily weaker than teams with orgs
The qualified teams for the First Strike EU Main Event 🔥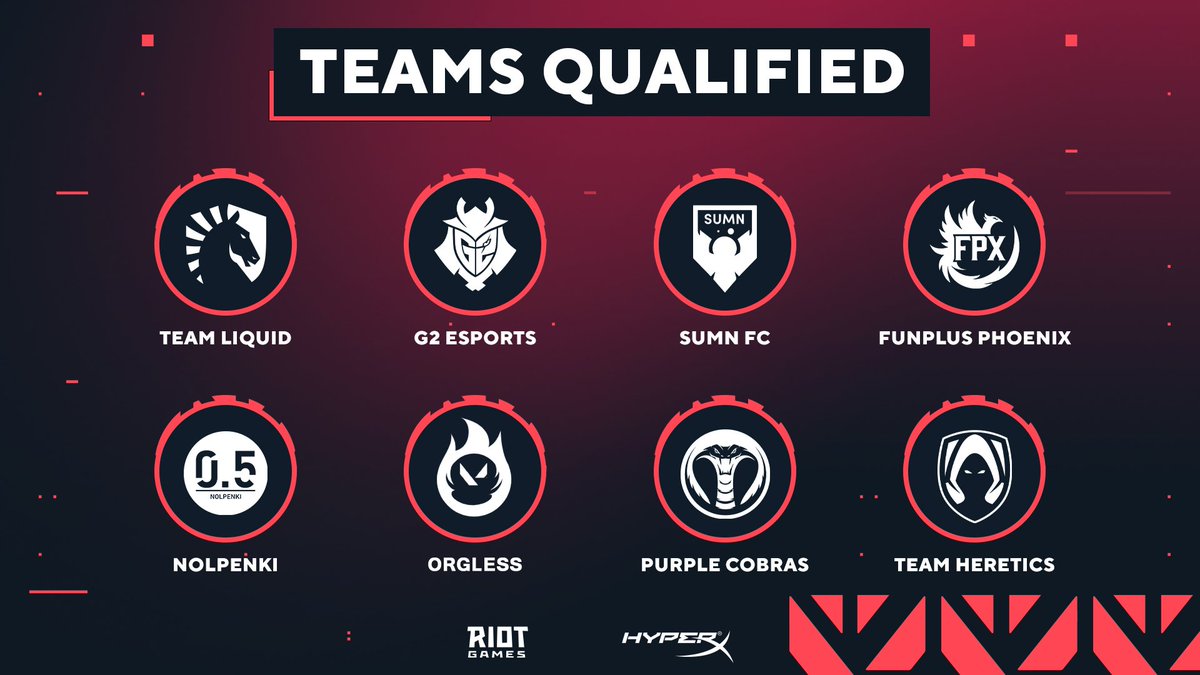 Very few people would have been able to predict that four of the eight teams that made it to the EU finals would be unsigned teams. Although both SUMN FC and Nolpenki have certainly made a name for themselves ahead of the qualifiers, the likes of NiP and Guild would have been big favourites to make it ahead of some of the other unsigned teams. With Purple Cobras and OrglessV completing the lineup, it's easy to dismiss some of these teams on paper because they must be unsigned for a reason right? Surely they don't have a chance against the likes of G2, FPX, Team Liquid, and Heretics?
Well, that's one way to look at the situation and arguably the wrong way to approach the upcoming VALORANT finals. If you take a look at the European VALORANT scene right now, unsigned teams heavily outnumber teams that have actually been snatched up by orgs and it's no secret that in comparison to other regions, EU esports organisations have been much more hesitant to invest in VALORANT. Well-known teams such as NeedMoreDM and Nolpenki have been around since the beta and even though they've had a couple of roster changes, it's crazy to think that they're still unrepresented.
But more importantly, the question is, do any of the unsigned teams at First Strike have what it takes to take down the big organisations? Well, the short answer is yes, and some of them already have. Although the First Strike Qualifiers were predominantly best of ones, a format resented by many, both Nolpenki and Purple Cobras took down well-known signed teams on their way to get there most notably Guild and NiP. SUMN FC also beat Entropiq Bravo and eXiLe Esports albeit less well-known rosters but still teams that were signed to orgs nevertheless.
Of course facing G2, FPX, and Team Liquid in a best of three is a whole other story and to a degree incomparable but as we learned from the Qualifiers, "unsigned" doesn't equate to being bad or weaker and a case can be made for each of these four teams when it comes to the probability of them causing a potential upset.

Viper, Viper, Viper!
Unlike other regions such as North America, Viper has never been popular in Europe. While teams like Mamba Mode Gaming were busy establishing themselves as a squad that could make Viper viable, she has been largely ignored in EU. Well, until now.
Partially thanks to FPX and Kirill "ANGE1" Karasiow who debuted Viper in their Bind game against Opportunists at the First Strike Qualifiers, the EU scene is certainly becoming more and more accepting of the Controller in comparison to the Ignition Series era. Much like other tactical shooters, different teams have similar strategies, and it's no secret that certain strategies are being taken and adapted - just take a look at the way EU teams have copied things from Korea's Vision Strikers. Therefore it's definitely not out of the question that FPX's use of the Viper could cause a domino effect and see teams in EU try to become more creative and fit Viper into their lineups and compositions.
Not only that, players such as Oscar "mixwell" Cañellas Colocho and Jake "Boaster" Howlett have played Viper in the past and expressed how much they like the agent - albeit pro players are still asking Riot for some kind of buff or rework to make her even more viable. With the introduction of Icebox to the map pool, a map which Viper has some massive strength on, it will definitely not be out of the question for us to see even more Viper picks in the upcoming competition, especially in comparison to the last time all these top teams played a tournament together.

Will teams actually play Icebox?
Now, speaking of Icebox, it is perhaps the most polarising VALORANT map to date. Many seem to absolutely love the design, but others have expressed just how much they hate playing on the tundra-styled map. First Strike Finals will be the first time ever that we'll see Icebox available in competitive play and if Ascent is anything to go by, Icebox has the potential to become an extremely popular map if pro players are indeed investing a lot of time into it.
However, we do have to take a look at how the introduction of a fifth map will affect the picks and bans. According to Riot Games, the picks and bans at the First Strike Finals will be as the following: Team A Ban, Team B Ban, Team A pick, Team B Pick, last map picked as default. This is a slightly different system to what we've had before, which could go both ways for Icebox. Both teams getting a ban right off the bat means they can get an advantage by banning out a map they are either weak on or a map they know their opponent is strong on, it's fairly straight forward, but none of the teams have played Icebox competitively before so are teams better off making a coin flip decision and ban a map they have no info on or is it better to actually save Icebox as a pocket pick?
Well, teams like Liquid have already confessed that they like Icebox and that they're good on Icebox so it wouldn't be out of the question to expect them not to ban it out. Similarly, Icebox is also a map that suits G2's playstyle, and knowing the way FPX also functions especially since they can make the Viper work, we might actually see a lot more Icebox games than we expect. If you're going up against teams who are renowned or experts on some of the other four maps, using your ban on Icebox might not actually be the wisest thing to do, but all we can do is wait and see, but the prospect of a larger map pool will certainly add to some of the excitement for the Finals.


Images via Riot Games