After months of delays, Netflix finally wraps filming on The Witcher Season 2.
10:29, 05 Apr 2021
Netflix is brewing something big in its cauldron of intrigue, as The Witcher Season 2 officially wraps filming. Off the back of Game of Thrones, and ahead of Amazon's The Lord of the Rings adaptation, The Witcher is the fantasy epic everyone is currently obsessed with. Henry Cavill is once stepping up as Geralt of Rivia, with The Witcher entering a new chapter.
It's easy to forget The Witcher Season 1 bowed out in December 2019, meaning we've had a bit of a wait and are still in for a longer one. The ongoing COVID-19 pandemic has thrown the world of TV and movies into chaos, which is partly to blame for Season 2's extended filming process. However, with the cameras officially down on The Witcher's next run of episodes, we're closer than ever to find out what's next for Geralt, Yennefer, and Ciri.
When did The Witcher Season 2 wrap filming?
That's a wrap on Season 2! The White Wolf awaits you back on The Continent.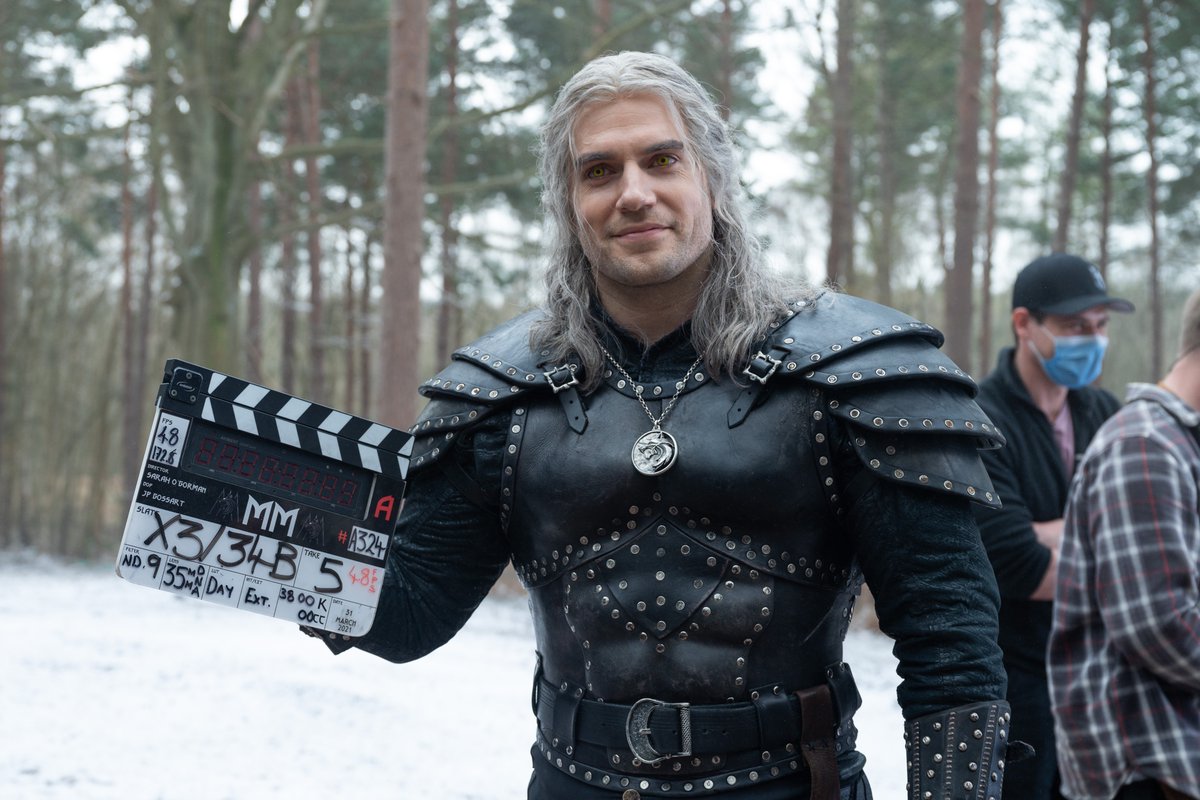 While Season 1 of The Witcher was based on the prelude collections The Last Wish and Sword of Destiny, we're edging toward the main saga of Andrzej Sapkowski's novels and CD Projekt Red's record-breaking game series of the same name. Posting on Twitter, the official account for The Witcher shared a picture of Cavill and a clapper board that confirmed filming has wrapped. A celebratory video confirmed that the gigantic 158-day shoot took place in 15 locations, boasting 89 actors and over 1200 different crew members. Despite COVID-19 meaning extra safety productions had to be made, The Witcher finished filming without too many hiccups.
In a behind-the-scenes video, showrunner Lauren Schmidt Hissrich praised the cast and crew for their hard work. Teasing what's to come, Hissrich gushed, "We're so proud of everything we've accomplished in Season 2 and we can't wait for you to watch it. We cannot wait to show you what Geralt, and Ciri, and Yennefer, and Jaskier, and all of your favourites have been up to since we left them at the Battle of Sodden Hill. There are plenty of new characters and storylines, and of course, monsters, to explore as well, as we dig into the Blood of Elves and beyond". For those new to The Witcher, Blood of Elves is Sapkowski's third book in The Witcher series and catapults the story forward with some pretty major battles for Nilfgaard
What do we know about The Witcher Season 2?
The Witcher finished its lengthy shoot in the UK and marked the occasion in style. Hissrich added, "It has been fantastic to shoot The Witcher here in the UK. We have filmed at some incredible locations including Fountains Abbey, Blea Tarn, Hodge Close, Frensham Ponds, and of course, our comforting home at Arborfield Studios. We've assembled the best British talent and crew who have been passionate, professional, and brilliant partners through such a complex and unprecedented filming experience. Now we can't wait for everyone to see all of the hard work that has gone into this production".
There's also a synopsis for Season 2 that reveals: "Convinced Yennefer's life was lost at the Battle of Sodden, Geralt of Rivia brings Princess Cirilla to the safest place he knows, his childhood home of Kaer Morhen. While the Continent's kings, elves, humans and demons strive for supremacy outside its walls, he must protect the girl from something far more dangerous: the mysterious power she possesses inside". For some, we questioned whether The Witcher Season 2 would ever get to this point. As well as an outbreak of positive COVID-19 cases halting production, Cavill forced filming to be suspended when he injured his leg on an assault course. Thankfully, things look they're back on track.
Alongside returning favourites Cavill, Anya Chalotra (Yennefer), Freya Allan (Ciri), and Joey Batey (Jaskier), Season 2 is bringing a whole host of new (and familiar) faces to the cast. Game of Thrones alumni Kristofer Hivju is jumping aboard as Nivellen, while Killing Eve's Kim Bodnia will play the Continent's oldest Witcher in the form of Vesemir. Rounding off the cast, there's also Yasen Atour as Coen, Agnes Bjorn as Vereena, Paul Bullion as Lambert, Thue Ersted Rasmussen as Eskel, Aisha Fabienne Ross as Lydia, and Mecia Simson as Francesca. Now, The Witcher is ready to cast a spell over us all again.
Stay up to date with all the latest esports and gaming news by checking out our social channels here: Twitter | Facebook | Discord
Images via Netflix | CD Projekt Red