We explore the issues with hosting a Counter-Strike Major in Brazil, and discuss the potential to make history.
15:25, 11 Dec 2019
For a while the word on the street is that the next CS:GO Major in Spring 2020 will be held in Brazil. This was 'leaked' by s1mple a month ago, before being openly discussed by players and team owners, eventually being confirmed today!
The players, the fans, the game... We're bringing the
@CSGO
Major for the first time to a special place where passion leads the dream. Introducing
#ESLOne
Rio 2020!
Tickets will go live tomorrow, Thursday 12th at 12:00 PM BRT
💛💚
Modern Times Group are no strangers to Brazil, having hosted DreamHack Open Rio this year and ESL One Belo Horizonte in June 2018, but this is the first Major to take place outside of Europe or North America.
The Majors are highlights of the Counter-Strike calendar and will always be special, so does where they take place really matter?
Major Identity
There is a huge difference between a one-off ESL One tournament and a Valve-sponsored Major.
ESL One Belo Horizonte was a well-received event with only one notable incident from the crowd. After the Turkish in-game leader was spat at, Engin "MAJ3R" Kupeli received an apology letter from fans.
Today at signing, Brasilians fan you was touching..Every single personn maybe like 200 people apologize to me, You dont need to apologize for some idiot, its was à plaisir to play in front of You, our Duty was to show à good match, i Hope we did it. Thank Brasil love You 🇧🇷🇹🇷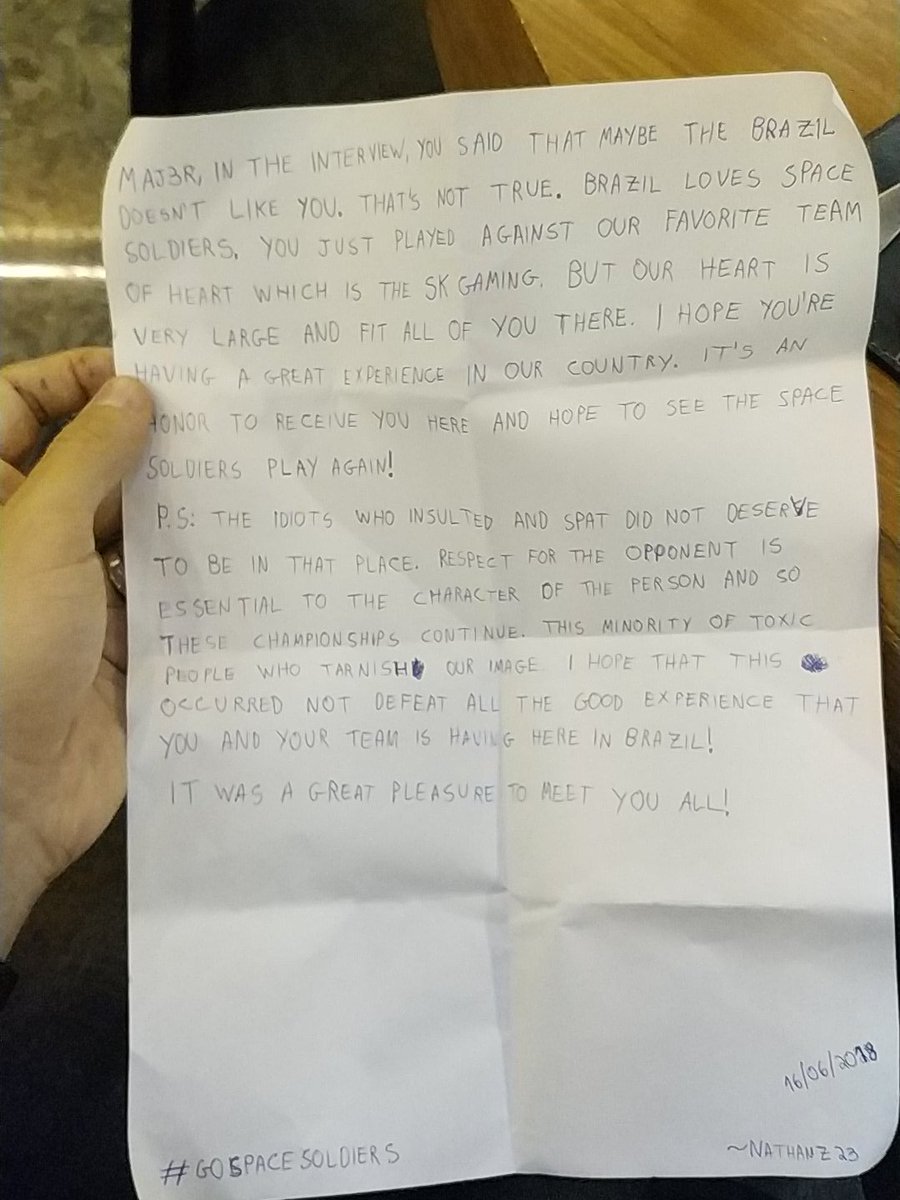 The event was blessed with good game luck and the best-of-five grand final went the distance and ended with a clash between FaZe Clan and mousesports, both with stand-ins.
What a Major like the FACEIT Major in London failed to do was capture the essence or personality of where it was taking place. There were opportunities to play on the British theme, especially with dephh and smooya both making it through to the New Champions Stage, but they were not taken.
Iconic British CS figures were not even invited and a match predicting chicken was the star of the show as Astralis predictably swept the bracket and claimed the trophy in the concluding best-of-three, to no one's surprise.
While it is not the fault of FACEIT for games not being memorable, a better narrative or more impressive show beyond a vibe close to 'a bigger ECS Finals' could have done wonders for its image, without showing bias for hometown players.
A Long Way To Go
While a city like London or Boston can draw a crowd, it is a harder sell for Brazilian cities.
European fans are far less likely to come to Brazil, due to the cost as well as distance. North American fans are less likely to go thanks to the reputation of certain parts of the country and its very vocal fans having made threats in the past.
Patriotic and yet often vitriolic defence of the Brazilian teams, and offence towards those who dare to criticise them is an unfortunate attribute of the region.
Brazilian fans have also been known to send death threats to players and personalities for 'insulting' Brazil or teams from the country. Multiple players have reported getting a negative response both online and in-person.
Spencer "Hiko" Martin even had bodyguards provided by Team Liquid for this specific reason.
This type of behaviour also saw professional player Vito "kNgV-" Giuseppe removed from Immortals as he made threats towards Pujan "FNS" Mehta and later homophobic comments towards Duncan "Thorin" Shields.
The perception some have of Brazil will undoubtedly clash with the image Brazilians themselves would prefer people had about their country.
A Chance to Change Perceptions
We are yet to see Denmark or France host a Major, despite them both having a rich history in the game. Many were likely hoping for an iconic location following Counter-Strike's 20th birthday, or the return of a Major to the Cathedral of Counter-Strike instead.
However, the Brazil Major could well cement itself as iconic in the CS history books.
Players like Gabriel "Fallen" Toledo and Marcelo "coldzera" David are renowned as godfathers and legends of Brazilian Counter-Strike.
After joining FaZe, coldzera could return himself to the status of a top three player in the world.
The return of MIBR has been underwhelming and turbulent, but there is now a clear moment to rise up again for.
FURIA managed to take down Astralis and put themselves in contention at top tier events this year, so what could they do in front of a home crowd next year?
If these storylines are embraced and celebrated during the 2020 Spring Major, there's no doubt that a Brazilian crowd would make it an event to remember.
The trade-off is that the sections of the fanbase that choose to take loss and banter to heart need to be in the background, rather than the main focus. If a team beats MIBR or FURIA at some point, they should be able to do so without fearing backlash or retribution throughout their stay in Brazil.