Riot Games has moved most of their leagues to online play due to the coronavirus pandemic.
18:55, 17 Mar 2020
Riot Games announced the return of the LEC and LCS starting Friday, March 20th. In a press release, the League of Legends developer shared that they will be moving their competition to "100% remotely online" matches in order to assure the safety of all professionals involved. Using the planned break week to catch up to the games they've missed, the LEC will pick up regular play this coming Friday and will play each consecutive week after until the finals on April 18th & 19th.
The announcement goes into detail on precautions Riot has put in place to assure competitive integrity as much as it's possible in these current circumstances. Latency will fortunately only be a minor problem for LEC teams as most of them reside in or around Berlin with only Origen playing in their training centre in Copenhagen. While the league won't be able to send referees to each location to monitor the competition, the LEC will require extensive video, voice and screen documentation to assure high competitive standards.

An update on the 2020 LCS & Academy Spring Split from Chris Greeley, LCS Commissioner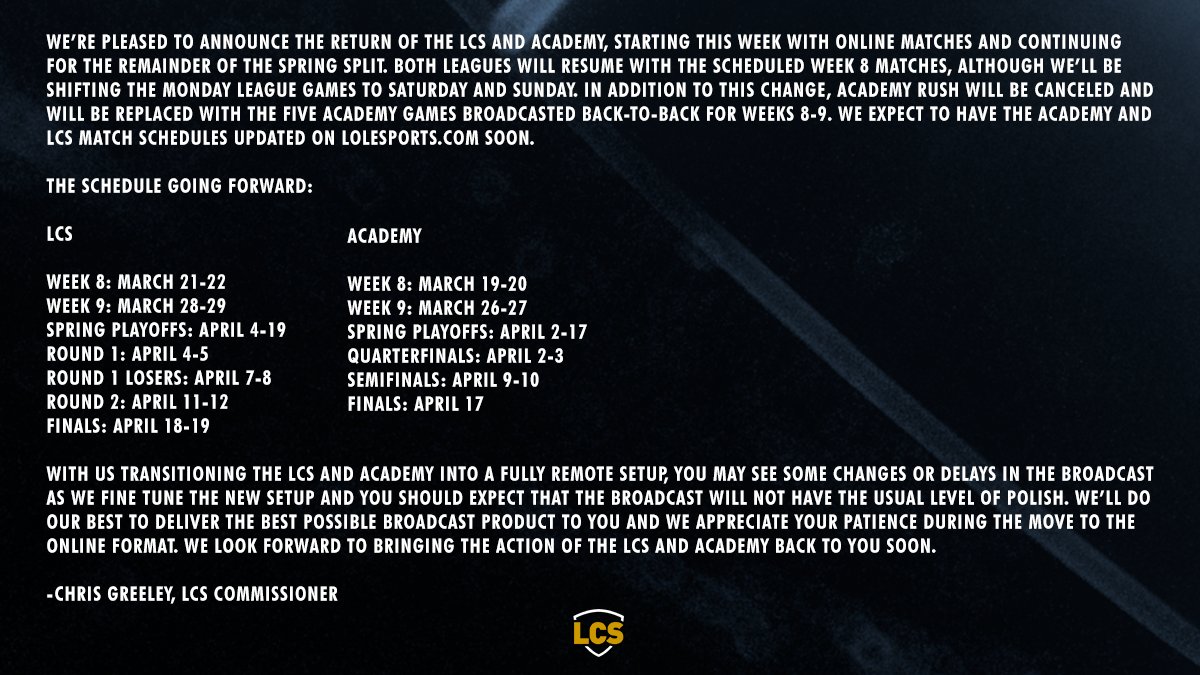 LCS commissioner Chris Greeley warned fans that the broadcast quality might suffer from this new remote environment but promised to improve production during this process. Being mindful of competitive integrity, Greeley also announced "similar precautionary measures to LEC" in a follow-up tweet.
League of Legends competitions such as the LCS, LCK, LPL and LEC had been suspended in March for to health and safety concerns for players and fans at live events due to the pandemic threat of COVID-19. Other esports leagues such as the Overwatch League, Flashpoint and the ESL Pro League followed suit and also announced that their competition would be moving online.

Images courtesy of Riot Games.