The Chinese team have announced a new support duo, along with a plethora of other roles!
18:00, 16 Jan 2020
The Chengdu Hunters announced their additions for the upcoming 2020 Overwatch League season this past Tuesday. Joining the Hunters are Chinese support duo He "Molly" Chengzhi and Chen "Lengsa" Jingyi from LGE.Huya. Along with them comes Taiwanese main tank Chen "ATing" Shao-Hua formerly of Nova Monster Sheild and Hong Kong Attitude.
In 2019, Molly and Lengsa helped LGE.HUYA win Overwatch Contenders: China twice in a row. They have a special bond and perfect coordination in games, their trust is a powerful weapon. We hope their bond will help them improve even more and bring great achievements to the team.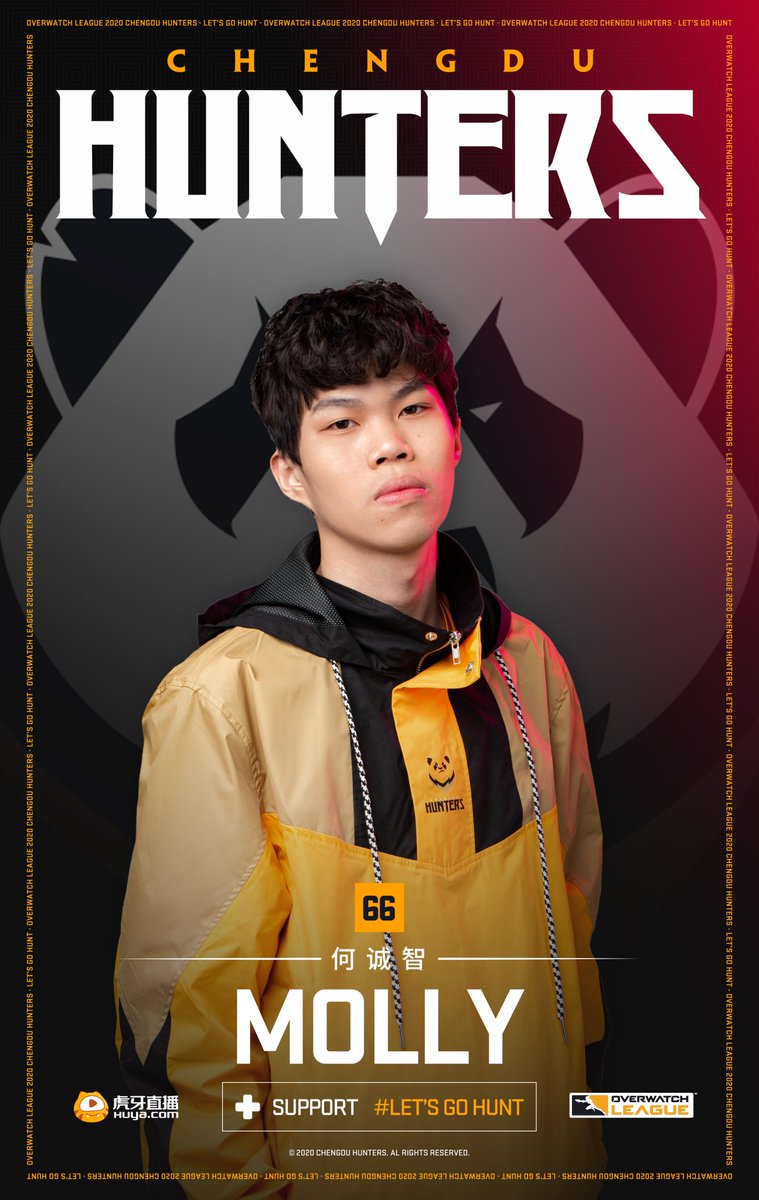 With the departure of former head coach Xingrui "RUI" Wang who led the team in 2019, the Hunters have promoted assistant coach Chang "Ray" Chia-Hua and signed Wu "Dokkaebi" Xiuqing from LGE.Huya as co-head coaches. The Hunters have also added former support player Guan "Garry" Li as an assistant coach to help the team in 2020.
Chengdu has also confirmed that flex DPS star Huang "leave" Xin has officially moved from streamer to a member of the starting roster. As a former member of the legendary Chinese team, Miraculous Youngsters, leave quickly made a name for himself as someone who boasted a wide hero pool. This was further emphasized during his multiple Overwatch World Cup performances where he featured heroes like Doomfist, Tracer, Widowmaker, Sombra and McCree.
Even though he didn't compete in the Overwatch League previously due to age restrictions, Leave's appearance in the ESM-OW Shanghai Masters Invitational has shown the world that he is ready to step up to the big stage now. We hope this young warrior will begin his own legend.
The Hunters are coming fresh from their 12th place finish in the 2019 regular season, exceeding expectations and qualifying them for a play-in seed. However, they fell early in the play-in tournament to the Guangzhou Charge. However, more recently Chengdu just secured a respectable second-place finish at the Esports Shanghai Masters Invitational with a convincing win over the Guangzhou Charge before dropping to the Shanghai Dragons in the grand finals.
Both Molly and Lengsa are coming off a strong domestic performance with two Overwatch Contenders titles under their belts. But along with that is a disappointing 5-6th place finish at the Pacific Showdown and a 9-10th place finish at Overwatch Contenders: The Gauntlet. ATing most recently has been seen in the Open Division 2019 Practice Season - Pacific alongside KIX Team and the 2019 Overwatch World Cup Preliminaries with Team Taiwan.
The Hunters look to avenge their loss at the Shanghai Masters Invitational as they return to face the Shanghai Dragons for their 2020 season opener on February 15th.
Image via Blizzard Entertainment